Saturday I stop in for a cool one at the local. As I get out of the Nova 2 older guys wearing NHRA shirts come out, come over to the car. Doug, has a a 9 second Nova, went over my car front to back top to bottom. Asked who built motor, told him Kershaw, he said yep, quality builder, what were dyno specs. Told him. Just nodded. Said fire it up. Slight eyebrow raise, "healthy yep sounds like a Kershaw build". "Screams I bet?" Yes it does
Asked if I have taken it to take to Mission. Not with this motor, but would like slicks to really see what it can do. Doug says he gave his buddy 2 chevy wheels with slicks on, 2 slicks not mounted, His buddy not into the race scene anymore. Says give me your number, I will call him tell him to give them to you for a case of beer or cheap. They are on ugly GM rims, 29 -15-9 mounted on ugly 8" GM rims, 4.5 or 5 inch backspace. maybe 5 - 6 runs left on them. The 26-15-8.5 have a good 25 runs left on them.
We chat I am thinking great guys, slicks would be cool for cheap for a few test runs.
Get a call this morning from a Dean in Poco, says hey Doug gave me your number about the slicks, there yours for a 24 pack of Miller.
Checked them out and yep, as described. $41.05 later I got a trunk and back seat load of fun.
Dean inflated the 29"s with 18 psi as we wanted to see how fat they were to fit. They will squeek in
I have a few things to do prior to a track day. Drive shaft loop, and beef up that front end, as I think the Steelrat will be lifting the front end a wee bit more on slicks.
Most of you know my build
500hp/ 500TQ 408
Built 700R4 - tight 9.5 2800 stall converter
Slide a links
and....now slicks.
Any predictions on 1/4 mile times?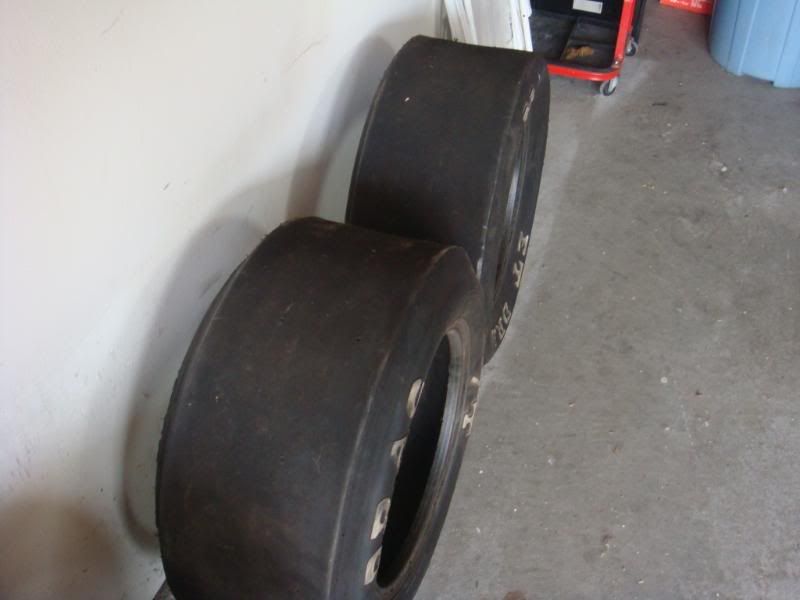 While out and about in Poco I headed up to Coquitlam to Woody's Pub, who was having a show. Looked around for a little while, a few pics. I met a guy I think is a member, but forgot his name. this car:
a cool Canso and a slick Chevelle. I love most cars that are slate or shadow grey.