venturesomerite's 1972 Nova - Project
Car: 1972 Chevy Nova 2 door, 350/350 with open 10 bolt.
It's not a real SS, the previous owner made a clone. I don't really mind them that much so I just left them there. I think that the black on the hood was the previous owner trying to do SS stripes and screwed up, it's the only logical conclusion I can come to. I've grown to like it.
---I bought this car in November of 07, with the original California Title coming with the car. Bought it because of the lack of any rot or rust, a rare find around here. it spent the first 30 years of it's life in Cali, then to Maine for a little bit, then 3 places in CT.
---Now I am a poor college student so progress is slow, and sometimes few between, but she does run and drive and so I can still atleast enjoy her.
I've fixed plenty of things that didn't work like turn signals, parking brake, etc.
---Plans include a 4 speed conversion (really want a 6 speed, but we make due with what we can)
I have a 406 out of a truck waiting to be freshened up and dropped in, and to convert the 10 bolt to 3.73 gears and a posi. Inside, I just want to convert to buckets. Other future mods include a Hotchkis tvs and 17" wheels and tires, and a 2" steel cowl hood.
Mods include:
Body:
Rust free original panels from California (as far as I know and can tell)
Engine:
-Edelbrock valve covers + Air cleaner cover
-Edelbrock JR intake manifold
-Holley DP 650 electric choke carb
Transmission:
-Stock TH350
Rear End:
-Stock open 10 bolt
Exhaust:
-Hooker Super Competition Headers - Black
-Summit 2.5" true dual exhaust - dump behind tires
Brakes:
-Full conversion from manual drums, to power disk brakes up front, fresh power drums in back all new stainless steel lines. This is the equivalent of the stock power disk set up.
Suspension:
-Original
-Universal traction bars - Traction bars
Exterior:
-Halogen Headlights
Interior:
-Stock interior dyed black, bench seat, column shift
Sound System:
- A stereo! -Pioneer headunit I had lying around, Audiobahn 6x9 3 ways in package tray, 10" sub in trunk with Audiohahn 400w mono amp.
-other misc not really worth mentioning, but you know that these things take effort so I mention them here.
This was when I first got her:
These are REALLY why I bought it.
These are just some of the pictures I like, I'll have to get some good ones this year.
This one is an ad for an earlier year nova that I changed to be the same colors as mine, I use it as my computer background.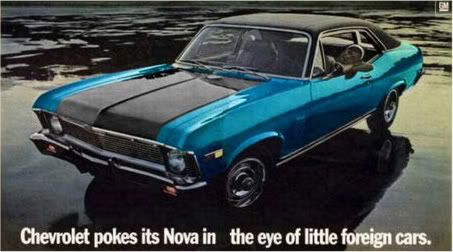 Thanks for looking!
Constructive comments and advice is always welcome!
For other details and pictures, please visit my Project Page, as it will have more updates and details. Thanks.
Brian