Went to the Mooneyes show at Irwindale expecting to get lots of runs and do some tuning. The day started late due to fog and it took some time to dry the track. It got worse from there.
I only got 2 runs in due to oil downs and crashes. Everybody invloved was OK, but conditions were not ideal. On both runs the tires broke loose as soon as the converter flashed (about 3400 rpm). 60 foot times were 1.95 and 2.45 (I am normally at 1.6 to 1.7).
The only diff was a longer burnout on the second run and rear shocks were set 2 clicks softer (from 3 to 1). On the second run the tires chattered after breaking loose and I had to back way off to get any traction. I know track conditions were bad but lots of cars were pulling the front wheels, so it was possible to hook. I have 255/60-15 MT radials running 18 psi, Caltracs set on the lower hole, about 1/4 turn of preload, Rancho shocks set at 3 then 1, Split leaf monos, Moroso trick springs and Calvert 90/10 up front, with about 5" of travel. Do I need to go the upper hole on the Caltracs? Any other suggestions?
Run 1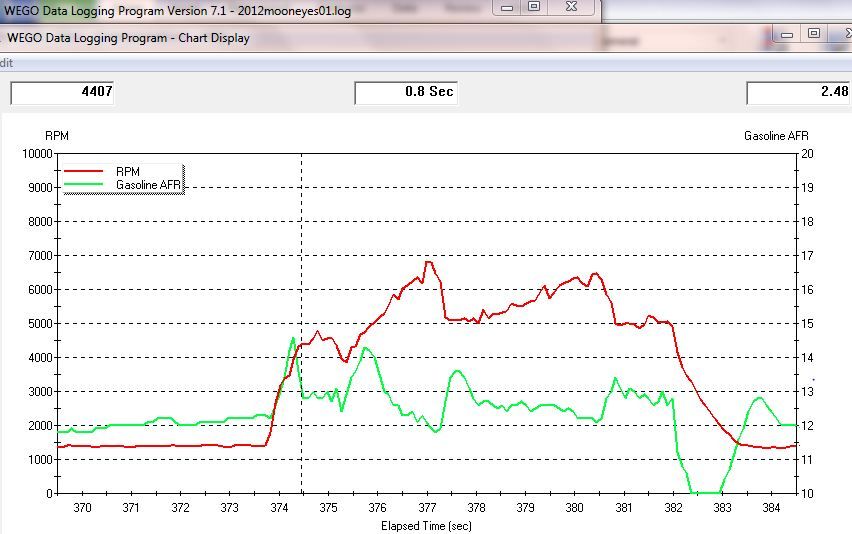 Run 2