sbc1320 - YEAR MODEL - 1972
Pictures (up to 3 should be linked in)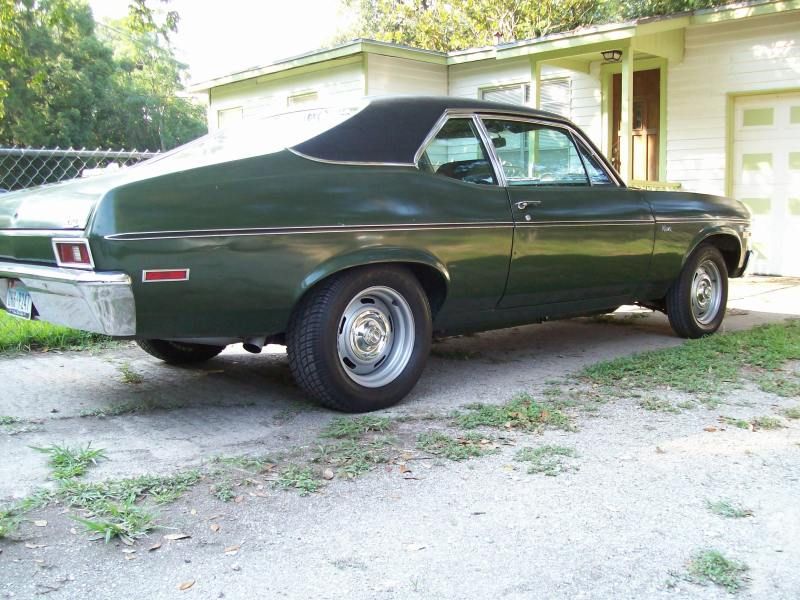 Year:1972
Model: Chevy Nova(base)
Engine: 383(built by me) Estimated to be around 520 hp, 10.75 compression, Lunati 60113 hyd. roller cam, AFR 195 heads, Crane Gold race 1.5 roller rockers, Jomar stud girdle, Edelbrock Performer RPM w/1" open hole wooden spacer, all MSD ignition, 850 Quickfuel carb, etc..
Body/Exterior: Original Sequoia Green w/original Black vinyl top
Front End: Rebuilt(by me) stock with 90/10 drag shocks
Transmission: Built turbo 350 w/4100 stall
Rear End: 8.5 w/Eaton(built by me) posi(30 spline), Moser axles, Richmond 4.10 gears, urethane bushings, 50/50 drag shocks, CE traction bars.
Exhaust: Dynatech 1 3/4"x1 7/8" coated headers, Pypes 3" stainless x-pipe, Flowmaster Super 44's with full 3" tailpipes.
Wheels/Tires: Wheel Vintique Rallys (4"x15" and 7"x15") and a new set of Weld Draglites (4"x15" and 7" or 8"x 15" w/Hoosier slicks)
Interior: Stock bench, B&M Quicksilver floorshift, gauges, tach, etc..
Electrical: Radio delete
Accessories/Options:
Sound system: Lunati 60113 hyd. roller cam and full 3" exhaust w/Flowmaster Super 44's
Additional Comments: Bought the car around October 2011 and drove it for a couple of months. Put my engine in it around January 2012 and have around 2000 miles on it with no issues and no leaks or oil usage at all. I also did subframe connectors and traction bars both from CE. I just built the rear end on 9/1/12. I expect the car to run some 11.30-11.50s when I get it to the track. Bought the car sight unseen off of Craigslist from San Diego, Cali.. I got it from the second owner (he didn't do anything with it and was moving) along with build sheet, dealer plate, sales invoice, matching numbers(was - sold engine), etc..