Discussion Starter
•
#1
•
I'm considering replacing my water pump, crankshaft and power steering pulleys. The crank pulley is 3 groove, the water pump pulley is 2 groove and the power steering pump pulley is 2 groove. I've got a long water pump.
Question#1
Assuming a long water pump, are all 2 groove pulleys the same and all 3 groove pulleys the same?
Question #2
My current Power Steering pulley is 2 groove. Can I mount a single groove pulley anywhere on the shaft so the fan belt lines up? Also, how do you remove and replace the pulley on the PS pump. I guess I would need a puller and press?
Oh..and I'm considering pulleys below. There seems to be a discrepancy as to whether its long or short water pump in the ad. I would need to verify that and diameters.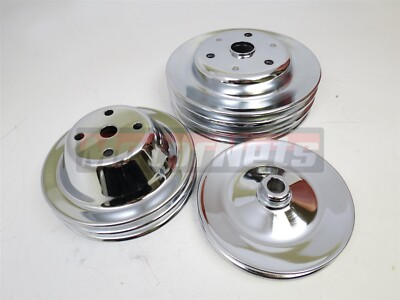 Bolt Circle: 2.30". This kit will work on all 1969-85 Small Block Chevy Motors. Or Early Chevy Trucks with 3/4" pilot shafts". With a "LONG" water pump.