I am still trying to gather enough info to determine what needs to be done to get the TKO in the 75. This info is preliminary and may change. I will need some help with a couple of measurements on cars with new subframe bushings and poly trans mount.
So far I have learned the stock crossmember needs no modification to work with the Tremec. For the mock up I am using stock type rubber motor and transmission mounts. The trans mount needed to be shimmed 3/8" to put the engine at the same angle as the Muncie. I have heard that the poly trans mount is a little taller than rubber. Anyone know how much? FYI the stock mount will not bolt to the TKO. What transmission mount did you guys use that have installed these transmissions in earlier models?
Measuring from the upper trans to bellhousing bolt holes the TKO is about 1 1/2" taller at the highest point, the vent, than the Muncie. Then measuring from the sub frame up to the floor it appears the Muncie cleared the floor by about 2" so the TKO will only be 1/2" away which is not far enough. Here is where I need a measurement. Can you guys with new subframe bushings measure the distance of both poly and rubber between the top of the frame rail and the floor at the rear bushing. My bushings are worn out and measure 5/8". The four door are also worn out and measure 3/4". I need to know how much difference good bushings will make and if I should buy the poly or rubber. It may not be necessary to cut the floor open if a comfortable clearance can be had with good bushings. I know that new bushings will increase the Muncie clearance I used as a baseline as well as the TKO, but I think if I can get better than an inch of floor clearance it may be enough. With stiff poly mounts on the engine and trans there may be so little movement a tighter clearance will be acceptable.
Here are some photos of the clearance at the crossmember. It is tight but I feel enough.
From the side: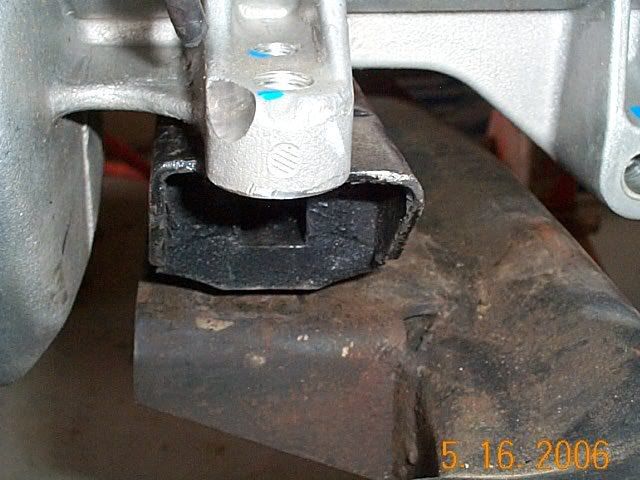 This mount is an offshore piece of dung that is having a hard time just holding up the trans.
From the rear: