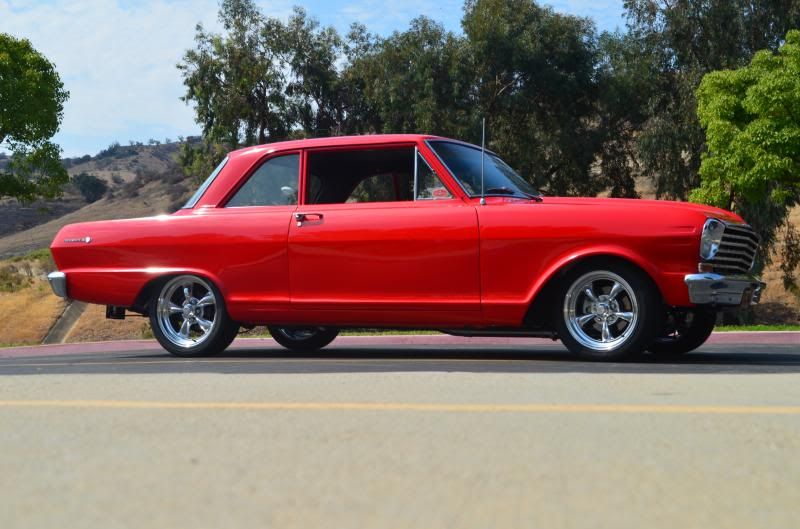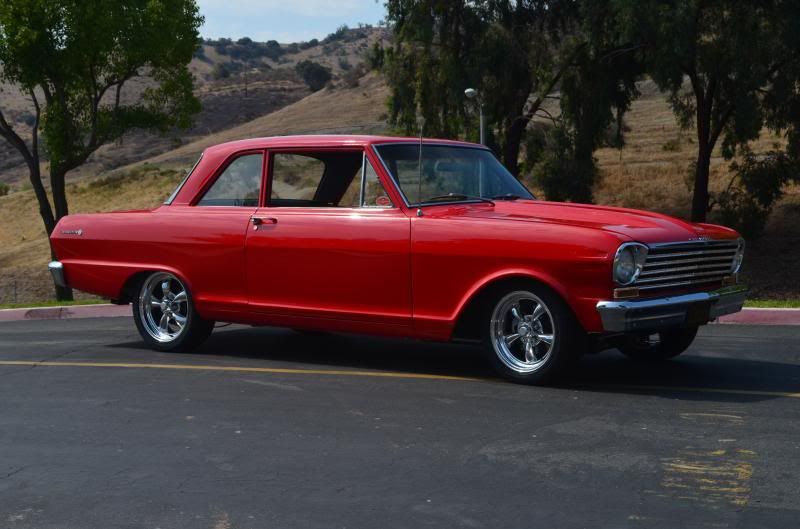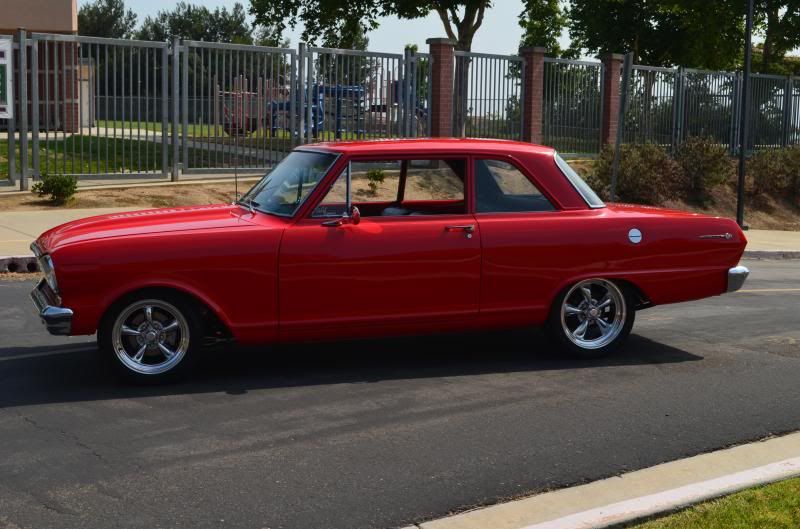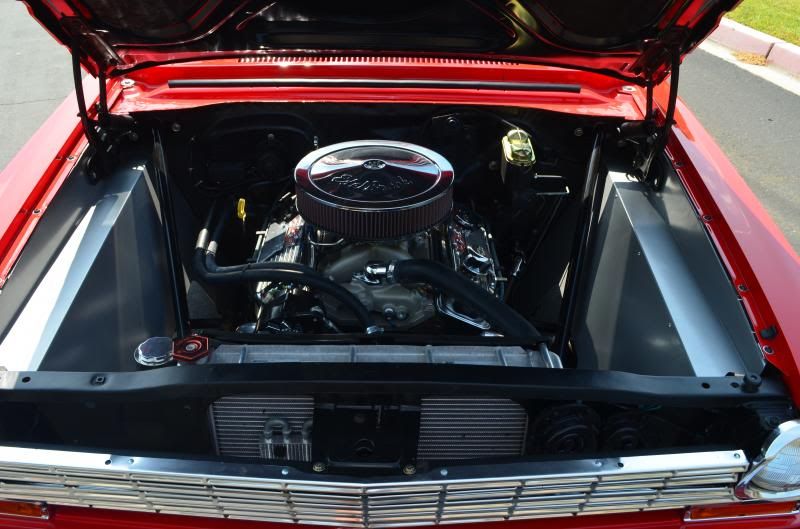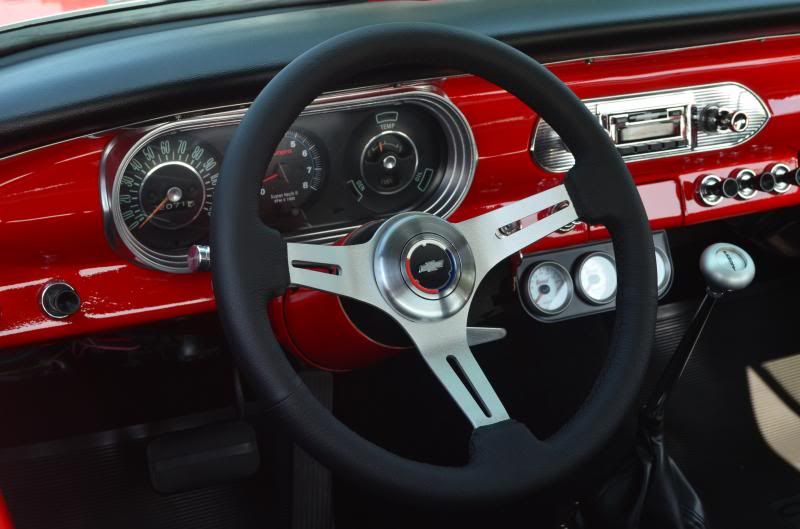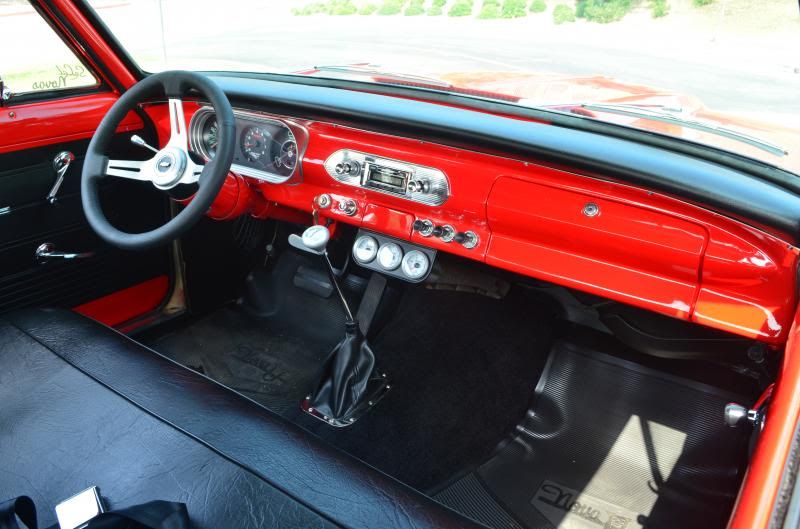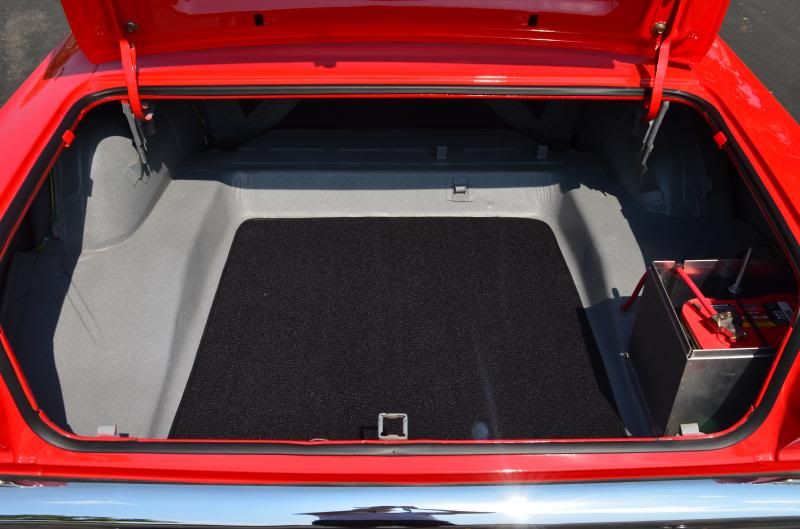 Year:
1963
Model:
Chevy II 100 Series Sedan
Engine:
350ci small block. Vortec heads. ZZ4 cam. Edelbrock RPM air gap intake, Holley 750 cfm carb, S&S headers
Body/Exterior:
Stock with the exception of the 2" cowl hood. Body work and paint done by Christian (66 WICKED WGN). Color GM Torch Red.
Front End:
TCI Mustang II front suspension.
Transmission:
TH350. 2800 stall converter
Rear End:
10 bolt stock rear from a 1967 Nova. 3.08 open gears. Drum brakes. Multi-leafs. 1" lowering block.
Exhaust:
Dual exhaust. H Pipe running through Hooker Aero Chamber mufflers.
Wheels/Tires:
American Racing Torq Thrust II Polished.
FRONT- 16x7 with 4.50" backspacing. Dunlop Direzza DZ101 205/50 16.
REAR- 17x7 with 4.75" backspacing. Dunlop Direzza DZ101 224/45 17.
Interior:
Lokar floor mount shifter. Ididit tilt column. Summit gauges. Other than that mostly stock.
Electrical:
American Autowire wiring kit.
Accessories/Options:
Entire car lined with FatMat. Optima red top battery mounted in trunk. Custom billett parking brake handle. Summit street/ strip electric fuel pump.
Sound system:
Custom Autosound USA-230 Stereo. Custom Autosound dual voice coil dash speaker. Custom Autosound dual voice coil 6x9 in rear package tray.
Comments:
A little background on the car. This car was purchased new in 1963 by my wife's Grandfather. He passed on and the car was given to my wife's Aunt where it sat for 8 years in the backyard with the windows rolled down! In 2005 I got a call from my wife's Grandmother asking me if I wanted the car, it was a no brainer, I said yes. Only stipulation was that the car had to stay in the family, I agreed. It's been a 7 year project that I could not have completed without the help of several SNS members. Thanks for all the help guys!