Discussion Starter
•
#1
•
I'll start here at the beginning.
I bought a brand new Blueprint engine. It is a 355 roller cam, with aluminum head and a holley carb and it dynod from BP with 399HP.
My Engine
Since the day I owned it it felt slow. Its the most HP Ive ever owned but Im positive my families Kia Sorrento would kill it.
Also It gets awful MPG. I have always told myself its slow because it has 3.08 gears and a TH350 (and maybe I bought the wrong torque converter.
The engine really shakes at idle. Today I saw a video of a Nova on facebook that shook like mine. I thought 'good thats normal'. Then I read all the comments and people said not good at all.
I know nothing about carburetors but I do know that people can learn a lot by looking at a spark plug. Attached are 2 plug images from 2 plugs.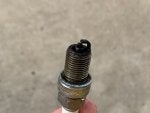 Can you all please help me figure out what is wrong and maybe some things I can do to fix? Or just educate me enough that I can tell some local shop my problem. I realize that the plugs shouldnt look like that with chunks on them
Thank you all so much. Your helpfulness is SO appreciated!
Ryan