'77 Nova Project
I posted in the new member section a few months back but my project is finally underway and I thought I would introduce myself in the proper section. Here is my Nova as it sits today: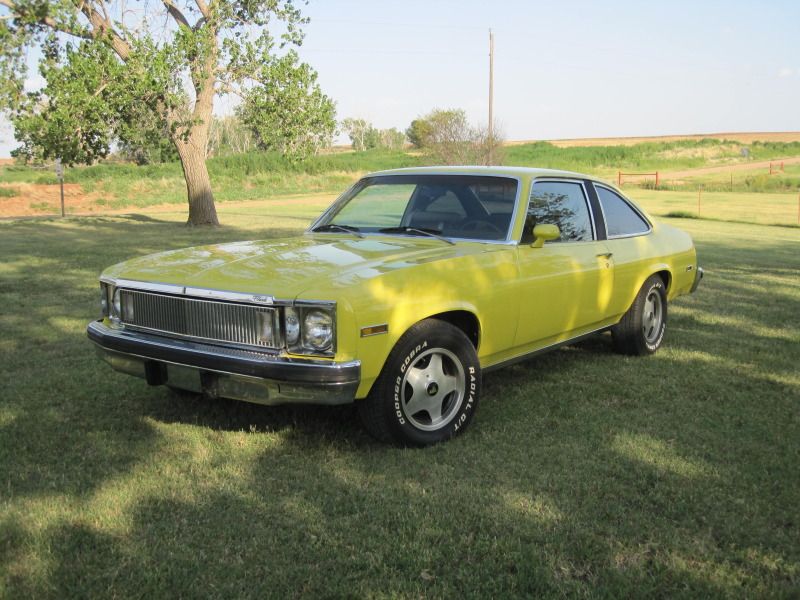 Bought it 13 years ago for a high school car and after I graduated I just couldn't get myself to sell the car. Put in storage and there it sat until a few months ago. This will be my first attempt at a car restoration and I'd have to say, it is intimidating at this point. So much to do, so many questions... But, all in due time. I guess learning is half the fun. :yes:
Anyway, first things first. The tires are showing age so they need to go. I'll be upgrading to 15's in the process. I'm leaning towards a set of Cragar SS wheels. Based on the information I've dug up on here, I'm going with 15x8, 4.5" bs on the rear and 15x7, 4.125" bs on the front. Called Summit and they said a 5 week wait on the wheels since they are custom order backspace.
Bummer, I hate waiting.. I'll wrap them in a set of BFG Radials, 255/60R15 rear and 235/60R15 front. Nothing out of the ordinary, but it will be a nice change from the Progressive wheels that are on there now.
My long term plan is to tear apart the front end and rebuild from the sub frame up with a fresh coat of paint, new bushings and such. The 305 will be replaced with a 350 or 383. The thought of building a motor is very intimidating to me, so right now I'm leaning towards a ZZ4 or ZZ383 if I can't find a good local builder.
That leads me to my first question for you 4th gen guru's. My brake booster is no longer working. I'm debating between just replacing the booster and calling it good or doing a more extensive replacement of the booster and master cylinder. Should I go with the same type of setup (something like
this
) or is there a better option out there? Say a double diaphragm unit or maybe something I'm not even aware of? At some point I'd like to go over the brake lines and disk/drum brakes, but since this needs done now, I might as well do it right the first time.
I appreciate any help. My google fu skills are fairly strong and this site has already provided me with a TON of great information. But the more I learn, the more questions I seem to have. I'll post up more pics as progress is made.