Discussion Starter
•
#1
•
This is either a seller who doesn't now what numbers matching means, or they're hoping nobody will investigate enough to find out it's not true.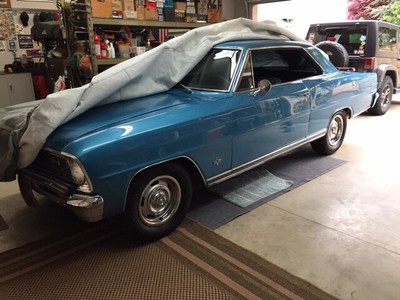 Find many great new & used options and get the best deals for 1966 Chevrolet Nova at the best online prices at eBay! Free shipping for many products!
Nice looking Nova SS, but for 50K at least take the car cover all the way off for pictures. For this kind of money a buyer would also expect an original, or correct reproduction interior, not a cheapo job like this one. Probably paint that is better then 'driver quality', too. It appears the seller believes any '362' engine is close enough to call the car 'numbers matching'. This engine is stated to be original, but the 'V' suffix code gives it away as built December 30th 1967. The 2.02 heads would not be original to this engine. There is no mention of any paperwork or other evidence that the transmission and rear end are really original, either. The car has been substantially modified, so much of the 'numbers matching' rhetoric is a moot point.
For those who are saying, 'who cares about numbers matching', keep in mind it could mean a 5k to 10K difference in the asking price. A real 'numbers' 1966 SS is going to have a substantial premium added over one that is 'non numbers'. There is also the 'novice' factor. Not everyone is as well versed on these cars as members here at SNS. Over the years, I've been asked by numerous newcomers to the hobby to look at cars they've fallen in love with and want to buy. Sellers frequently baffle them with car jargon that is meaningless, confusing and sometimes just not true. Numbers matching even means different things to people already in our hobby, so pity the poor newby. Bottom line is, if you're looking at a car you're thinking of buying, first ask questions here at SNS and/or have an experienced car person go with you to look at it. Over the years, this site has saved a lot of folks from being very disappointed.
Bob