kirk69nova - 1969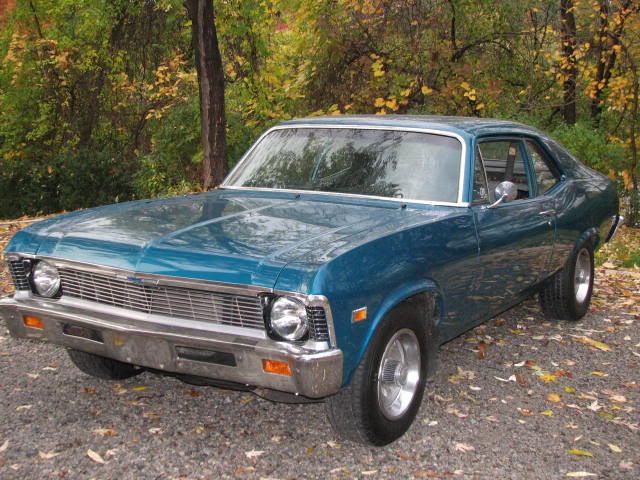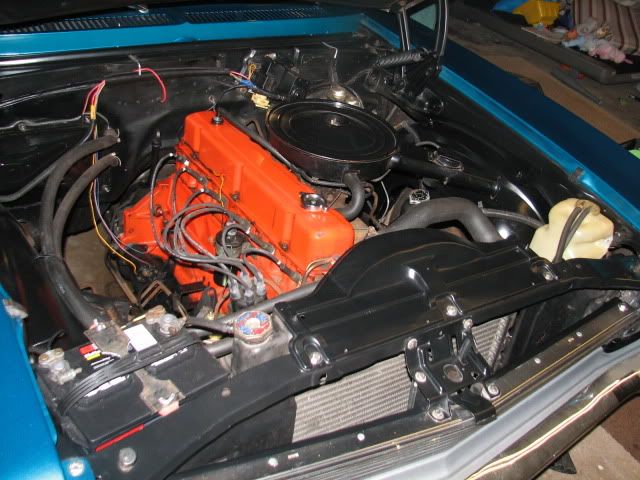 Year: 1969
Model: base
Engine: Currently a 250 L6. Soon to be a 2006 5.3 L33 truck engine/4l60e tranny
Body/Exterior: replaced fenders, 1/2 quarters. PPG Deltron 4300 Dark Teal Poly. It is a 1992 GM color used on Vettes, Camaros, and Firebirds.
Front End: new stock rebuild with stock type power disk brake conversion.
Transmission: Currently a powerglide. Soon to be a 4l60e
Rear End: Currently a stock 8.2" 10 bolt with 2.73 gears. Soon to be a 8.5" 10 bolt with 3.73.
Exhaust: Currently stock single exhaust. Will be Summit 2.5" duel exhaust.
Wheels/Tires: 15X7 rallys
Interior: black bench seat, looking for a black back seat. Originally had a rubber mat, now has black carpet
Electrical: stock
Accessories/Options: none
Sound system: original style AM radio in stock location. Updated CD player mounted in glove box. 6X9 in the rear deck, one 6 inch in dash
Additional Comments: My dad bought this car in 1989 when I was 16. He drove it that winter and then went into the body shop for a "cosmetic restoration" in spring of 1990. After a 2 year stay at the body shop the car came out with new rear outer wheelhouses, new 1/2 quarters, new fenders, new paint, repaired trunk floor, rebuilt 250. We dyed the interior black as well. I drove the car in the spring, summer and winter of 1992. While I was in college from 1992-1997 at Penn State the car was only driven during summers. After graduation I moved to Philadelphia and the car sat in in my parent's garage from 1997-2007. I moved back to Pittsburgh in 2007 and began driving it again. Since then I have replaced the drivers side floor and replaced body bushings with aluminum ones.
Here is a link the LS swap on the LS specific part of this site
http://www.stevesnovasite.com/forums/showthread.php?t=187612
Here is my photobucket album with some additional pics
http://s270.photobucket.com/albums/jj84/kirkryan6/
Some pics of updates on the car.
Soon to be powerplant
Old brakes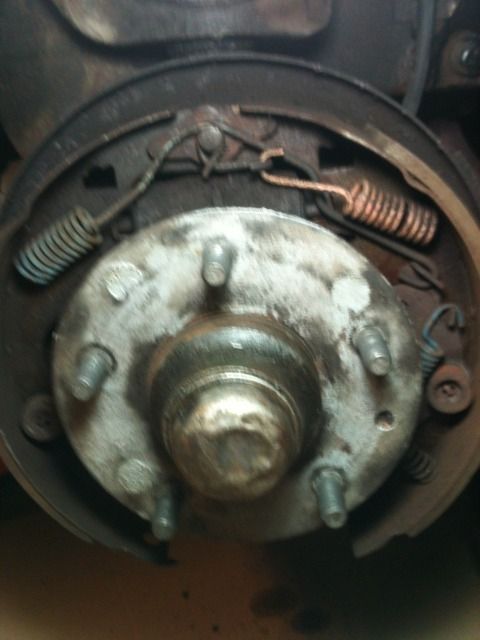 New disk brakes with cleaned and painted suspension parts, new bushings and added 1.25" sway bar.