Discussion Starter
•
#1
•
hey all thought ide introduce my self a little bit.
im from far north west victoria in australia, have a missus and kid, 2 dogs and a cat.
Im a truck driver at the moment (concrete trucks and tippers) but always looking for something else, money talks,you know how it is lol
anyway, i recently bought my first nova the weekend before last, its a 72 yenko replica, its in pretty good condition, and came with literally hundreds of receipts from over the years, and a journal from the original owners with pointless, yet interesting info like when they bought stuff for it with dates and prices, from fuel pumps to fan belts to tyres and services, have alot of original paperwork like the warranty card and "protecto plate" im not sure what this is but apparantly its very rare to find a car with this.
running gear wise its nothing special, 350 crate motor (have dyno sheet, 205hp at the treads lol), th350 and 3.4 positrack, also has a wicked set of brakes up front. pulls it up super quick!
it was a california car its entire life, starting its life at "rally chevrolet" in lancaster CA, then the next owner took possesion in the 90's i believe (havent been through all paperwork yet) who was from hollywood somewhere, this owner is the one who spent some time and $$$s on it. this guy then sold it to the guy i bought it off of about 18 months ago, apparantly he only sold it because he wanted a house deposit. the guy i got it off went over there on holidays and wanted to get a cool car to cruise in and bring home, reckons he looked at about 200 cars, most had fibreglass floors etc, all sorts of dodgy crap, this one was by far the best although it needed a few things put back together, so he bought it and a toolbox and got to it haha
anyway enough of the dribble, heres some pics (excuse the dodgy iphone pics)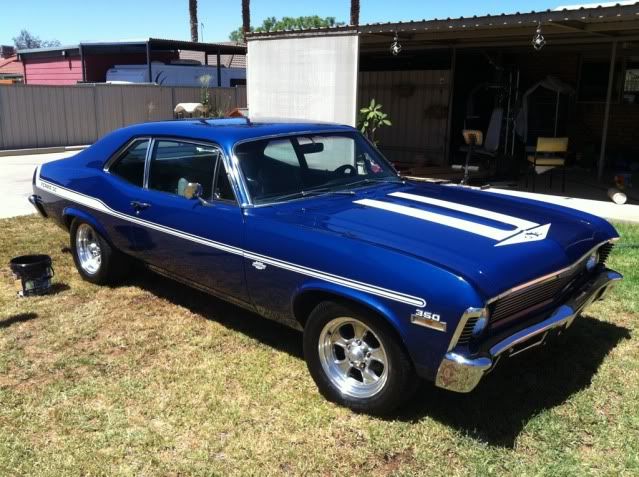 i have a few things i have to get sorted on it, and a few small upgrades i want to do to make it my own as time goes by, but for now im just going to enjoy it!
P.S. if anybody could maybe help me track down the original owners that would be great, would love to let them know where it is now and maybe try to get some pics of what it looked like in its hey day