In the beginning: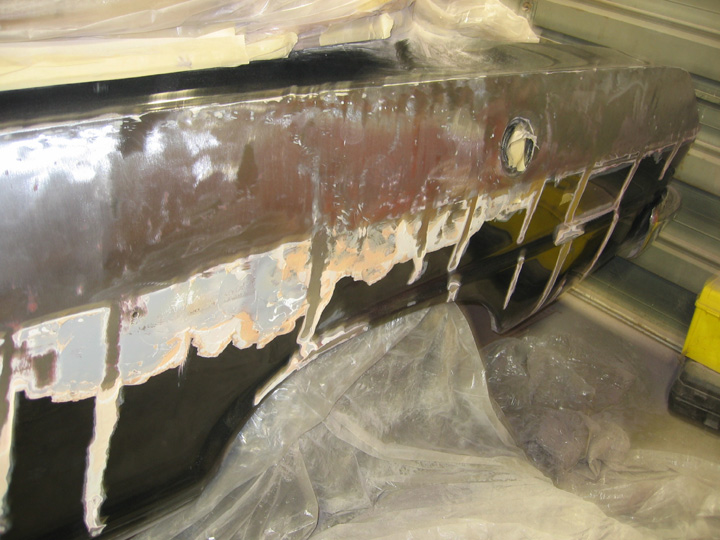 My quarters weren't the worst ever, but the driver's side had been hit and repaired many times, and the passenger side had old pop-riveted rust repairs, and both had a TON of bondo in them, and rippled like the high seas, so they had to go.
After the quarters are cut off, you can see the inner structure of the quarter,the outer wheel houses, and the trunk drop offs. The driver's side wheelhouse had to be pulled out some where it had been hit.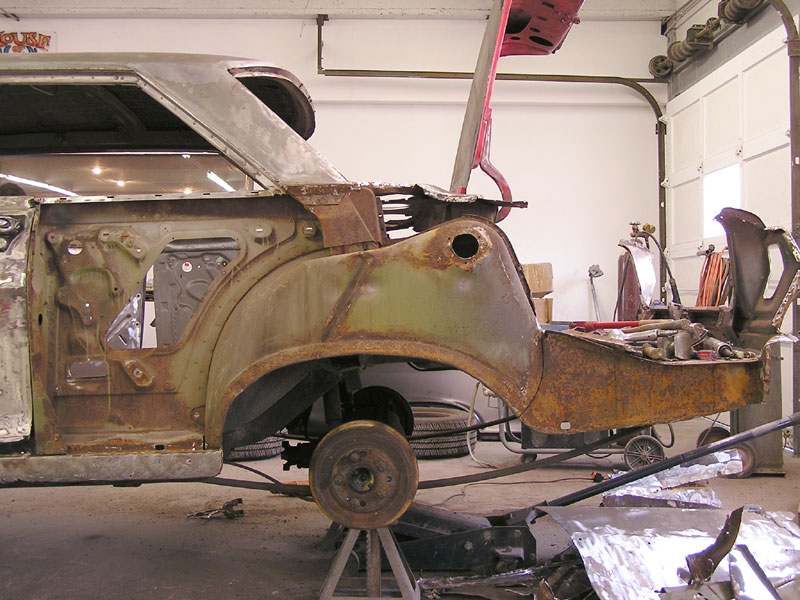 Looks bad, don't it? I would say it's pretty typical for a midwestern car that has spent time outside, and better than average for the pacific northwest, where this car spent most of its life. Always cracks me up that southwestern folks might think this car is unsalvageable, whereas northeasterners would call it 'rust-free!'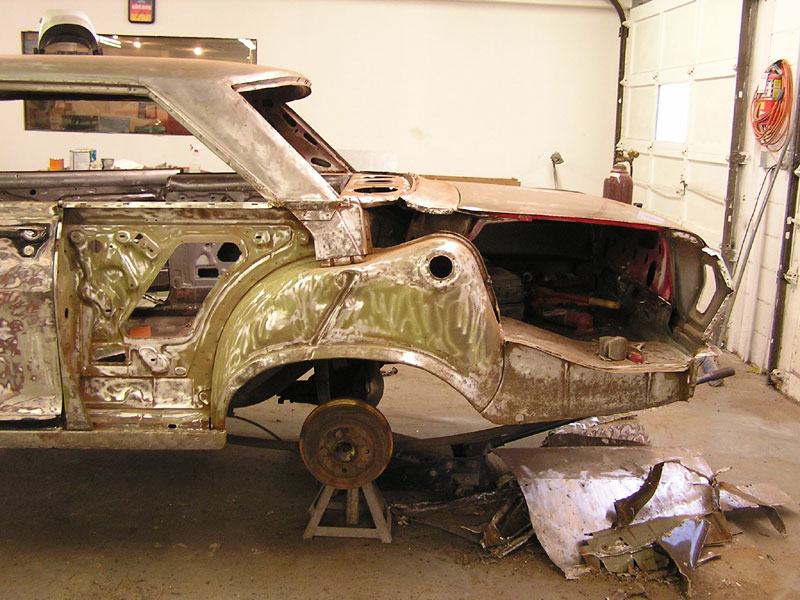 A quick once over with a nylon strip disc knocks off most of the surface rust. The green is factory primer, and I saw no need to chase that down to bare metal.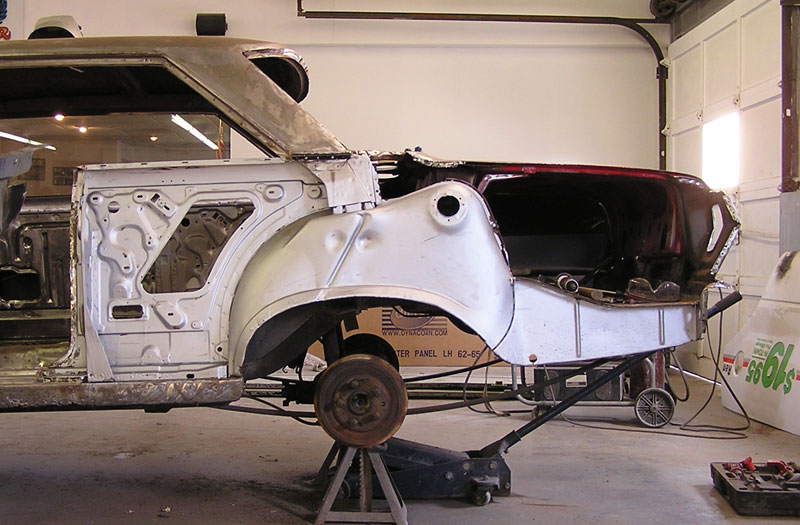 After that, we brushed master series silver rust primer over the whole area, taping off our spot welds. It will still get primer sprayed inside the quarter later, but why not do some rust treatment while you can?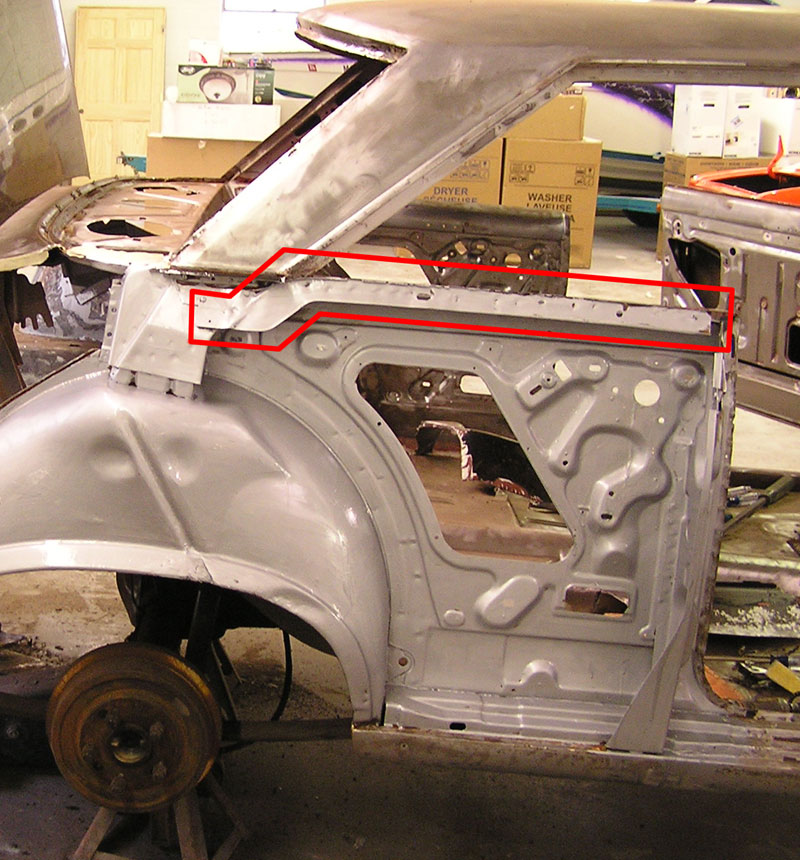 One important point, it would be very easy to mangle or cut through the outer window ledge support that is welded to the sail panel (outlined), so when you are removing the original quarter, keep an eye out for it.
Months back, when I got my Dynacorn full quarters, I was less than impressed by several differences from the factory quarters
http://www.stevesnovasite.com/forums/showthread.php?t=40276
that I knew would have to be dealt with. The body guy was quick to point
out that the differences from the quarters on my hardtop are probably there to make them work with convertibles and sedans as well. Keep in mind that aftermarket parts are often made as a one-size-fits-all solution.
So, if you are putting full quarters on a hardtop, remember: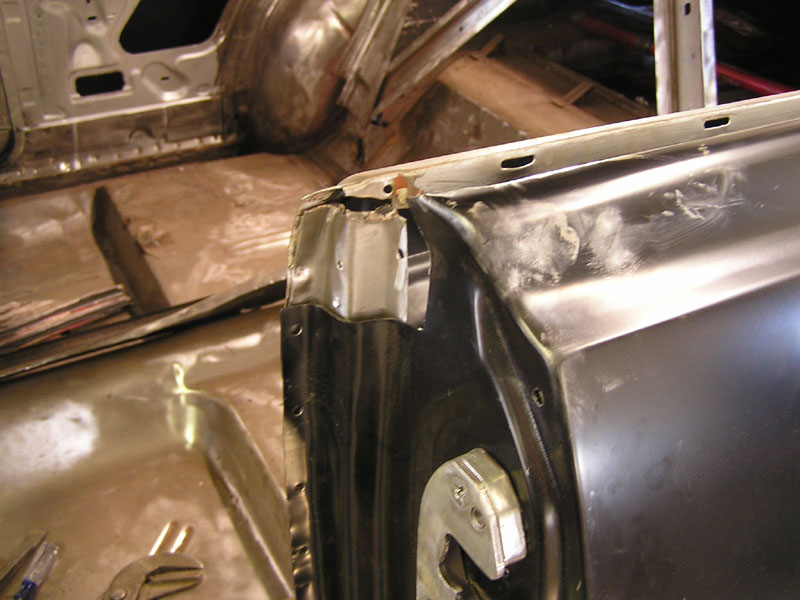 1) The very top inside of the door jamb, the part that has the small rectangular bumper on it, should not be removed from the car. The replacement quarter does not have it. Furthermore, you will have to cut the adjoining window notch to the correct width.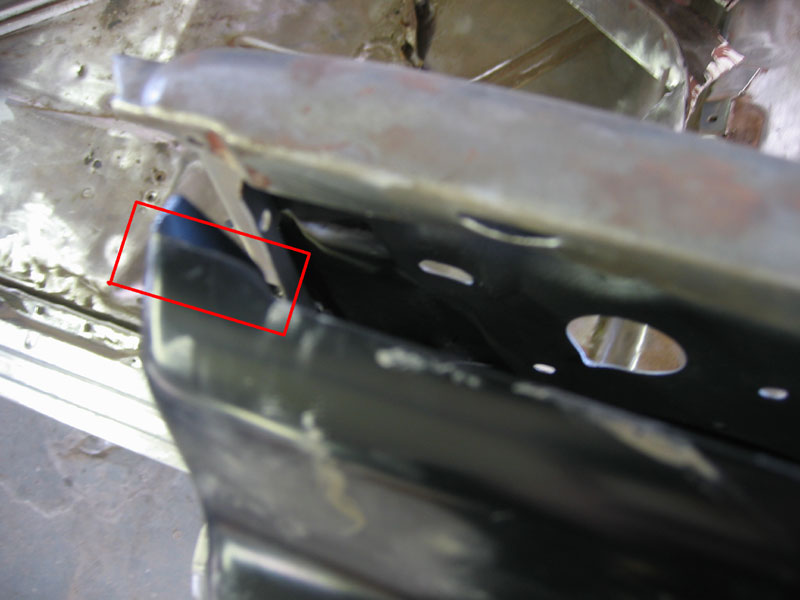 2) The replacement quarter panel has a small extra bump that sticks out at the very front corner of the quarter, projecting into the quarter window opening. I don't yet definitely know if it would interfere with the window or not, but if you want it to look factory, it has to be taken off for a hardtop.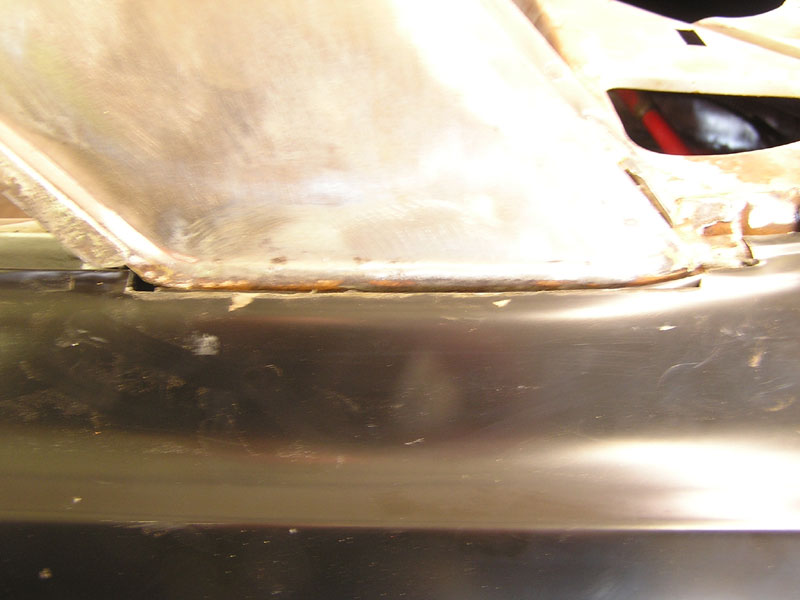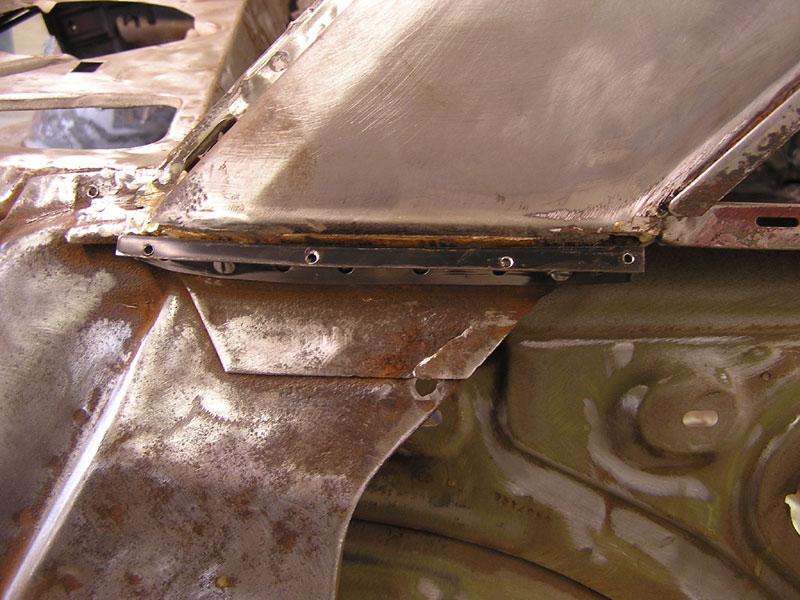 3) The replacement quarter panel has no notch at the sail panel area. This is almost certainly to make it work with other body styles. If you want your trunk lid gap to be right, and your quarter window opening to be the right width, this has to be dealt with. Our solution was to use the cut-away part of the notch, flip it over, then weld it to the sail panel, and lap the new quarter over that, as shown.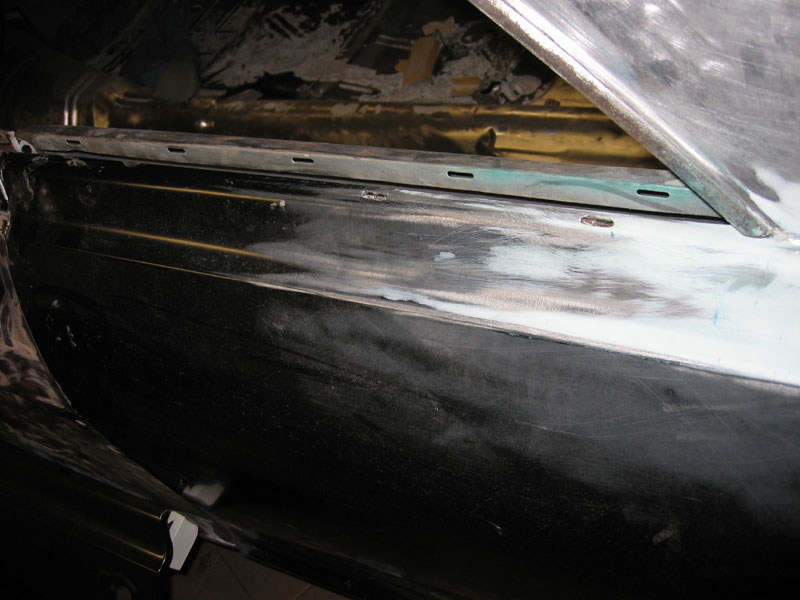 4) Don't forget to have some means of locating your reveal window molding clip holes, if you are going to keep the reveal molding, as they are not present on the repros. We kept the old pieces as a template, and drilled new holes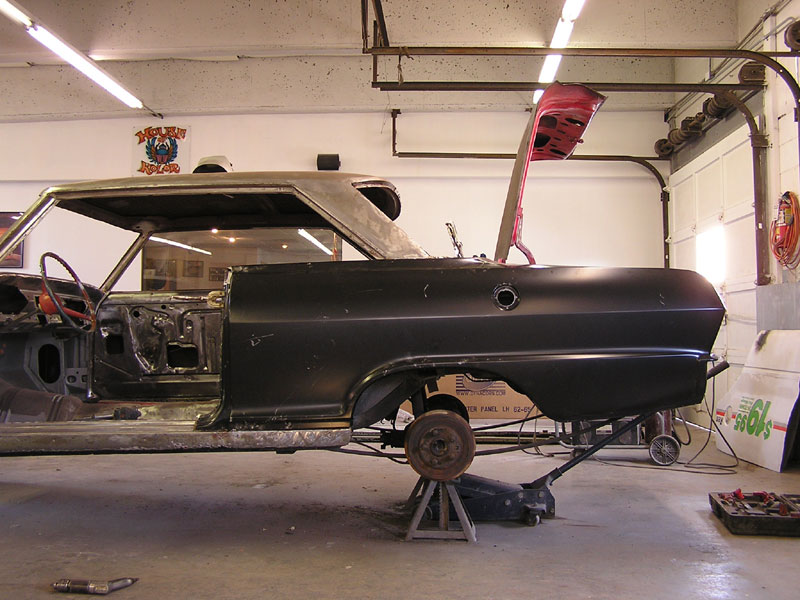 After the notches are cut at the sail panels, we were amazed that the quarters did fit quite well. Gaps are pretty good, the panels were straight. If you are doing full quarters, keep your deck lid and doors on the car. It may seem obvious, but if you want to do it right, they have to be there to constantly check the gaps as you work.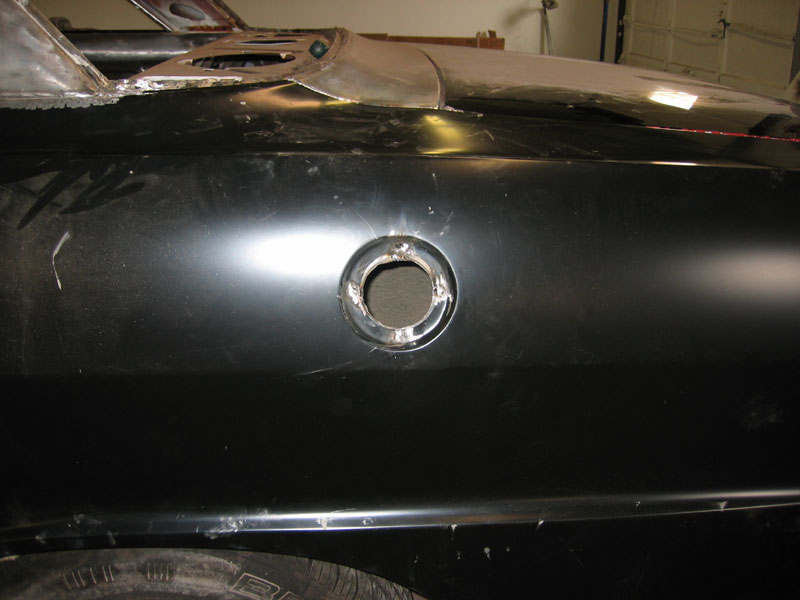 The filler neck hole lined up perfectly, and the metal seems to be reasonably thick, not flimsy.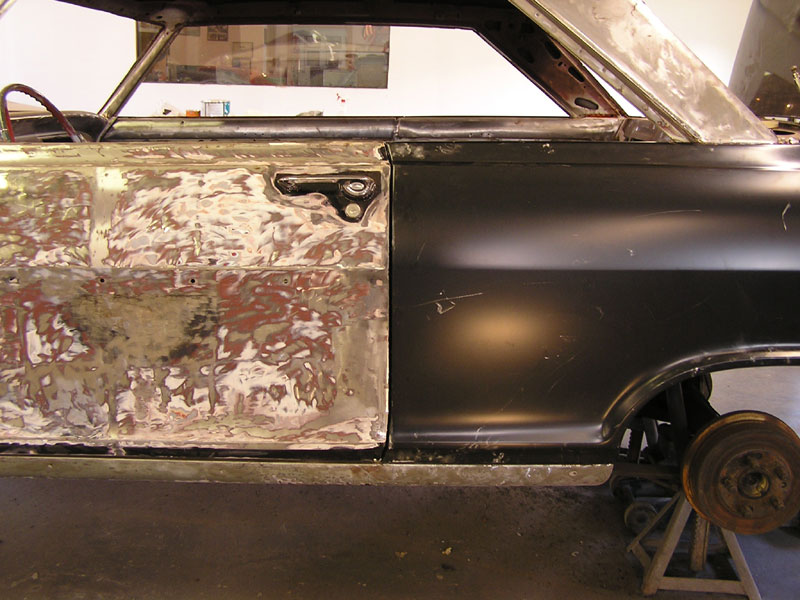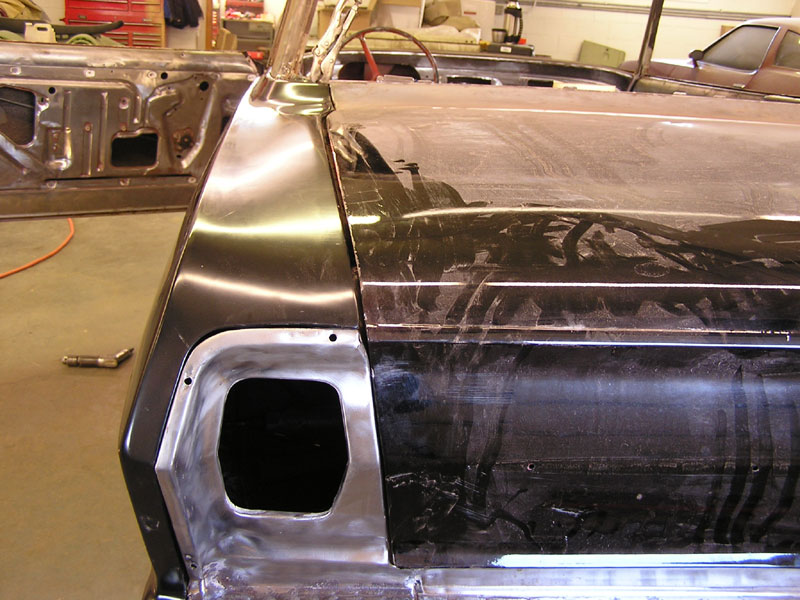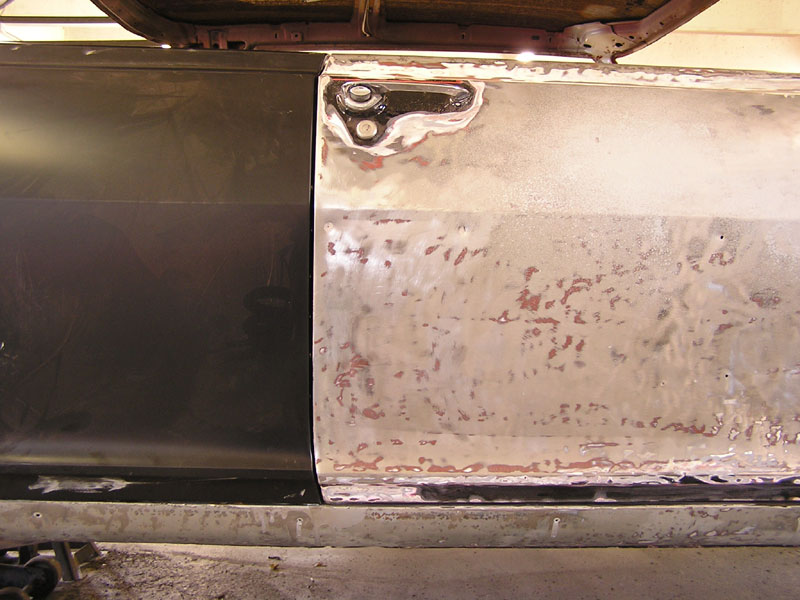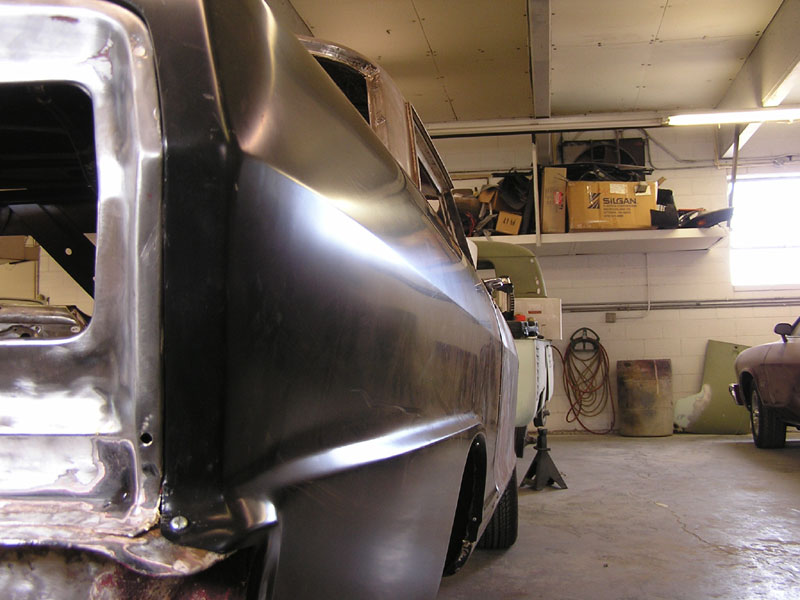 You can see that the gaps are pretty good, though not perfect, with the quarters mocked up and held in place with a few screws, but as they are clamped and screwed for final welding, try to push and pull them as necessary to optimize the gaps. This is where the art and experience of doing dozens or hundreds of quarter panels really comes into play. I guess it goes without mentioning that in order to hang quarters, you have to have the doors, (with good hinges, I replaced one of my lowers before starting this) and deck lid on the car to constantly check the gaps.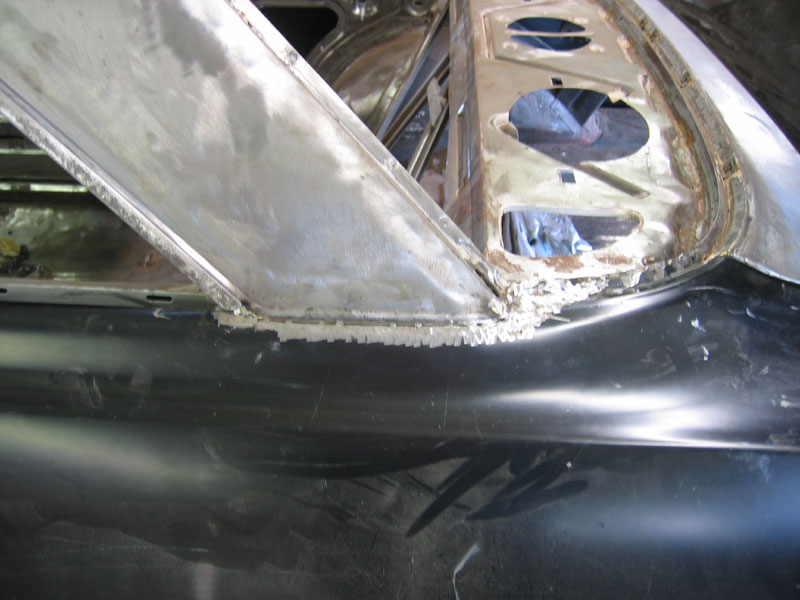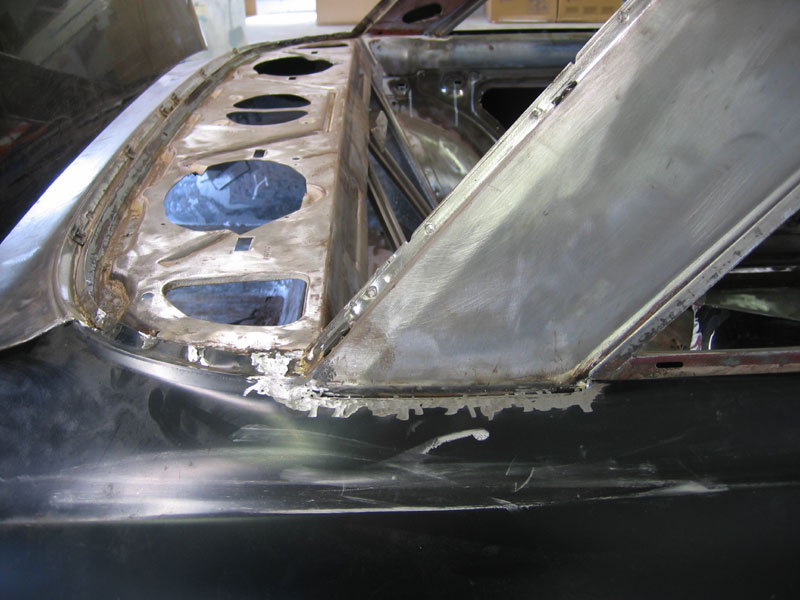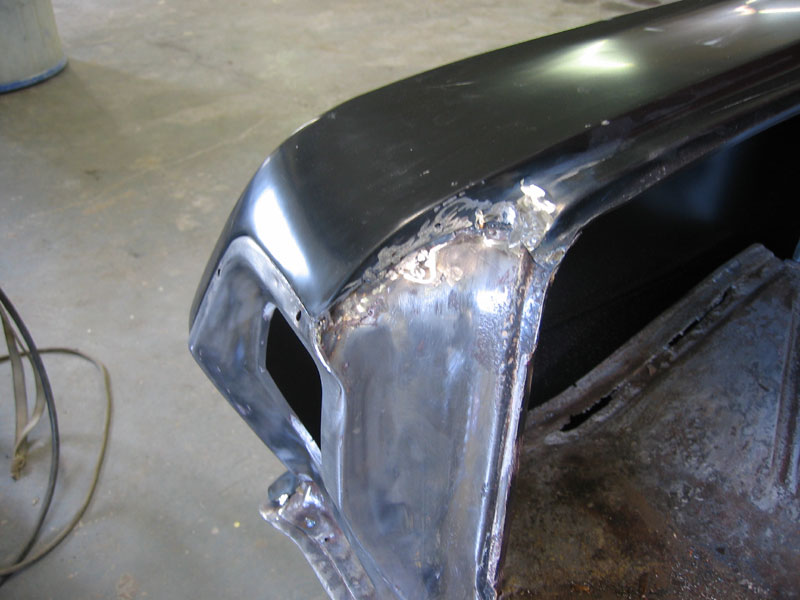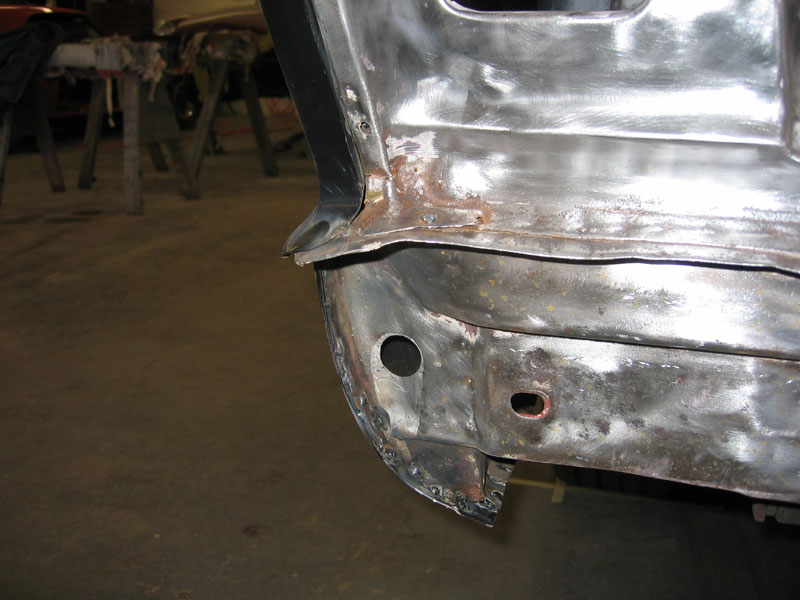 After mocking them up many times and making adjustments, We drilled holes all around where the plug welds will go, welded 'em in, and ground down the welds.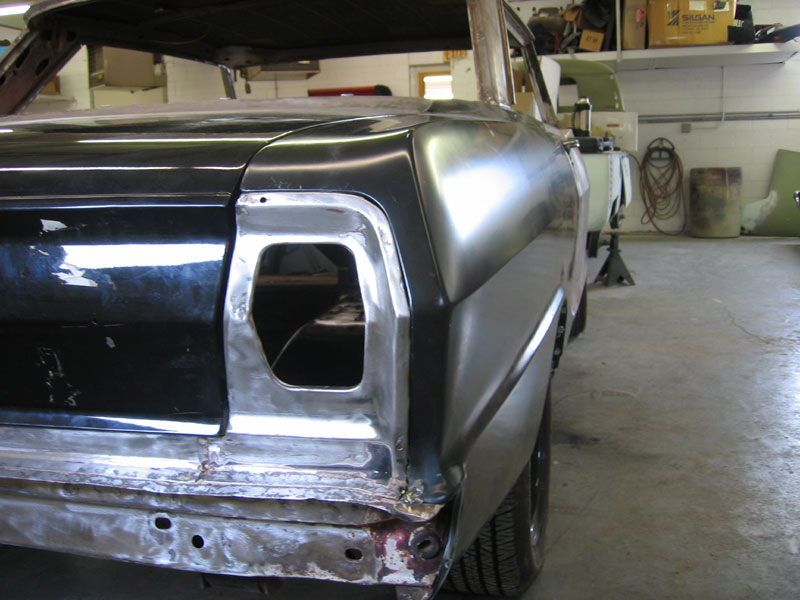 Some amount of filler is always necessary when you get to the blocking stage, but overall the Dynacorn full quarters were proclaimed 'Way above average' for aftermarket sheet metal. Don't come after me if you get a bad one though. I wouldn't be surprised to see them vary widely. I ended up getting mine from
http://www.justsheetmetal.com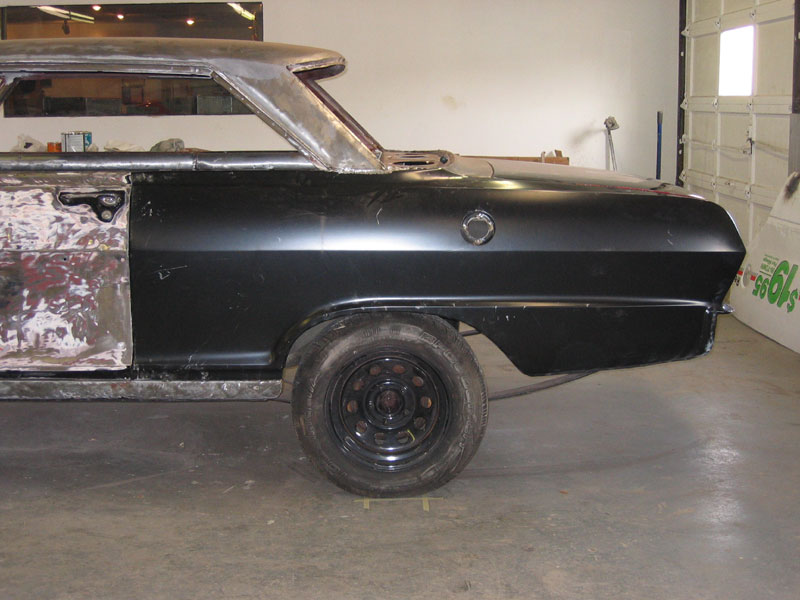 They're not in primer yet, but they're hung, and they fit, so there you go. I'm pretty jazzed to have a major part of the sheet metal work done! Hope it helps someone going through the same process. Next: Door skins!