Next in my series of Death by Photography(TM) rambling repair diaries, is about the front passenger side floor pan on my 63 coupe. Disclaimer: I have no idea what I'm doing with this stuff. If you're looking for an expert guide, this ain't it. My only redeeming quality is that I have a camera, and refuse to quit. That said, here we go.
Surveying the damage.
This first pic was taken back on 10/24/05. It's what I saw when I pulled back the carpet. As you can see, the toe board is a complete loss, as is the floor pan back to the front seat mounting holes: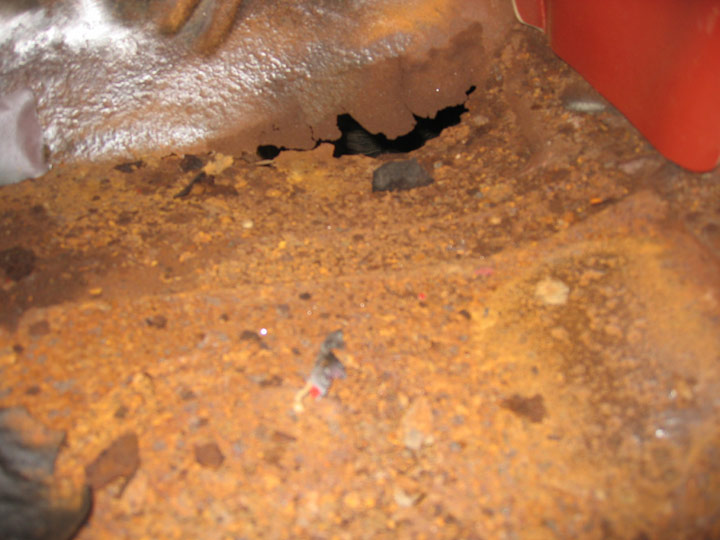 Here's a wider view of the damage with the carpet and seats out. You can also see my hole-y kick panel, before repair: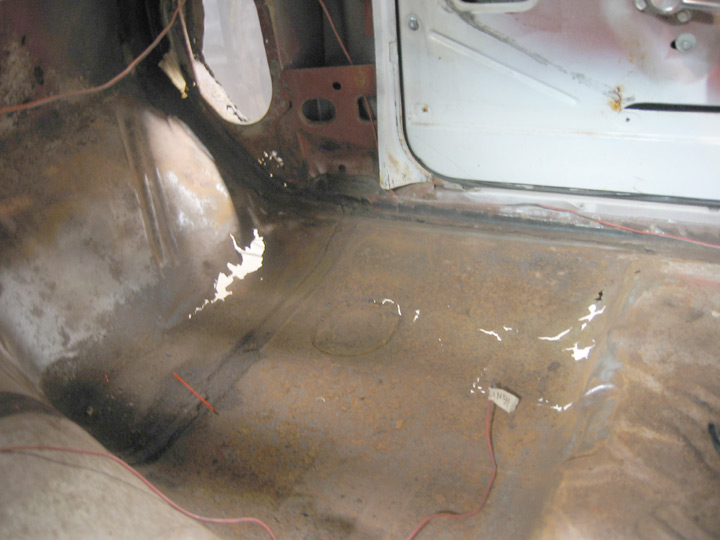 After gutting the interior and grinding off 95% of the grime and old primer, I cut out the worst of the rust, just because: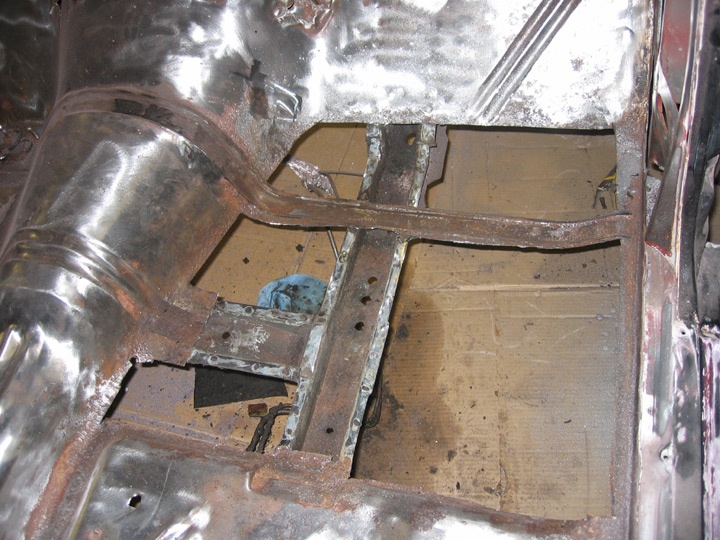 Knowing what you have to work with.
I got my passenger side replacement floor pan from NIGHTSHADE. It doesn't go very high up in the toe pan area, and, it's not formed correctly at the front seam. The way the factory did it, the floor pan is folded downward on the outer edge, and pinch welded to the rocker rail. Forward of the seam, the edge of the toe board area is folded up to meet the kick panel section. It can be made to work, but I was lucky enough to get an original toe board section from another member: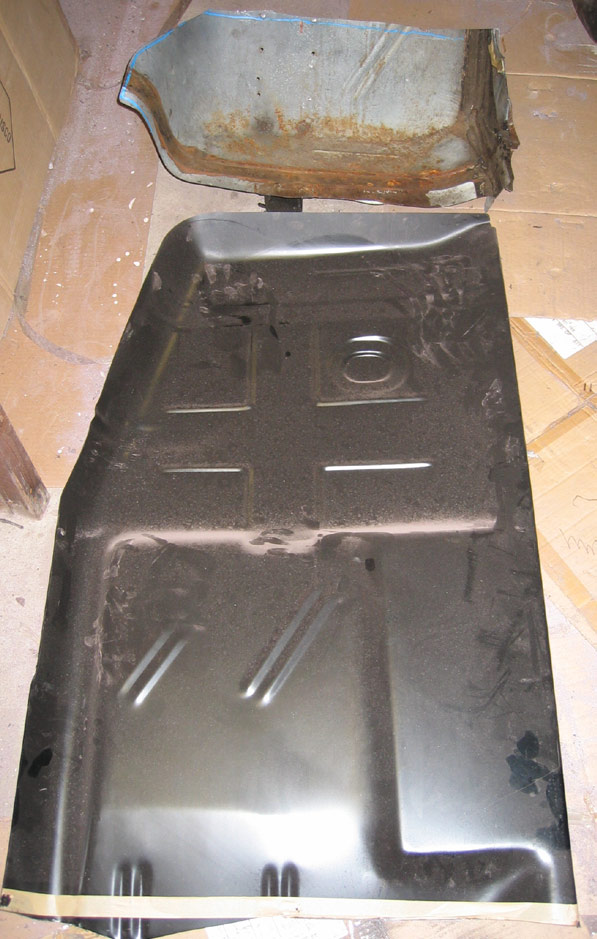 Locating the seat mounting holes, deciding where to cut.
At CustomJim's suggestion, I'm taking the repair all the way back to the floorpan crossmember, which sits under the rear front seat mounting points. Structurally, it's the soundest place to make the repair. Even if all my welds somehow gave way, the repair section isn't going anywhere. So, here's my cut line, right through the middle of the crossmember. I also circled the spot welds, though of course only the forward row of spot welds (to the right) will have to be cut out: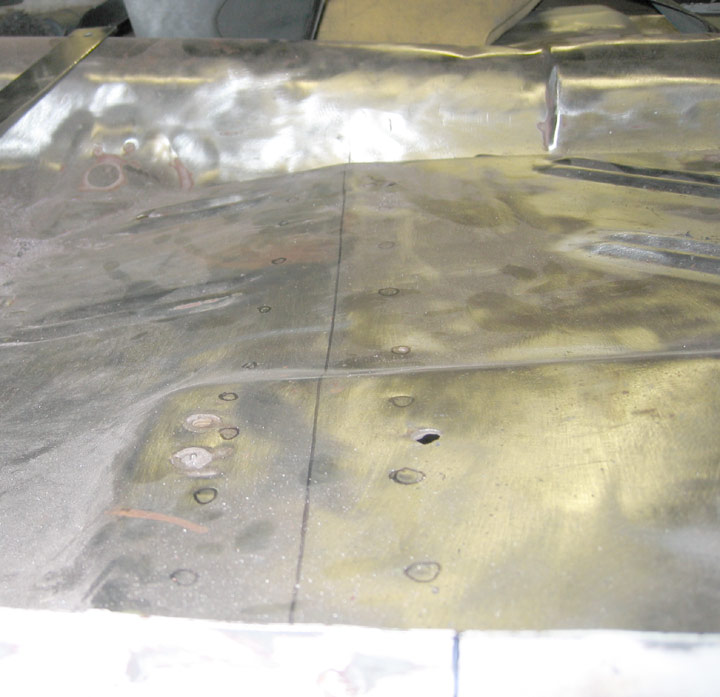 Here I used a carpenter's square to measure at a right angle from the rocker rail, and locate the center points of my seat mounting holes: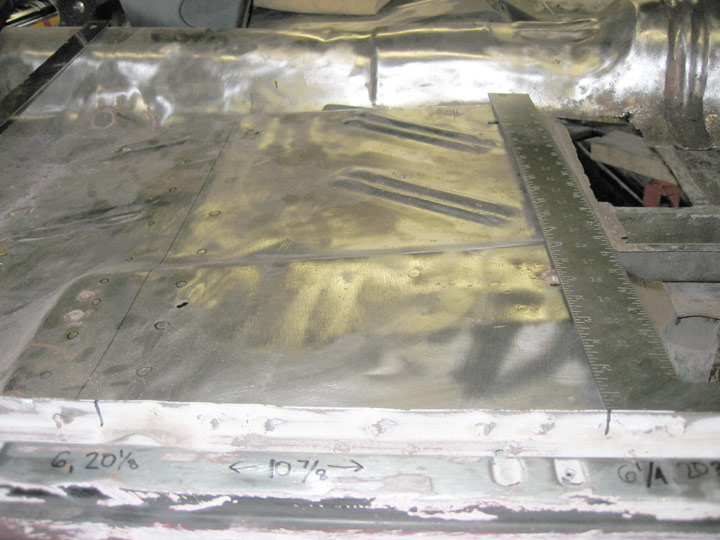 Here's the underside view, where you can see the crossmember, and a bracket for the outer front seat mount that I will have to separate from the floor pan and weld to the repair panel. And also, how much old oil is caked on the bottom of my car
: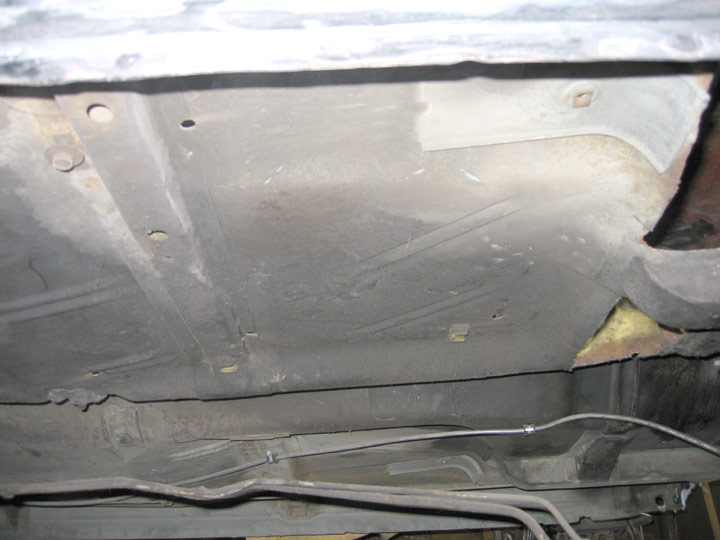 To be continued.