Discussion Starter
•
#1
•
I took a 3 year hiatus on the project, but I started working on it again last spring.
Finally got it running.
http://youtu.be/2fp-DsyHZ-Q
I bought a CPP Booster/Master/Proportioning valve combo from a member here. It was new but not in the original box. Now that I have it running the booster won't hold vacuum.
I can actuate the master with the plastic cylindrical tube the extends out when the pedal is pressed, however it would appear that there's supposed to be a rod between the master and the booster. If you look down the hole in the booster there is a recessed hole that apparently a rod fits into. Could that be the culprit?
I called CPP and the "tech" guy I talked to there was absolutely worthless. All he wanted to do was sell me another booster. I did email them with some pictures, but haven't heard back.
I found a picture on another site of the same booster and it definitely has a rod, but the guy at CPP didn't know if there was a rod or not. He would have gladly sold me another booster for $189 though.
I can't believe a brand new booster would leak. If that's the problem, I'll have to buy a new one, but I'd rather not obviously.
Any ideas?
My booster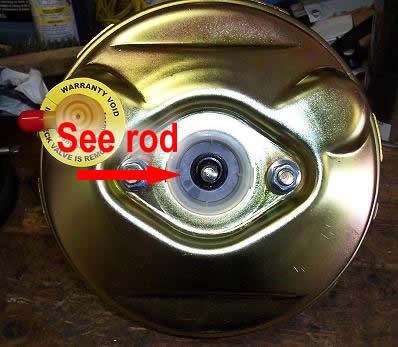 Picture I found online.