i'm installing the 1998-2002 F body 12" discs on my '64. the CBR LS adapter plates will be utilized on the fronts, for now i'm working on the rear.
the thread on the conversion is multiple pages and quite spread out. i've taken some pictures and edited in paint. hoping to have the complete information in one easy to use album...
here is what i have for now (i'll update as i progress)
http://s7.photobucket.com/albums/y2...rmation/1998-2002 Camaro LS brake conversion/
here are a few example images...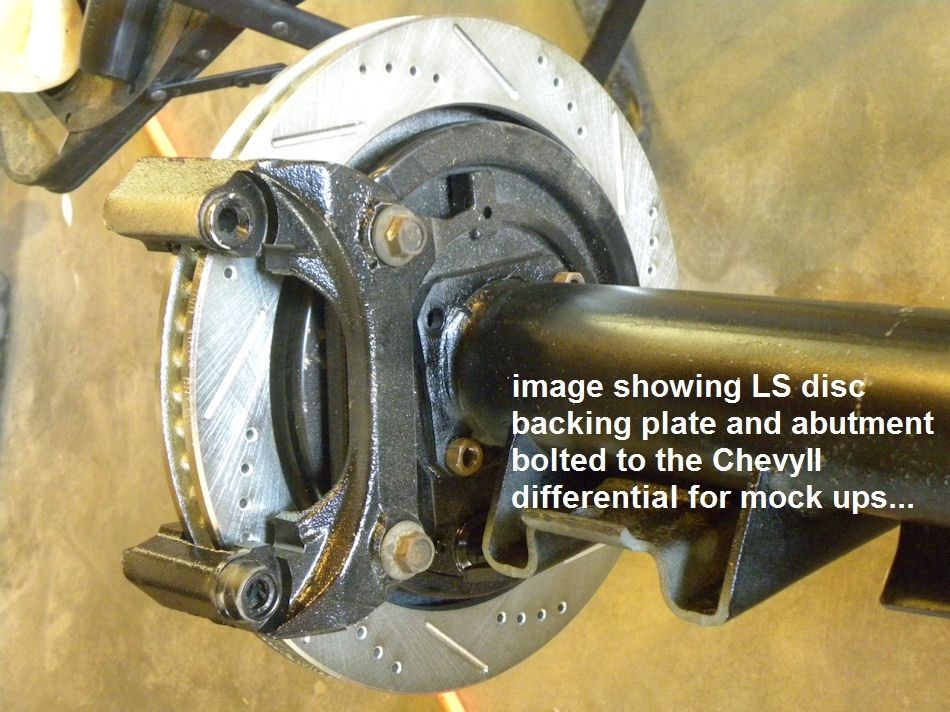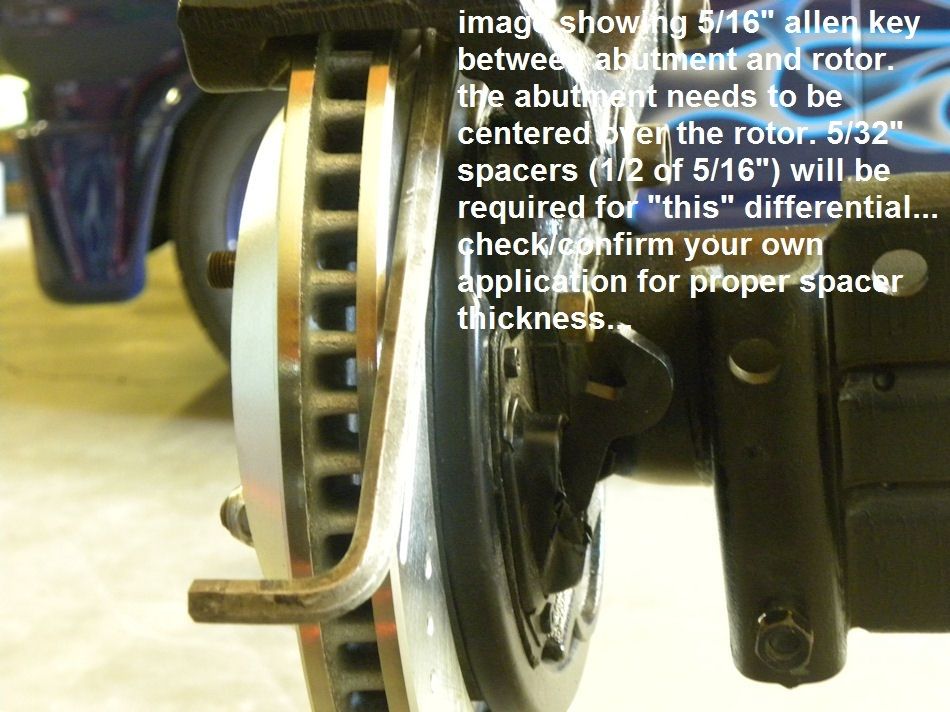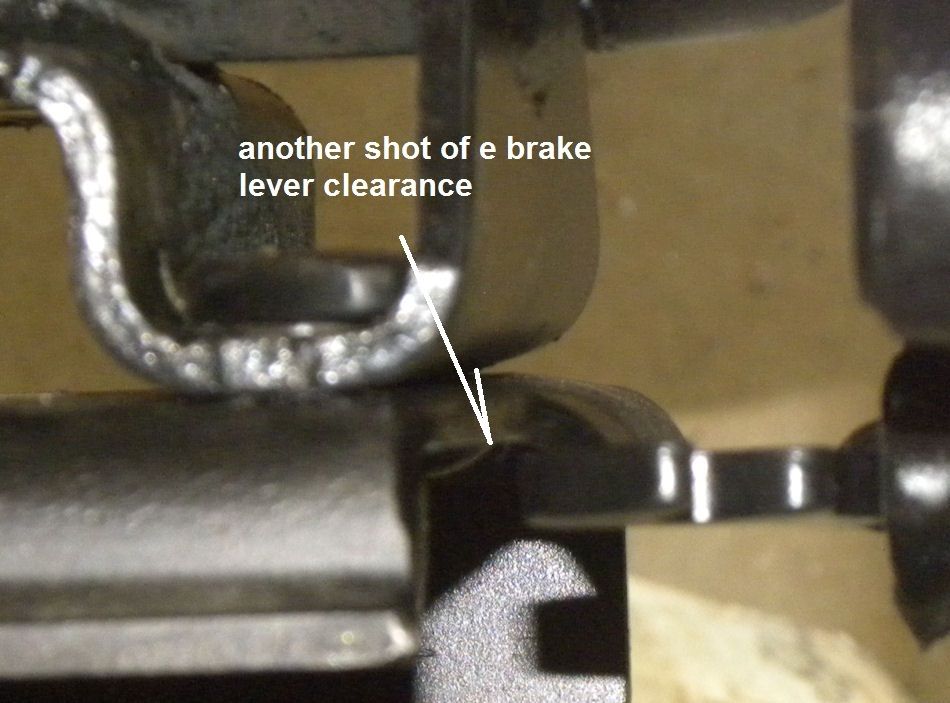 OK... i've decided to make my own spacer plates. i don't think $40-$50 for plates is doable... so instead of washers which i think sounded rather Mickey-Mouse i scrounged up some 3/16" steel...
and of course instead of it being straightforward i'm forced with a detour... the hole needs to be 2-3/4" diameter... the hole saw i had is only a 2-1/2" so that's 1/8" per side to make the hole the correct diameter...
my 3/16" plates with the 2-1/2" holes, left large on the outer dimensions for now...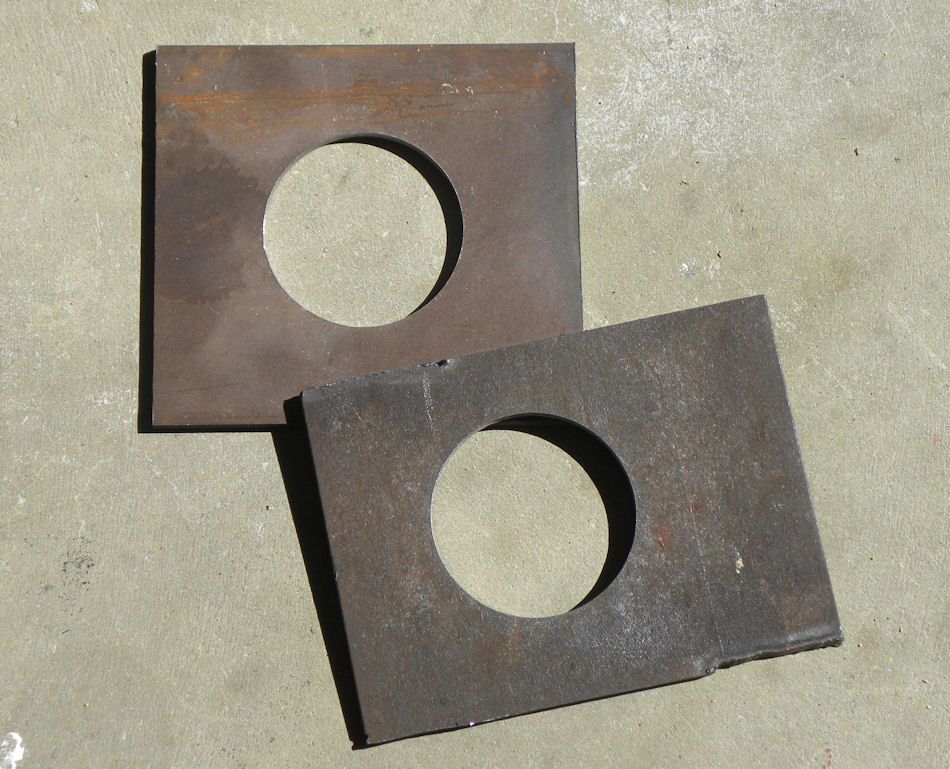 as you can see in this image there is a step on the tube at the flange.
tube diameter is 2-1/2", step included... 2-3/4" :doh:
SOOOO... da plate don't wanna fit!
so let's open it up a little... more info on this to follow...
now it fits on the tube, but not over the step...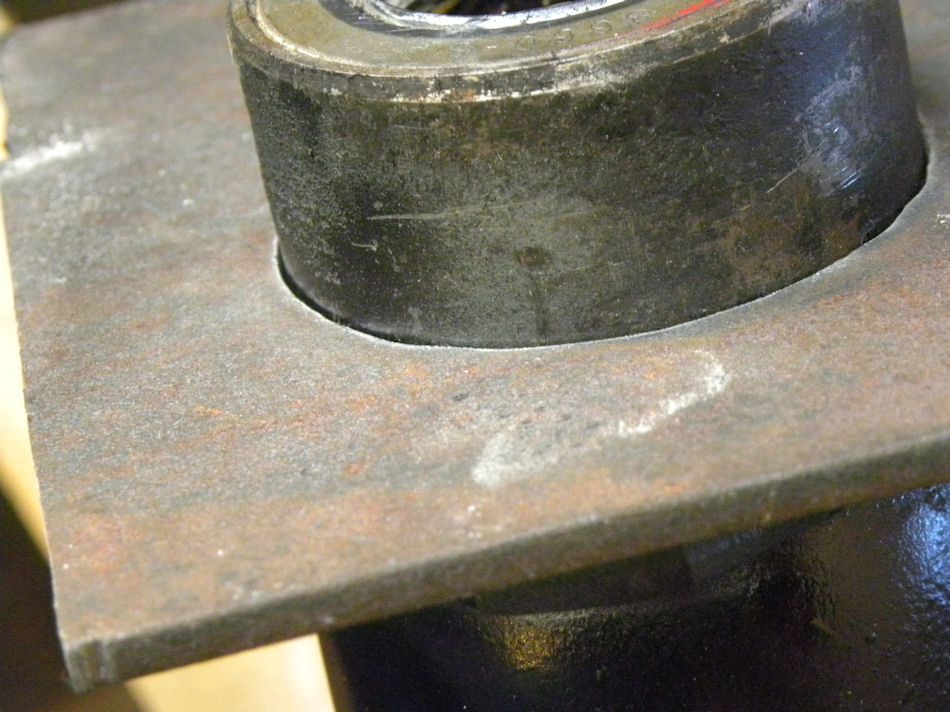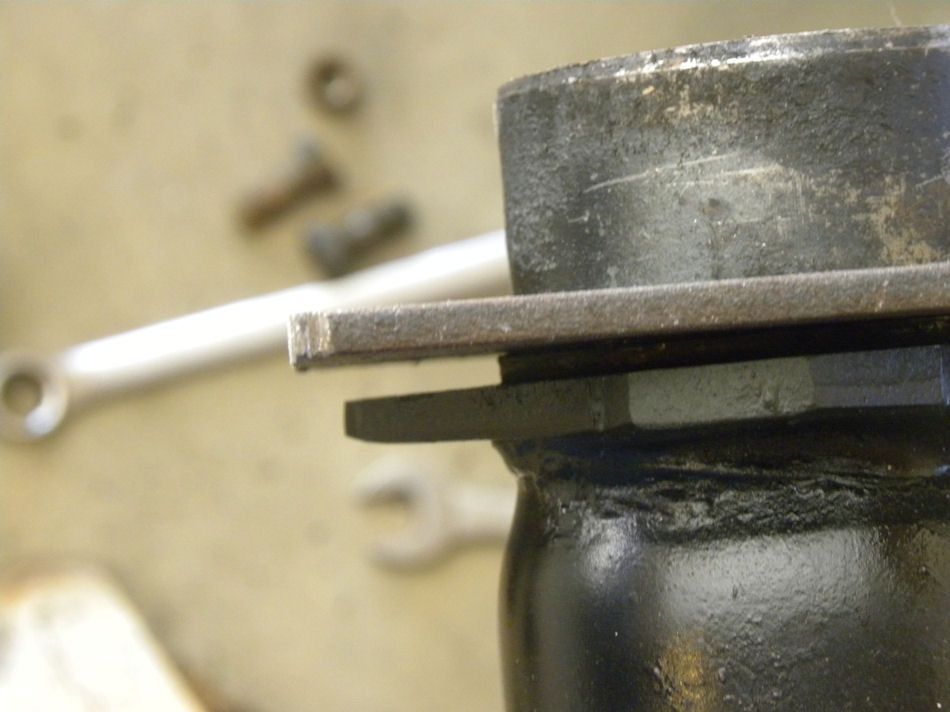 here are the tools i'm using to open the hole.
initial 2-1/2" hole was done on a drill press, this work is being done by hand...
a die grinder with a carbide and another with a sandpaper roll to smooth out. sandpaper roll isn't required. the carbide, yes.
an old paint can top shoved in the hole and a Sharpie to trace around and now you have an approximate line to work towards...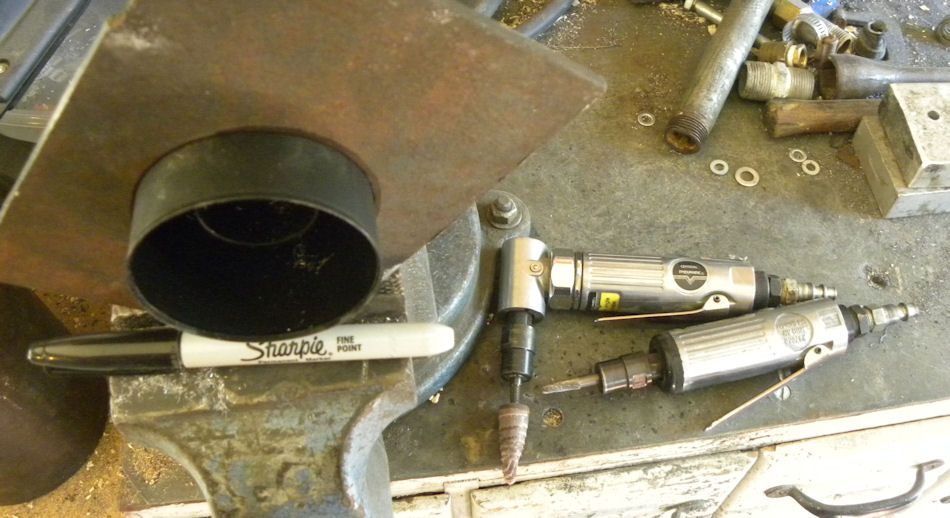 if you look closely you'll see i'm putting an angular cut on the spacer. this isn't very wide. i'm cutting down on the size/thickness of my work area. once angle is all around i then turn metal around and do the same thing. put an angle on it. once that's done i remove the mountain and make the hole flat inside again... just helps the job go faster...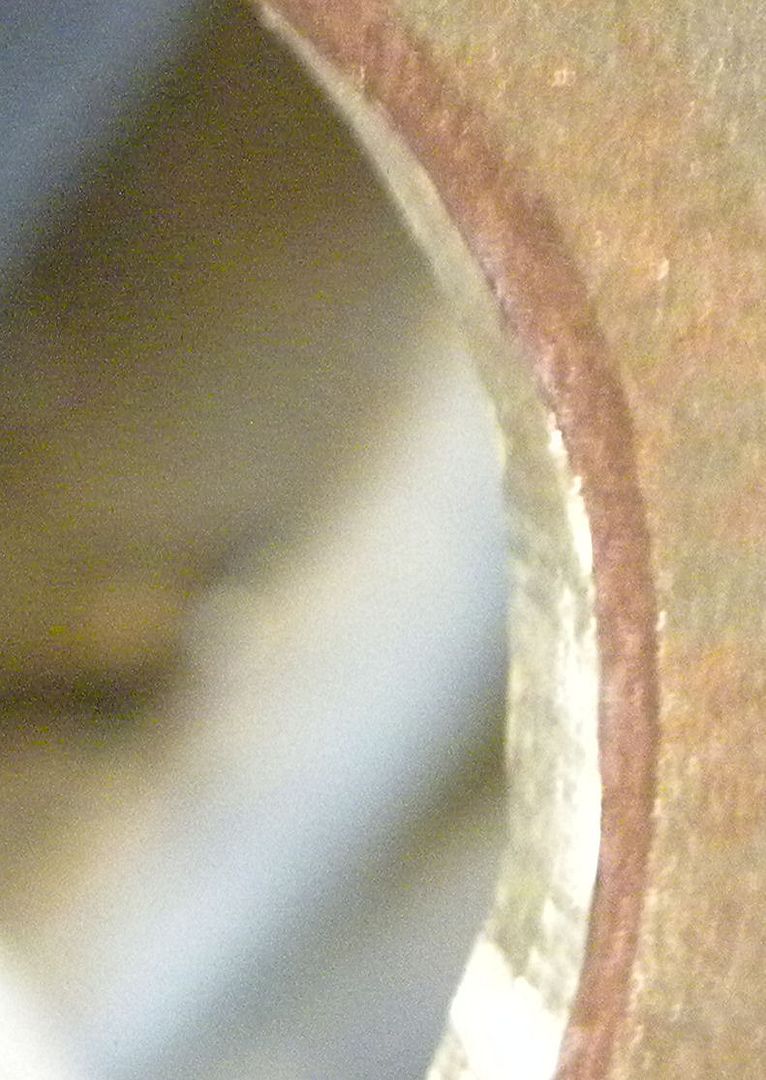 NO this isn't a precision job, thought this would show the hole differences better than a tape measure. the hole needs to be opened by 1/8"
after working the carbide evenly & equally, as best as one can... this is by hand so perfection isn't a word to be used... it fits over the tube & step...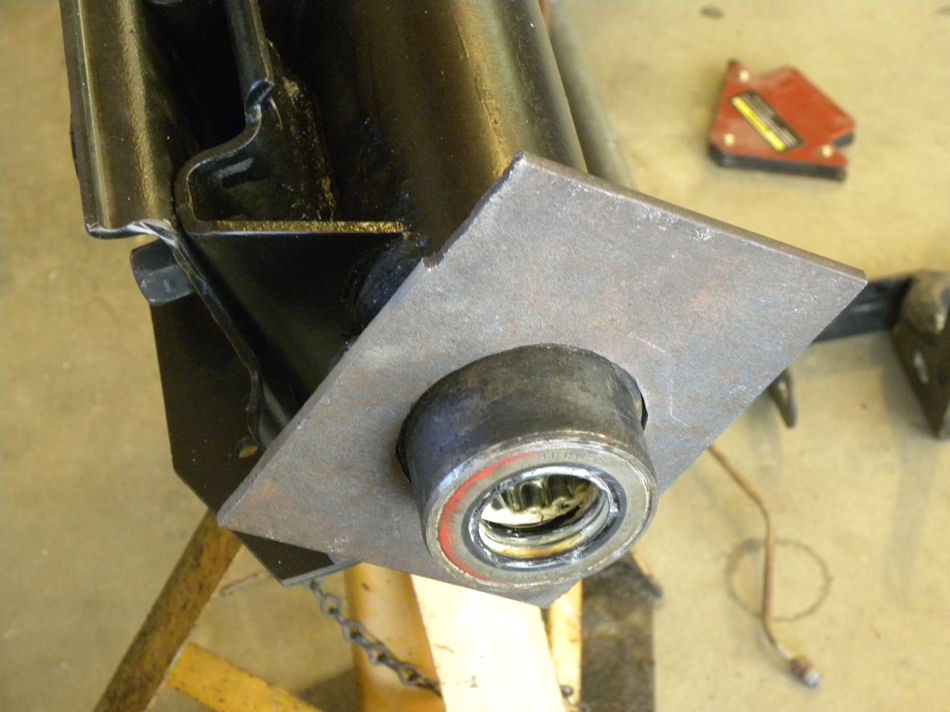 this is what you want... it HAS to fit flat against the flange with NO hangups...
here i've laid one on top of the other so you can see differences...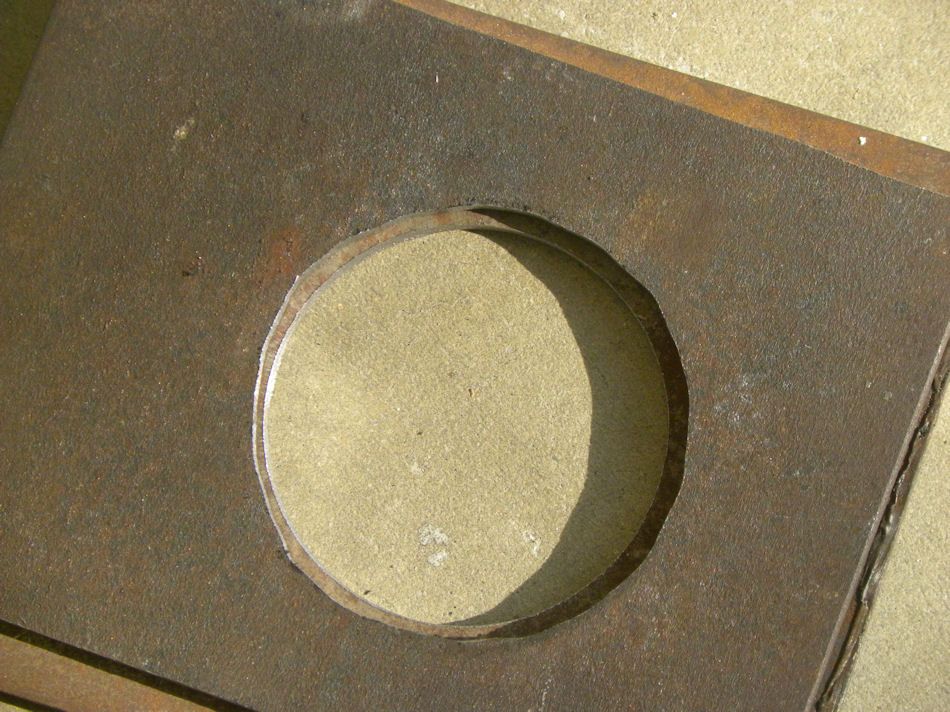 here i've quickly traced the flange onto my spacer. not too concerned about hole locations as i'll cut the plate to size and use an old backing plate for lining up the hole locations. (they are not symmetrical holes)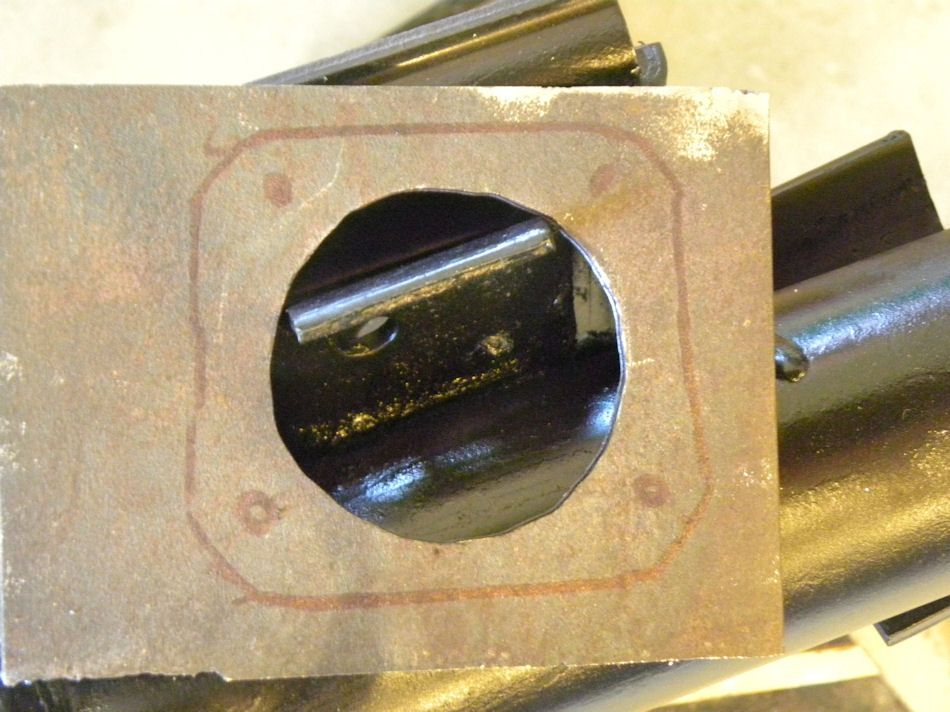 so far i have done what's shown... 2 plates with center holes and one plate opened to size and i have about 1-1/2 hours invested and zero money. i'll estimate i'll have another hour into these completing them... so, what's my dollar per hour worth? as much or more than the guy selling the spacers, am i saving money making my own? heck i don't know i just know i'm hardheaded and i couldn't see spending the cash on 'em...
OK, one more thing i thought i'd try and do... i made a short video for those unfamiliar with using a die grinder & carbide...
hold the grinder fairly secure. no gorilla gripping is necessary, just hold onto it. use your other hand to guide/steady yourself. depending on the quality of your die grinder you may or may not be able to regulate the RPM's. carbides like a lower RPM, no need for a trillion RPM's per minute... slow it down and let the tool do its job. as you see in the video i stick my thumb under the trigger to try and regulate the RPM's i have el-cheapo Harbor Freight die grinders... but they work
anyways. work the material Against the rotation of the tool. don't let the tool chatter, this can and possibly will break or chip the carbide. if chipped or broken the carbide is now junk so watch what you're doing. work in about 3/4 to 1" of area, work back and forth and try to minimize gouging it resulting in mountain & valleys... keep it smooth and keep it moving.
it's really not that hard to make your own plates...
the video...
http://s7.photobucket.com/albums/y2...brake conversion/?action=view&current=017.mp4
finished up both spacer plates, picked up longer bolts to attach LS backing plates to the differential...
installing the backing plate & axle... with new gear oil going in, i lobbed a good fingerfull of white grease on the bearing and seal for a prelube, also a drop of blue loctite on the backing plate nuts to ensure they never come loose. used new lock washers etc too...
(i promised a few "personalized images
)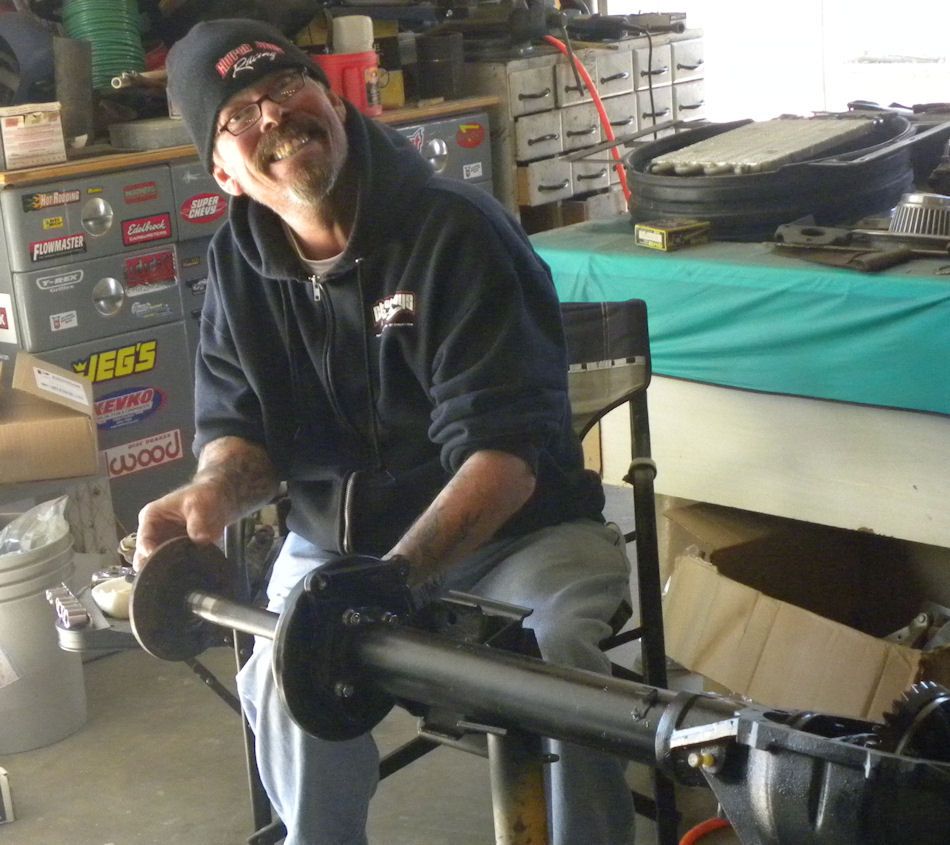 after picking up new caliper hardware kits i'll install the calipers...
and one for Chuck, he's keepin' me warm on this chilly day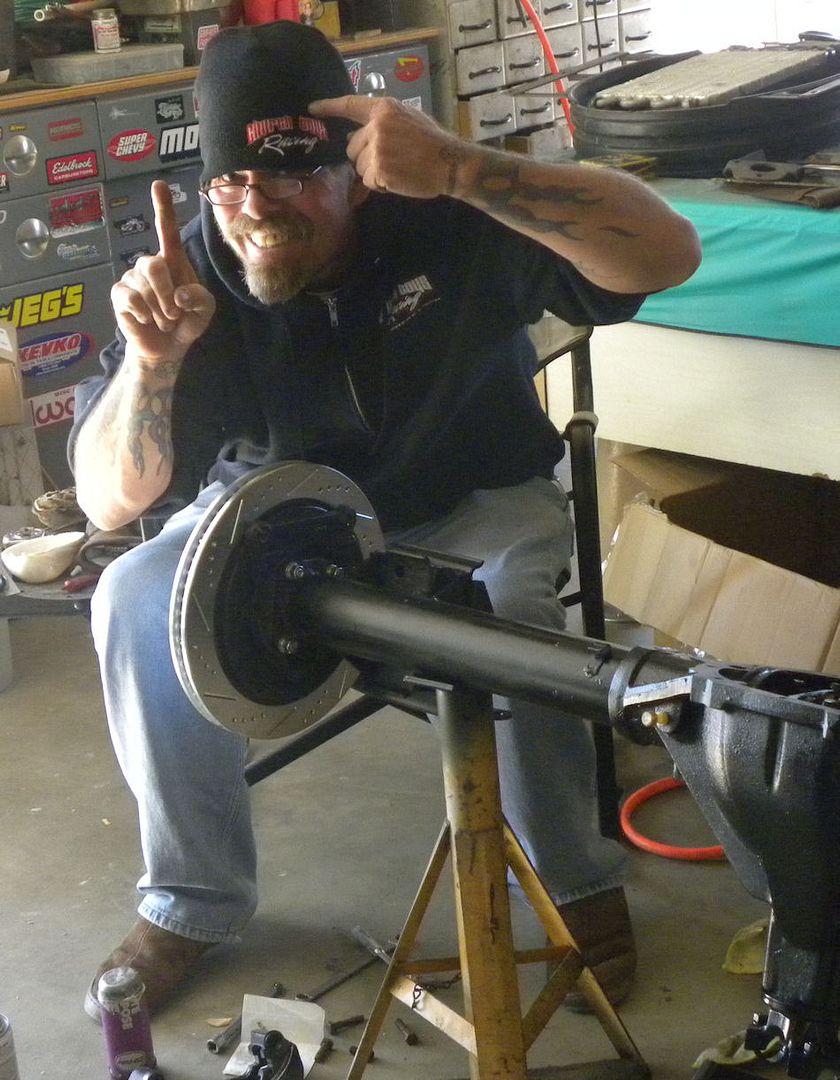 even though lock washers are used, prepare for the worst, hope for the best... a little blue loctite on the backing plate fasteners is good insurance they won't come loose...
once differential is installed i'll start on the e brake cable mods. there have been posts on how others have done it, i have my own ideas to try first...
to be continued...