Discussion Starter
•
#1
•
Hey guys. I just got done changing my rear suspension abit and thought you might like to see some pics.
My car is a 62 Chevy II Nova coupe that I bought in 1995. Was just gonna keep the 350/350 combo and have fun driving it. But the front drum brakes were just too scary. So I installed a Mustang II front (build pics on that later) so I could have disc brakes. And with the nice front I wanted a lil more at the rear. So I bought an Art Morrison 4-link rear clip and installed that. Built an edelbrock injected engine then had a few changes in life. Family (wife wanted kids), moved to a house (was in a condo) and my job was demanding more, more, more. So the car, still un-driven was put on the back burner for many years.
I retired last year so full steam ahead on the car. The 4-link was used for simplicity of the build back in 95 when not much was available for the Novas. But after thinking about it I didn't like some of the characteristics of the 4-link. Narrow pan hard bar and the coil over placements. I did alot of looking around and decided to use Air Ride technologies air ride system with the shockwave air springs and hydraulic shocks. And I couldn't get a longer pan hard bar in there, the one I had was only 24" long, too short, the rear would wallow around on the street, yeah, I did get to drive it around on the local neighborhood streets a lil. So I liked the idea of a watts link. The kits that are out there are great!! But again, I was limited on space so I made up my own. No real cost savings..
So here are some pics of that install. It was fun, and frustrating at the same time..
I have never worked on cars before, this is my first. And I never welded before. So you will see alot of odd looking ideas and some bad welds. I know cause I have to look at them everyday LOL But,,, its the best I can do and its solid so Im not afraid of it coming apart.
Anyway, enough of my back peddling trying to justify the rough looking work. Enjoy and please comment, any of your knowledge will be great for the next project (71 Fiat spider with a large-ish V6. JR
When I bought the car, 1995....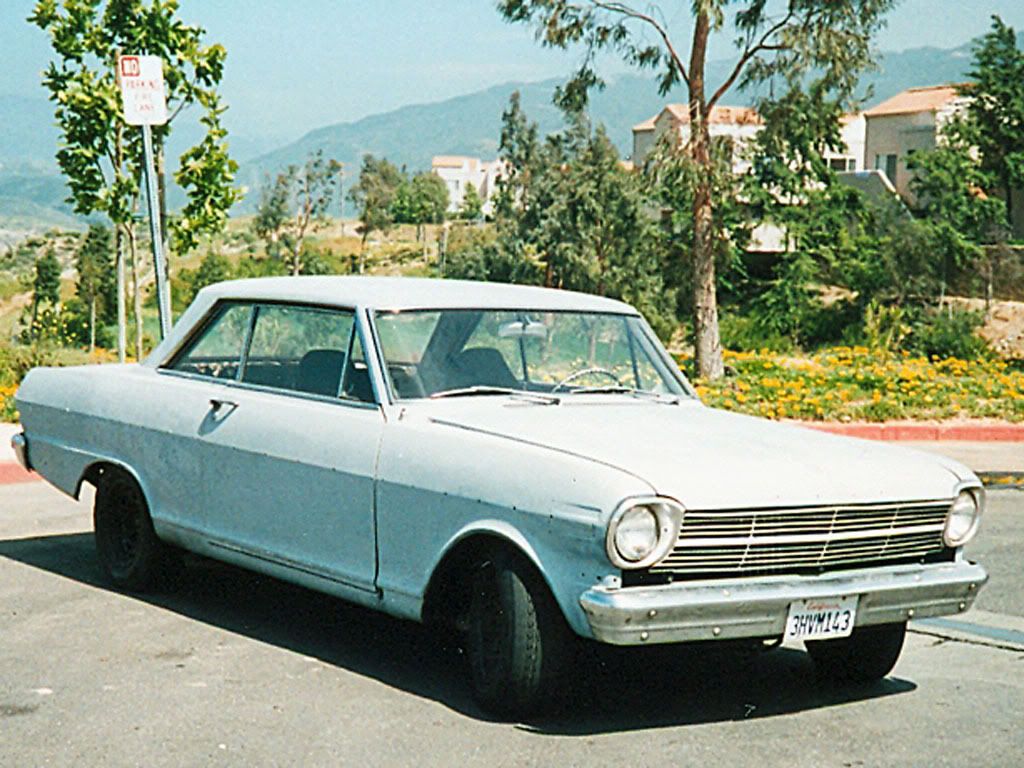 Art Morrison rear clip.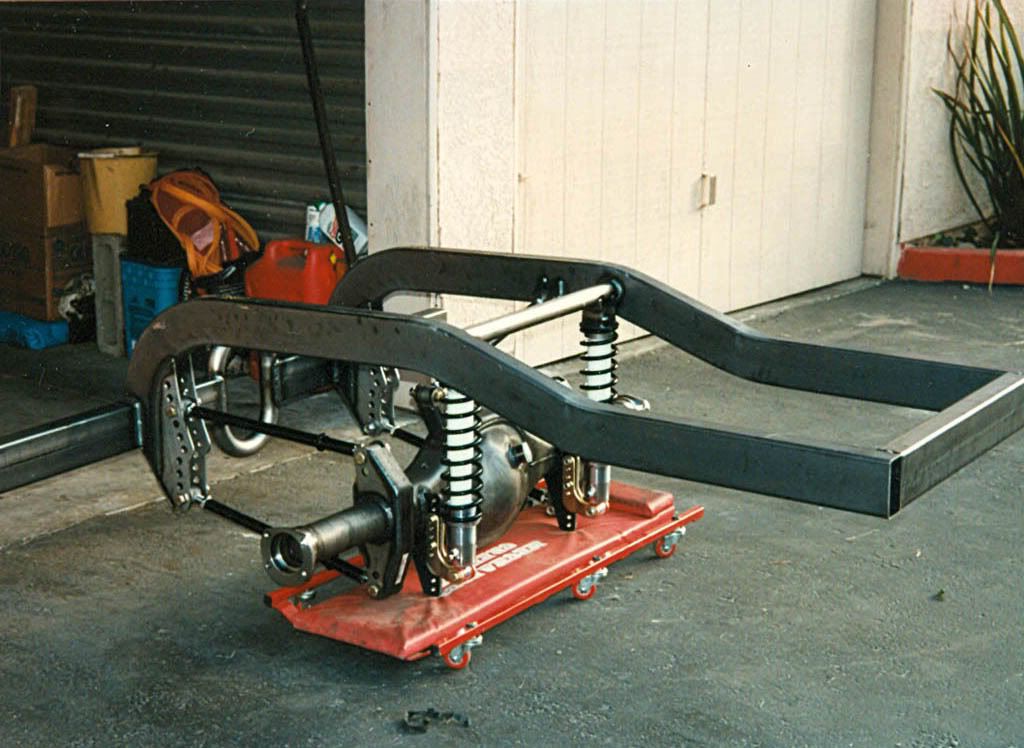 After the rear clip install in 95. Thats kinda covered in another post of mine. Wont bore ya more than Im gonna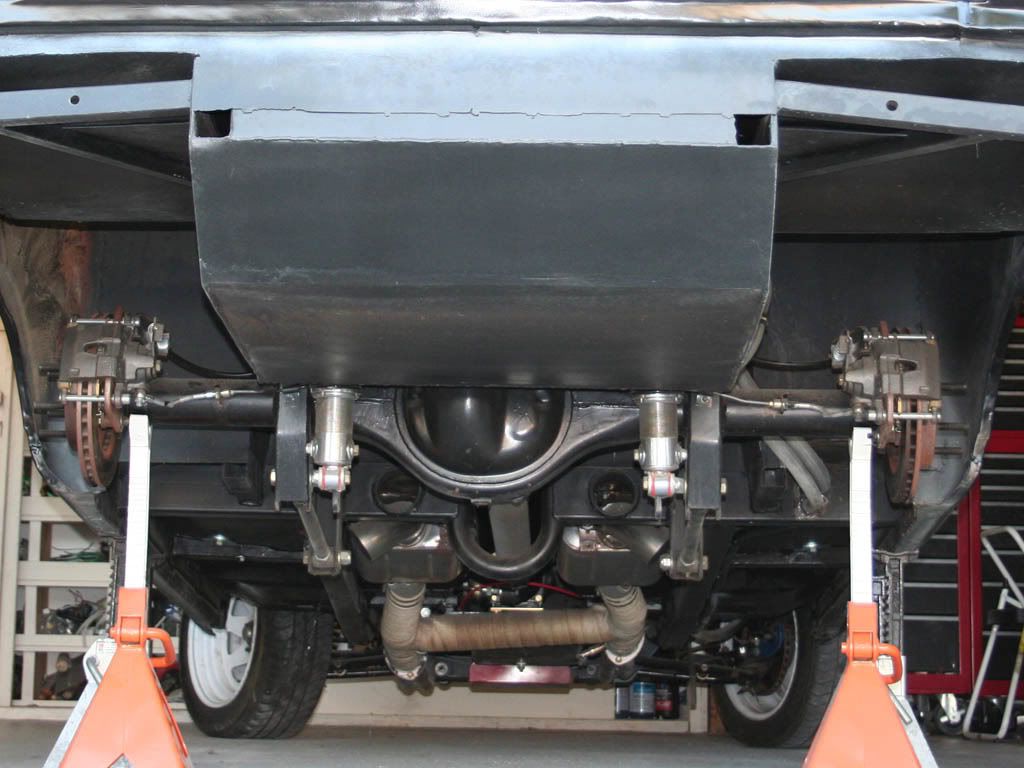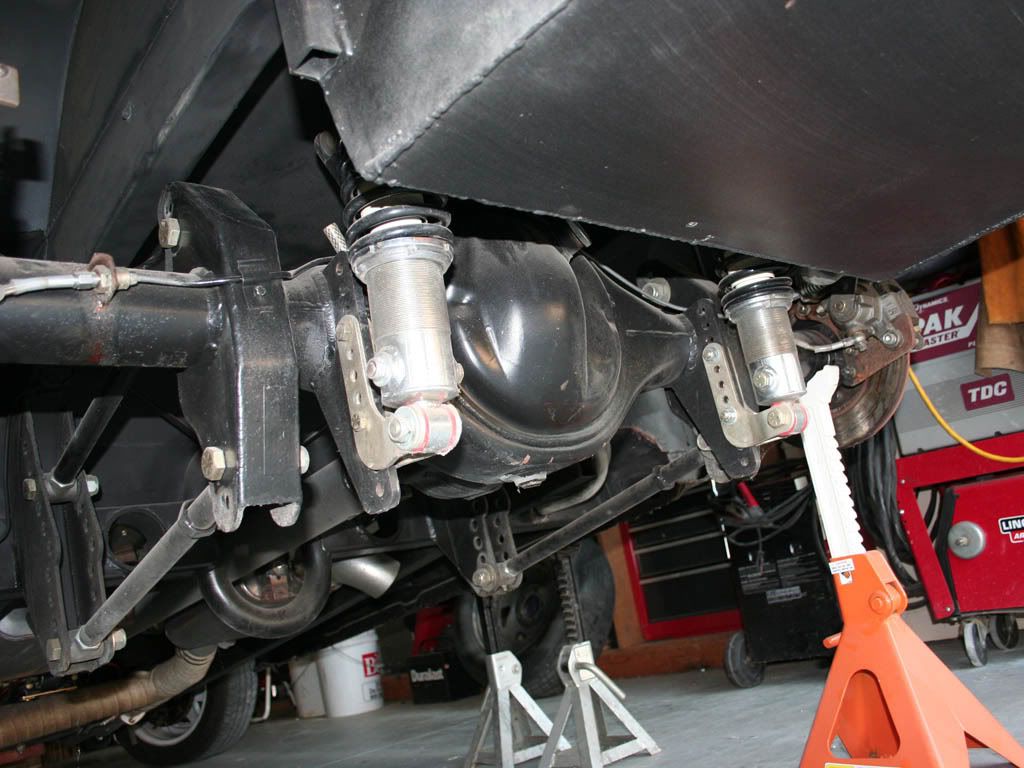 First job at hand was the lower shockwave mounts. I used some 9" leaf spring perches cut in half. Had to use two cause they aren't exactly in half. They are heavy duty brackets, 1/4" bent steel. Some additional 1/4" plate to add to the beef of it. I was going to be using the holes in single shear for the shock mounts and I thought a 1/2" would be better than a 1/4" shear plane.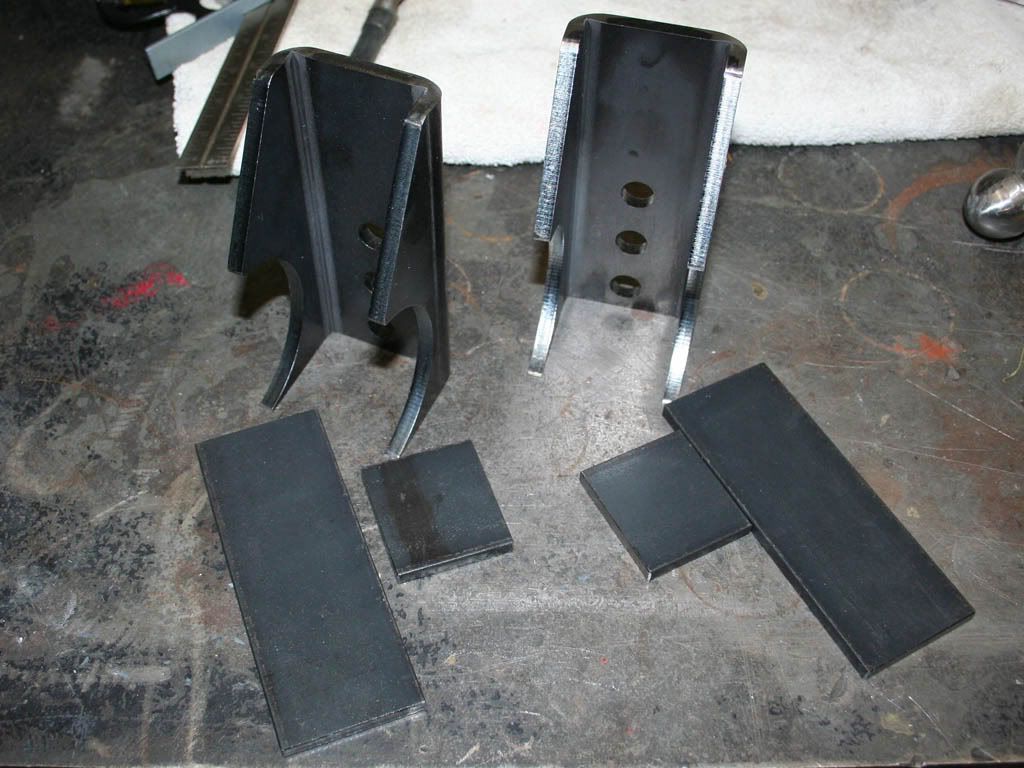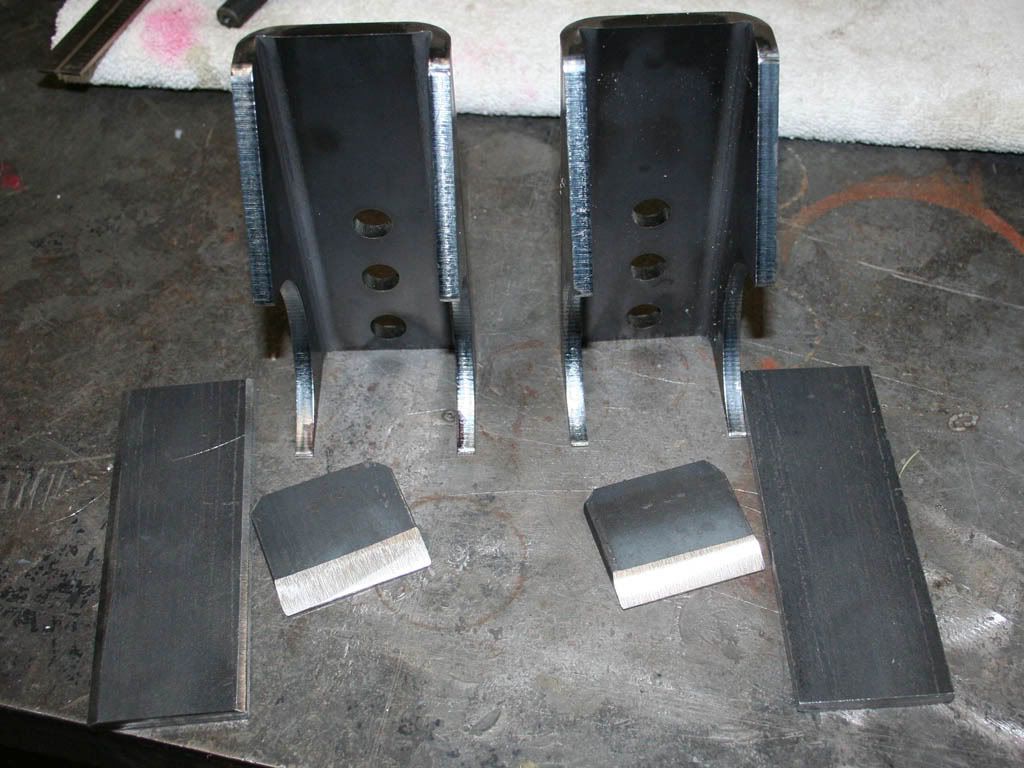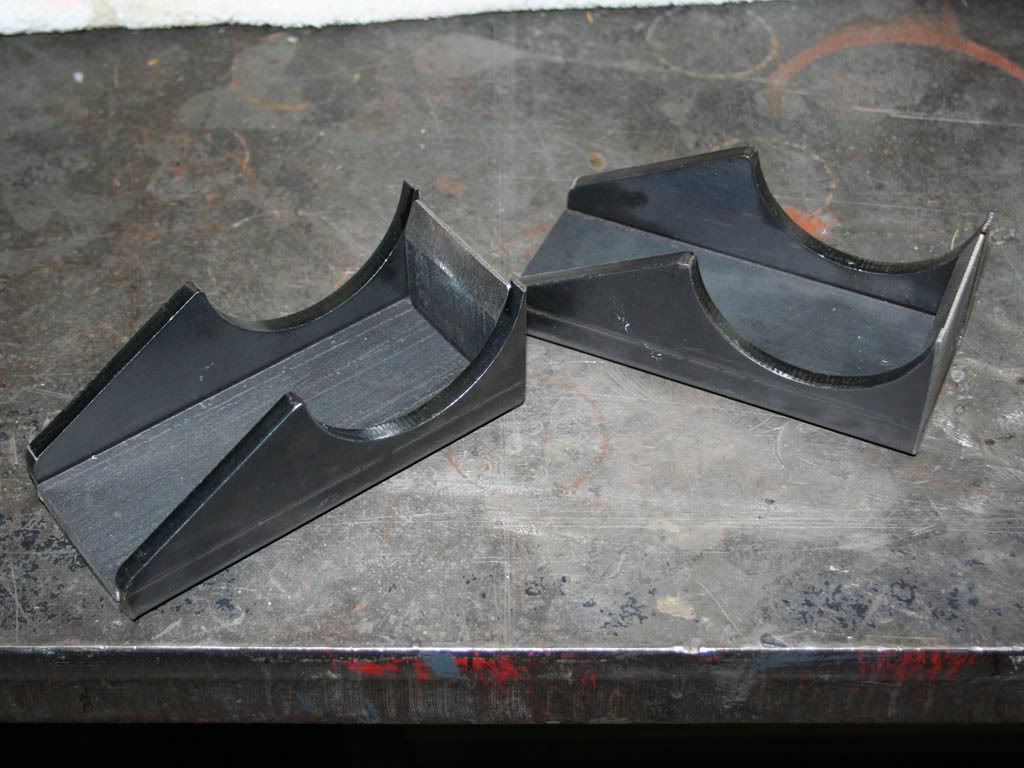 TIG welded up and ready to go.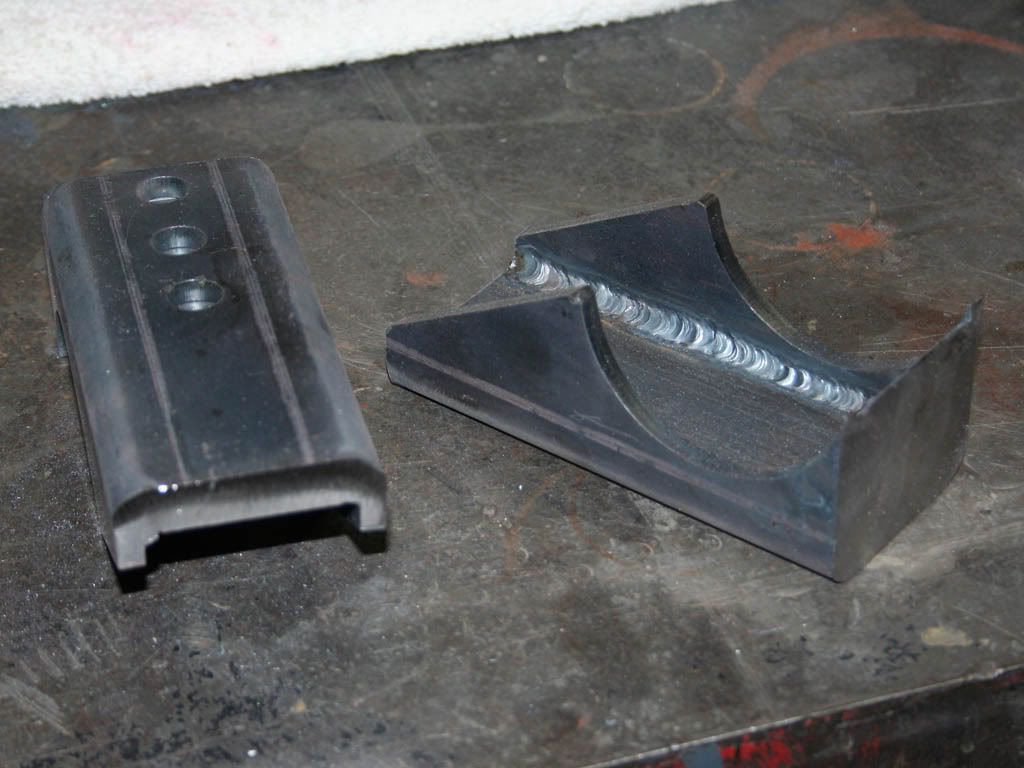 MIG welded onto the axle housing. I didn't disassemble the housing. I did make sure all the weight was off the housing for the weld. And I welded in about 1.5" sections and cooled the area with a damp rag in between. Took a long time but it never got the housing tube past warm to the touch after cooling. And I beveled the heck out of the brackets so the penetration is pretty good. They aren't going anywhere.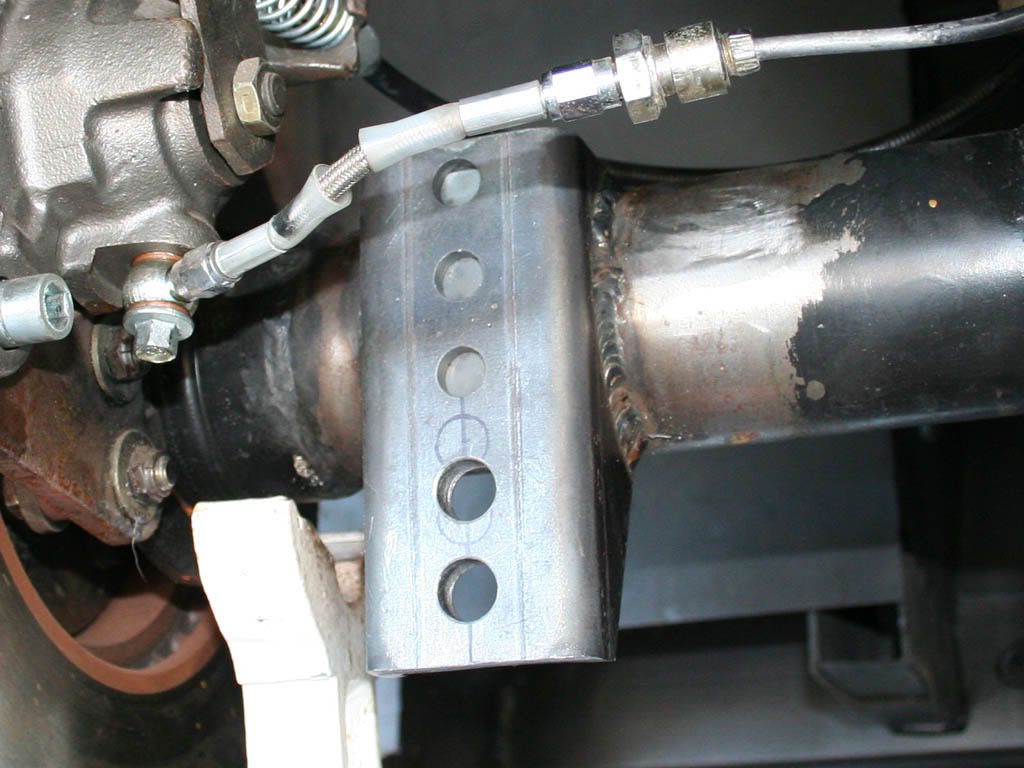 Next was the upper mount. I get alot of use outta this lil 7" band saw.. 1/2" plate.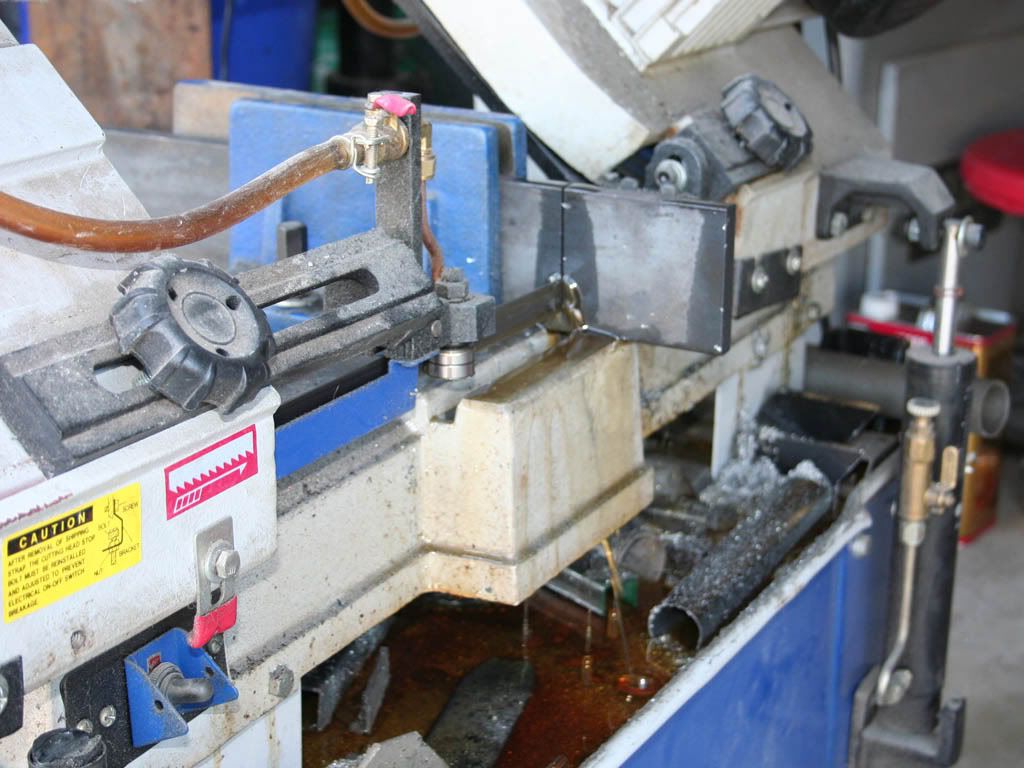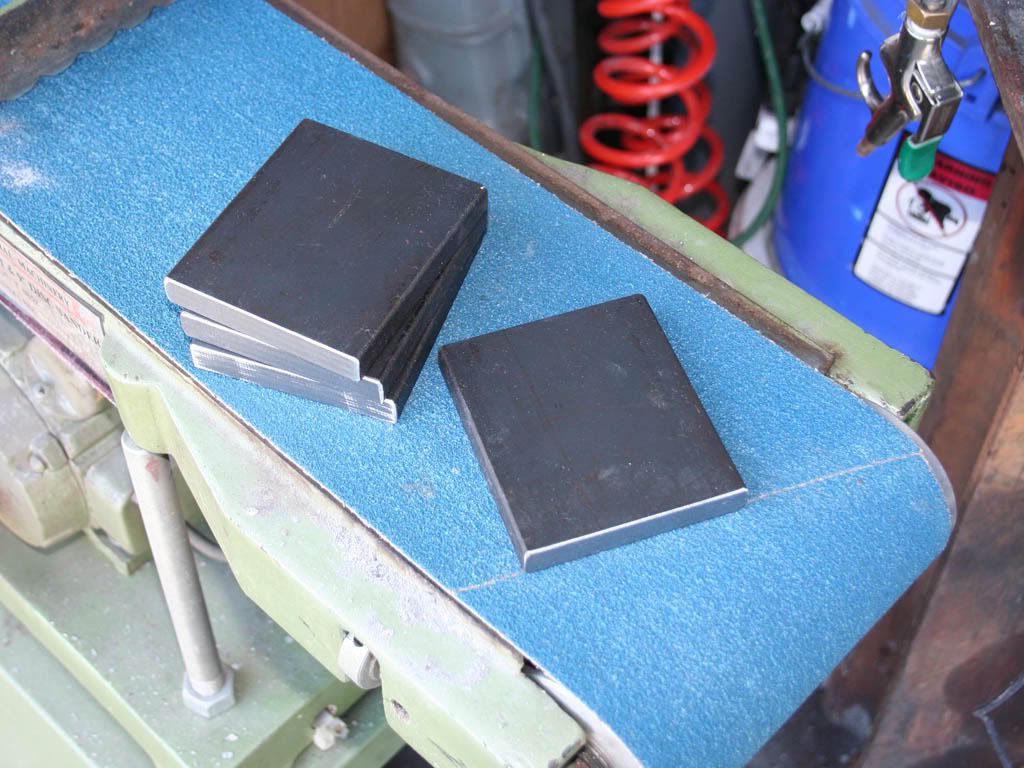 Plasma cut the extra off to make the right shape.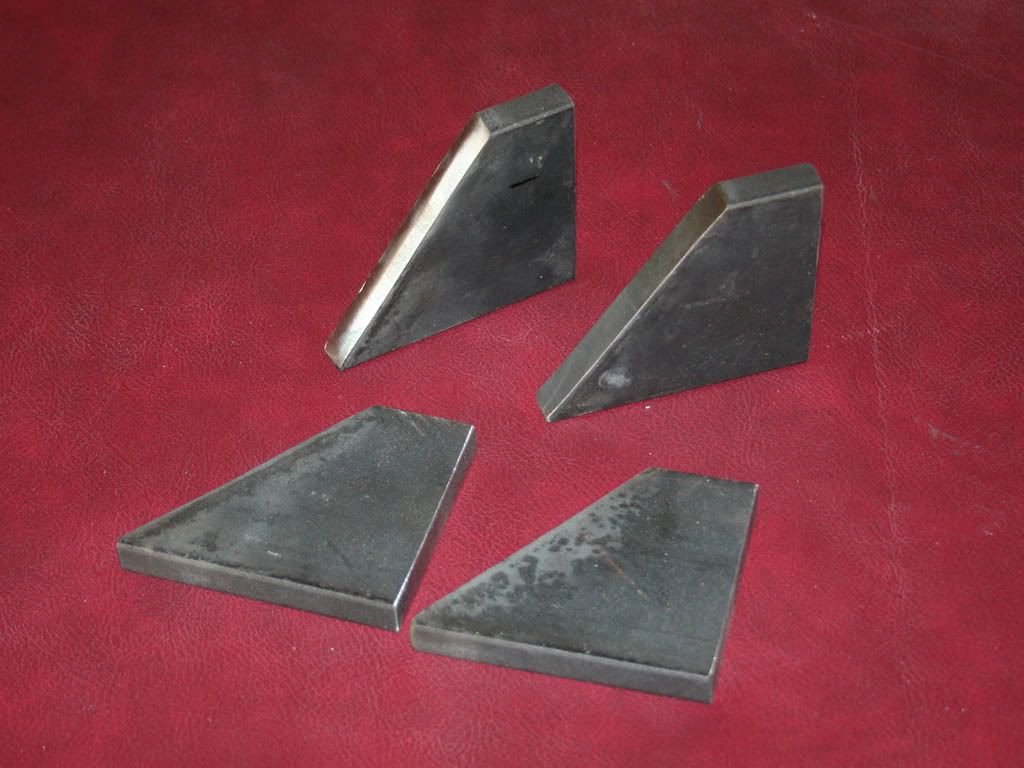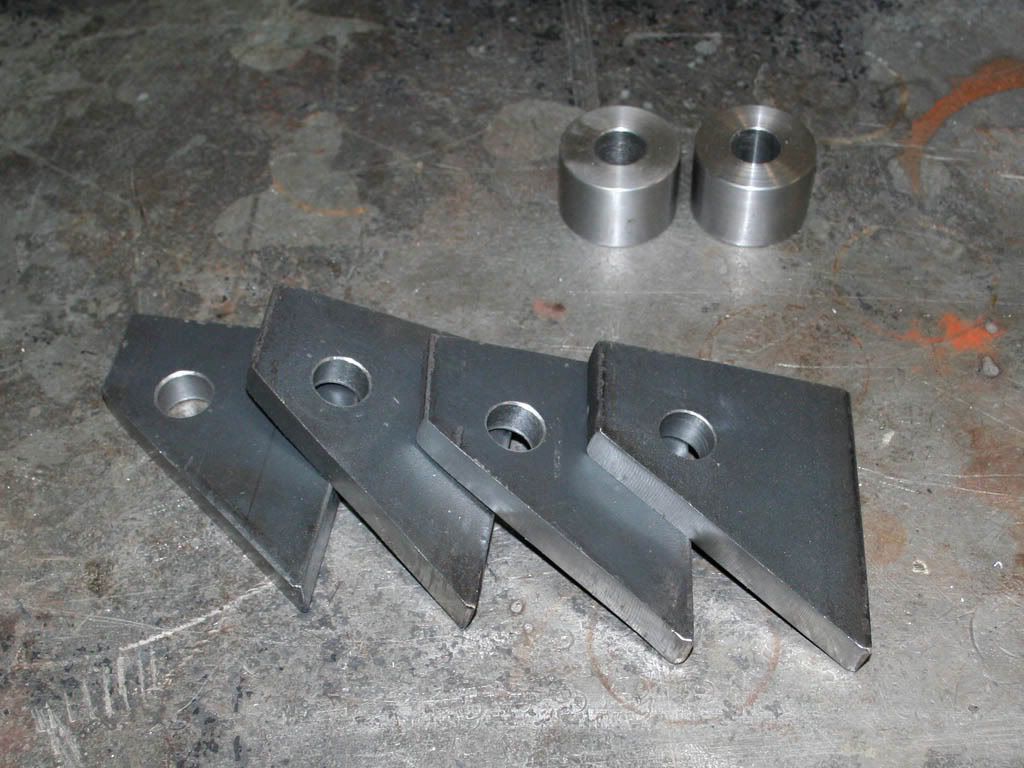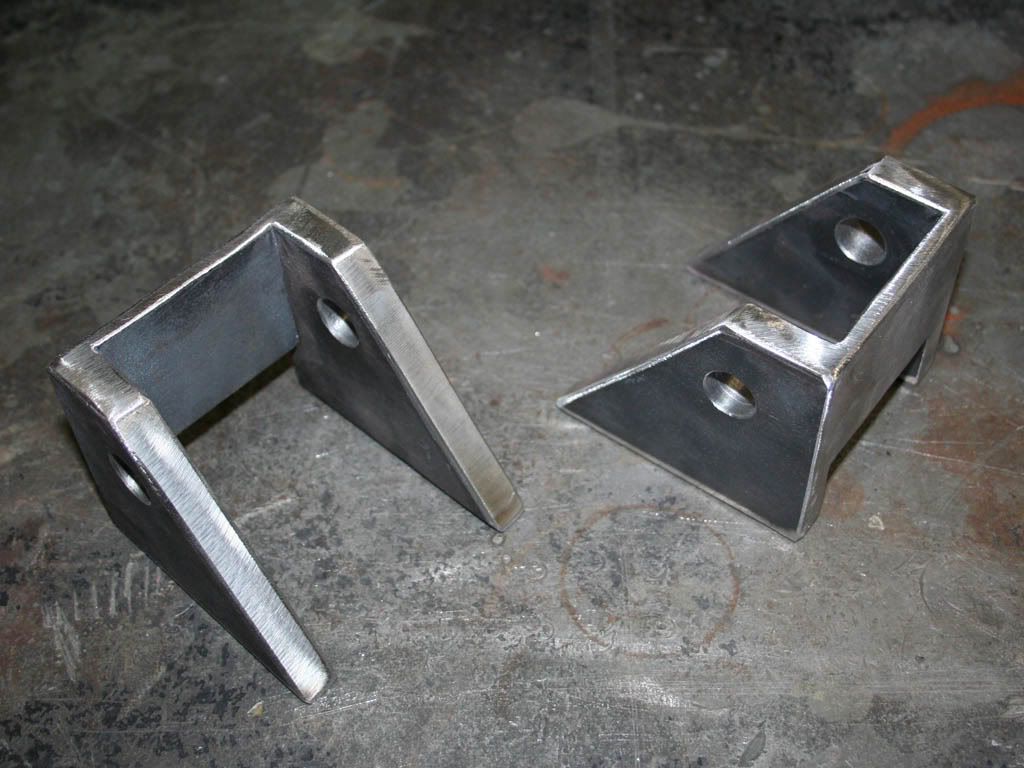 Shock used for placement of the upper mount. It is all at ride height. Coilovers still in place. I made some stainless steel spacers so if I need to adjust the 4-link in the future I have some wiggle room inside of the upper mount. The 4-link bars are at their shortest length right now. If I adjust them it may move the rear end back some.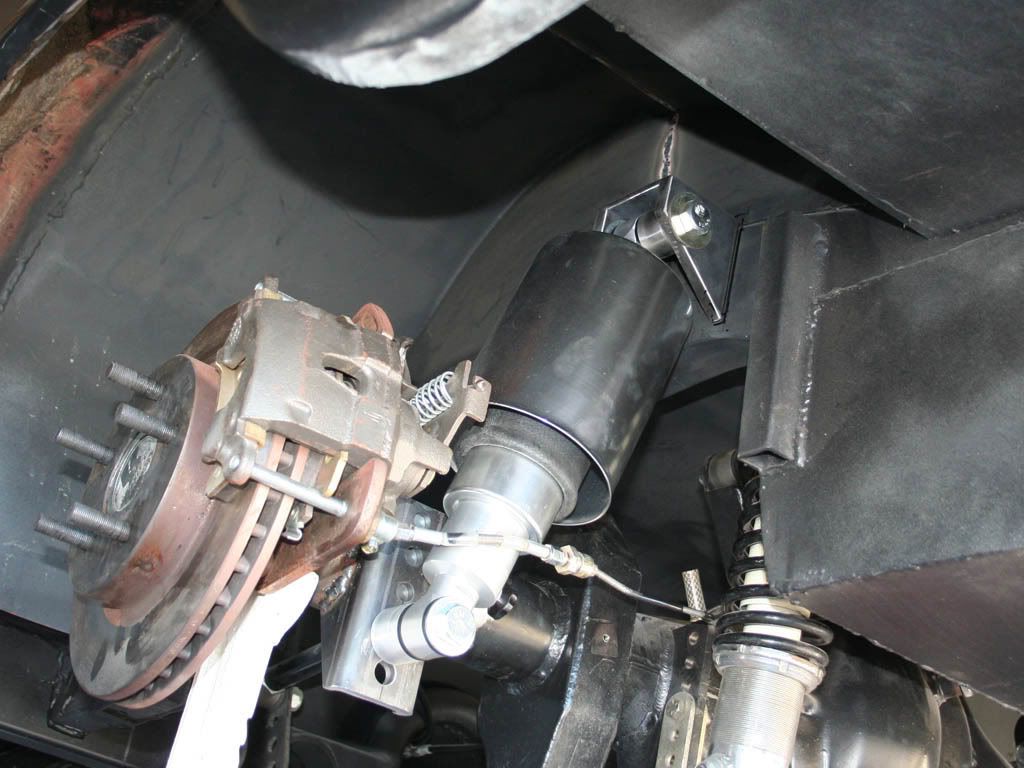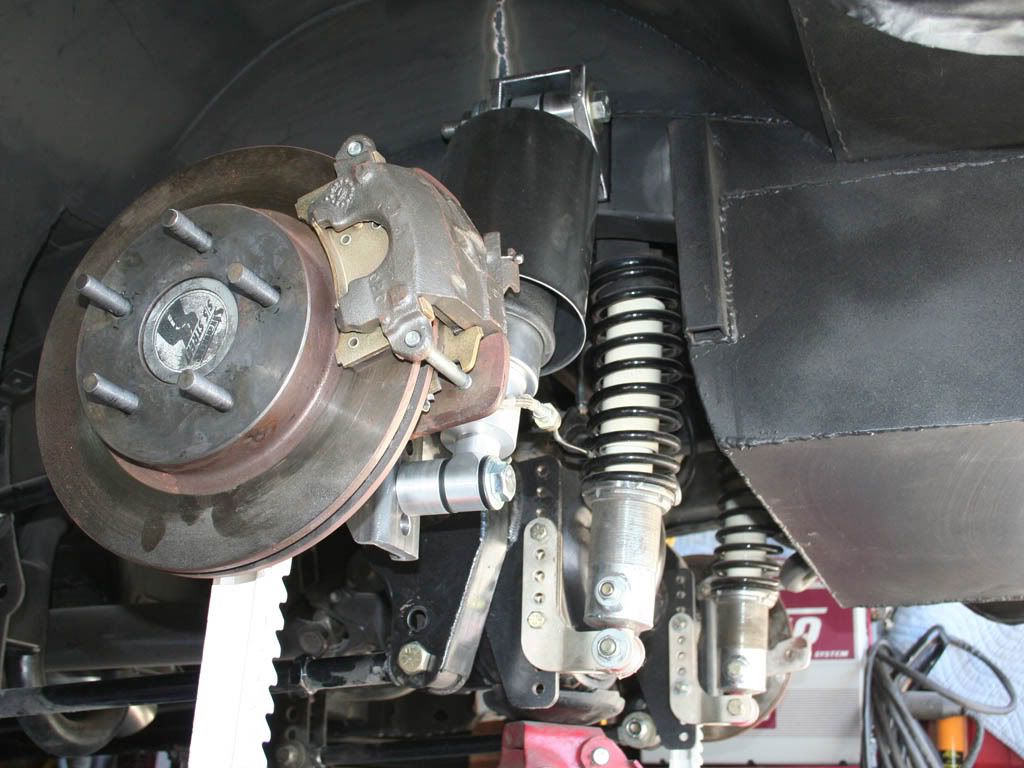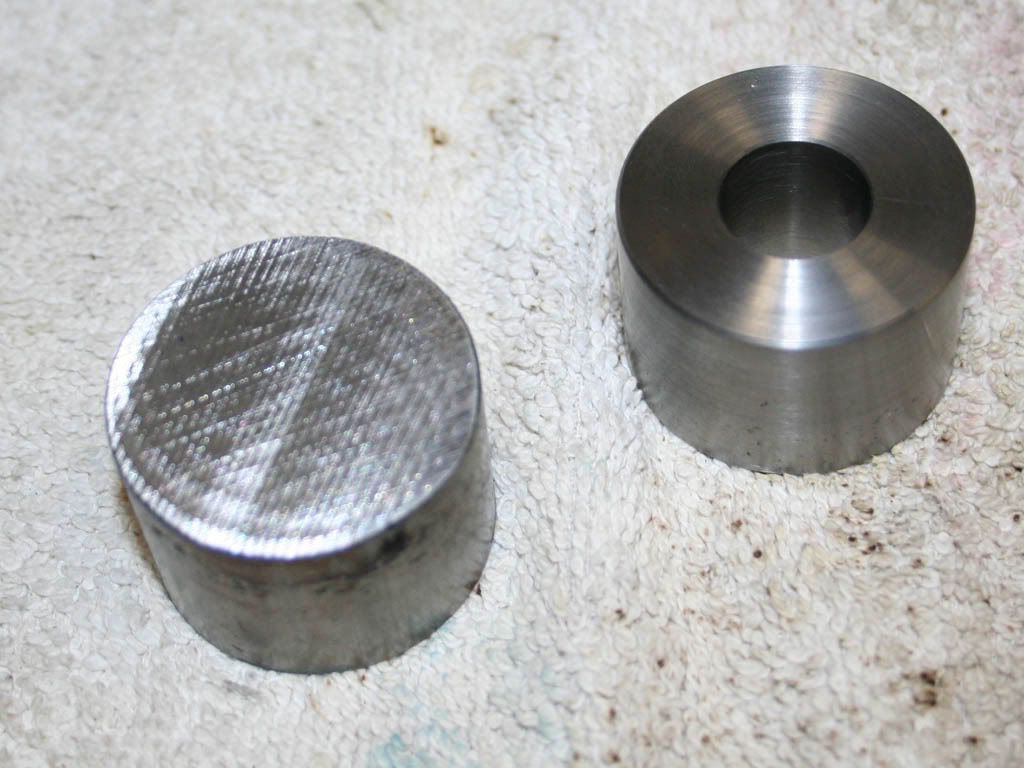 Time to weld in the uppers but no way did I want the shocks in there, rubber!! So I made these links that are the same length eye to eye as the shocks at ride height. And they were gonna be needed for the watts link welding too. They helped to get each side of the car exactly right for height when making the watts. I measured everything so many times, jumping back and forth. But the sides are equal to within a 32nd of and inch. And thats axle to frame and body to ground.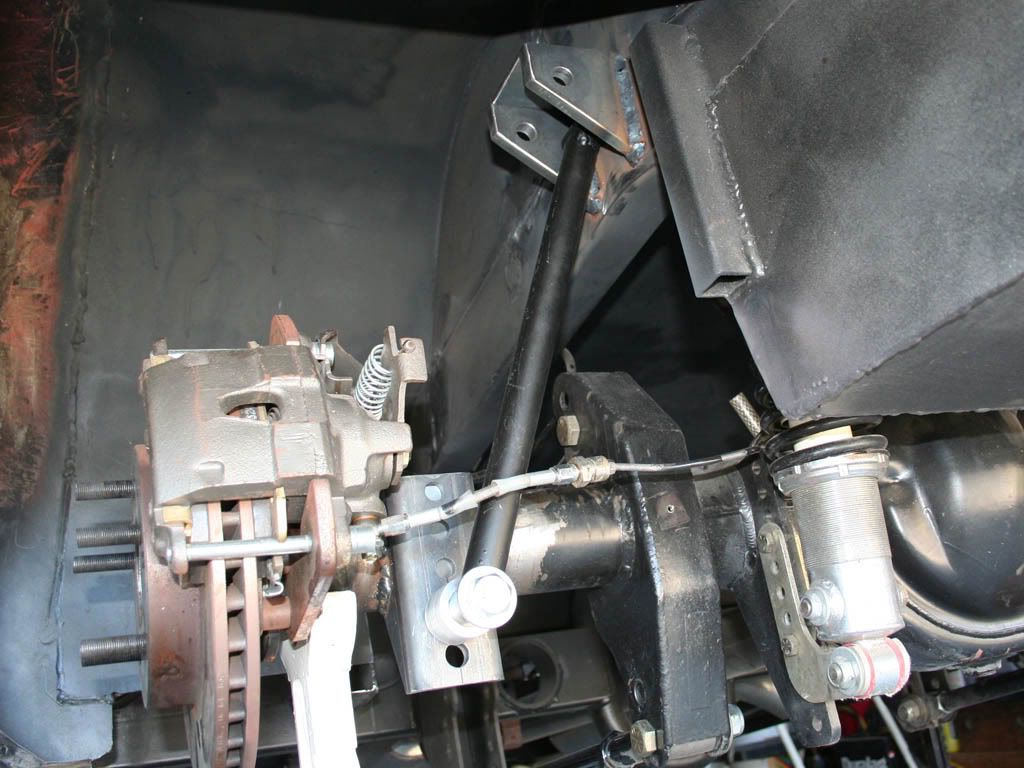 Plasti-coat bed liner paint I love so much, you will see it on everything.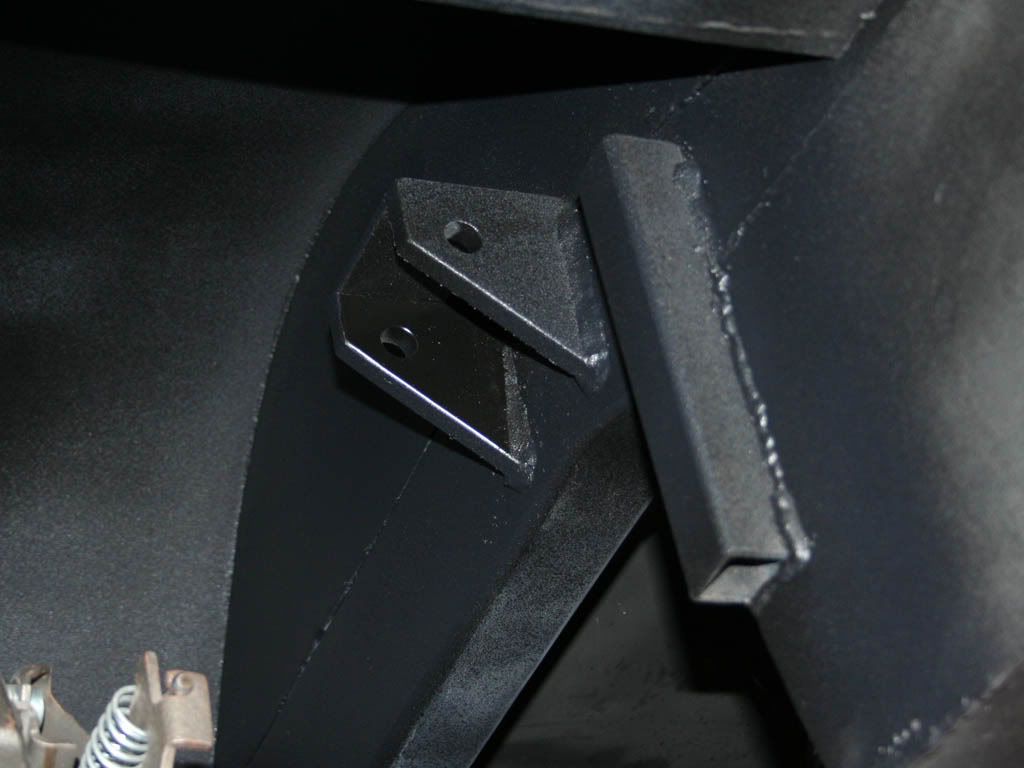 Finally, the coilovers are outta there, full weight on the struts I made. Ill need the additional space, going be filled up soon.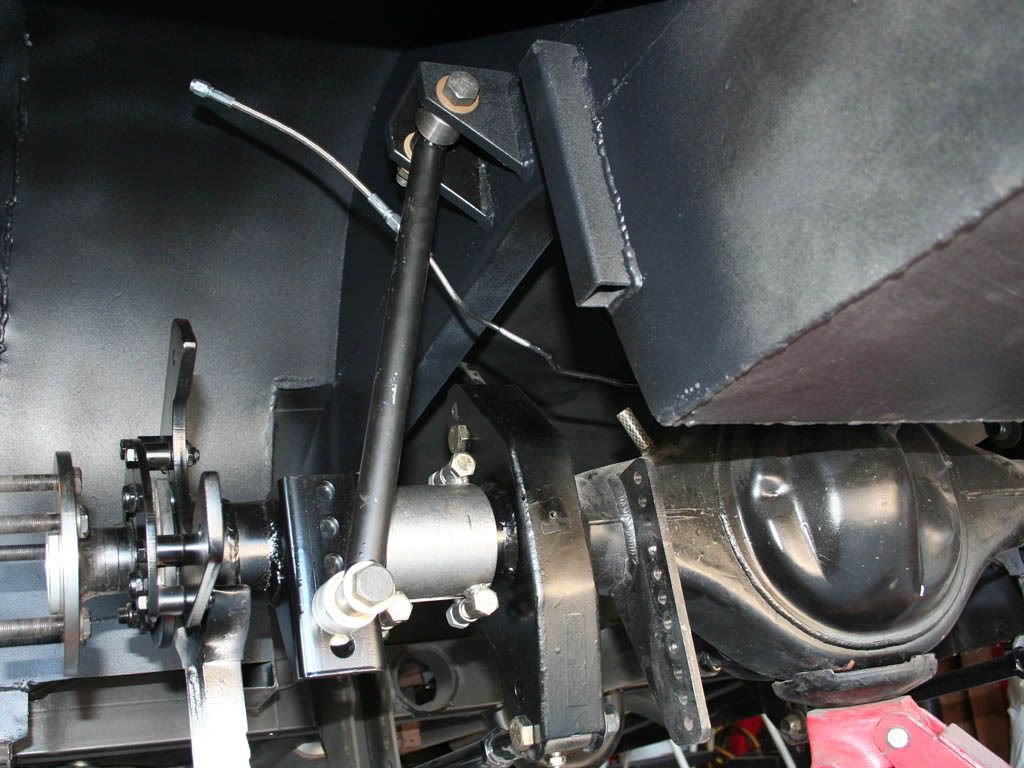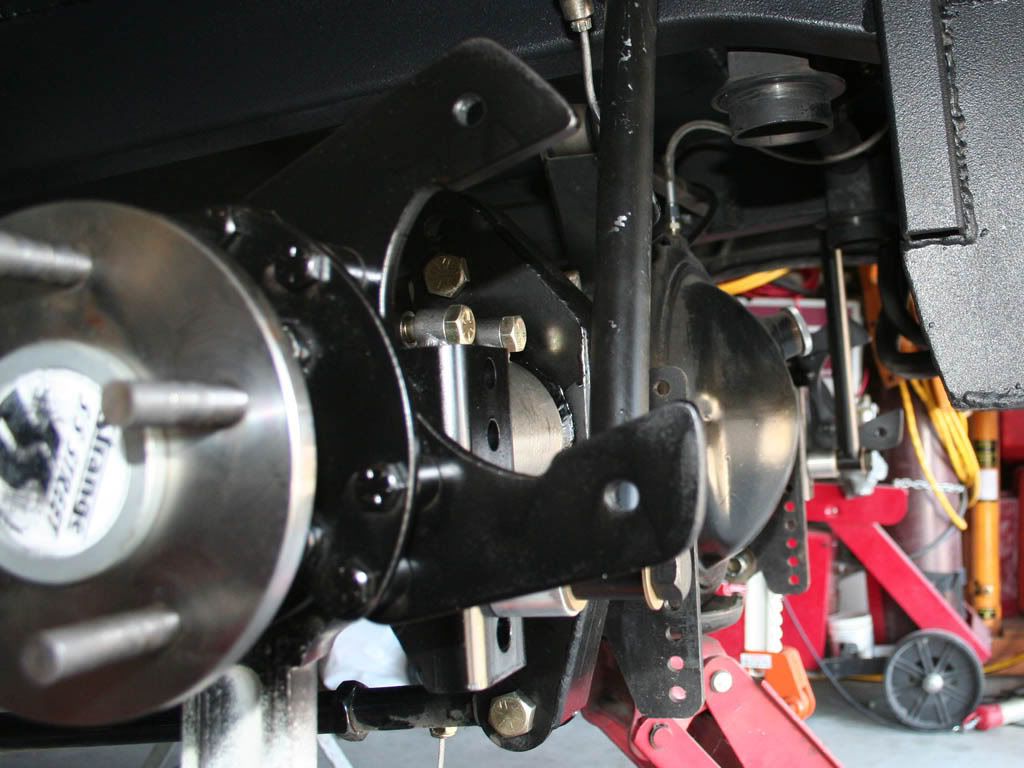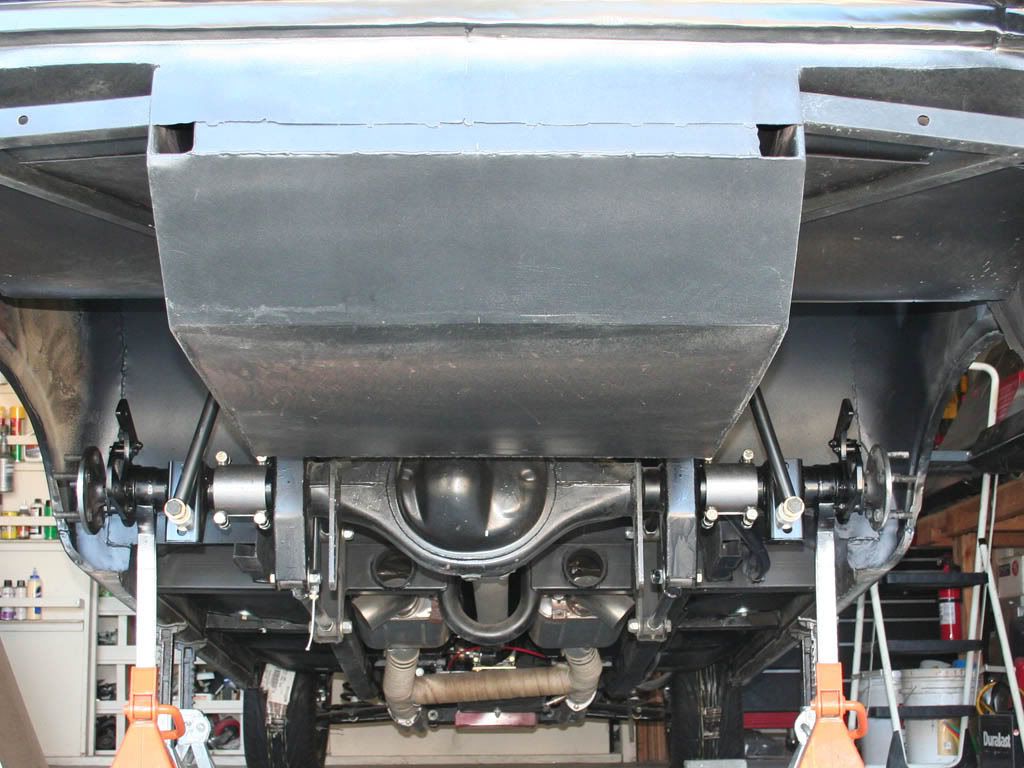 I was a lil pissed. AR sent me the shockwaves with the optional air can (big ugly can over the bag) they sell for a hundred bucks. I didn't want it, looked cheesy IMO.. But. I thought I would give them a chance. If I didn't like the look I could remove them later. No, they didn't charge me for them. Guess they were having alot of problems with guys tearing the bags due to close tolerances. So I really didn't want a massive aluminum can sitting in there. Time for some plasti-coat!!
Ghetto paint booth LOL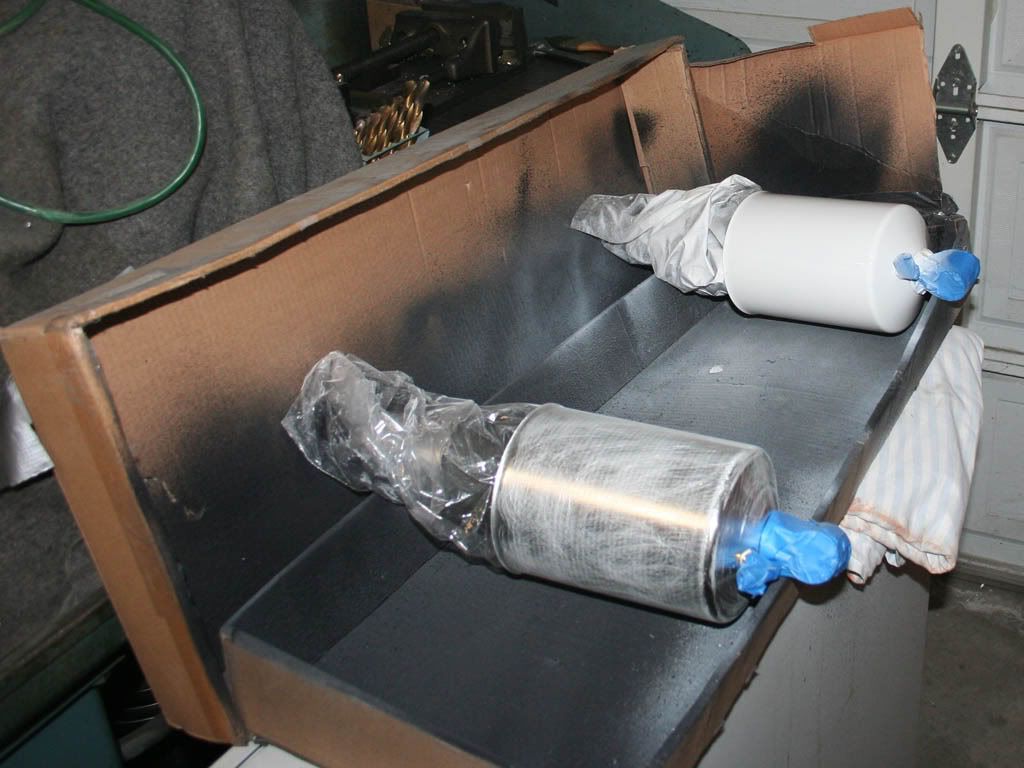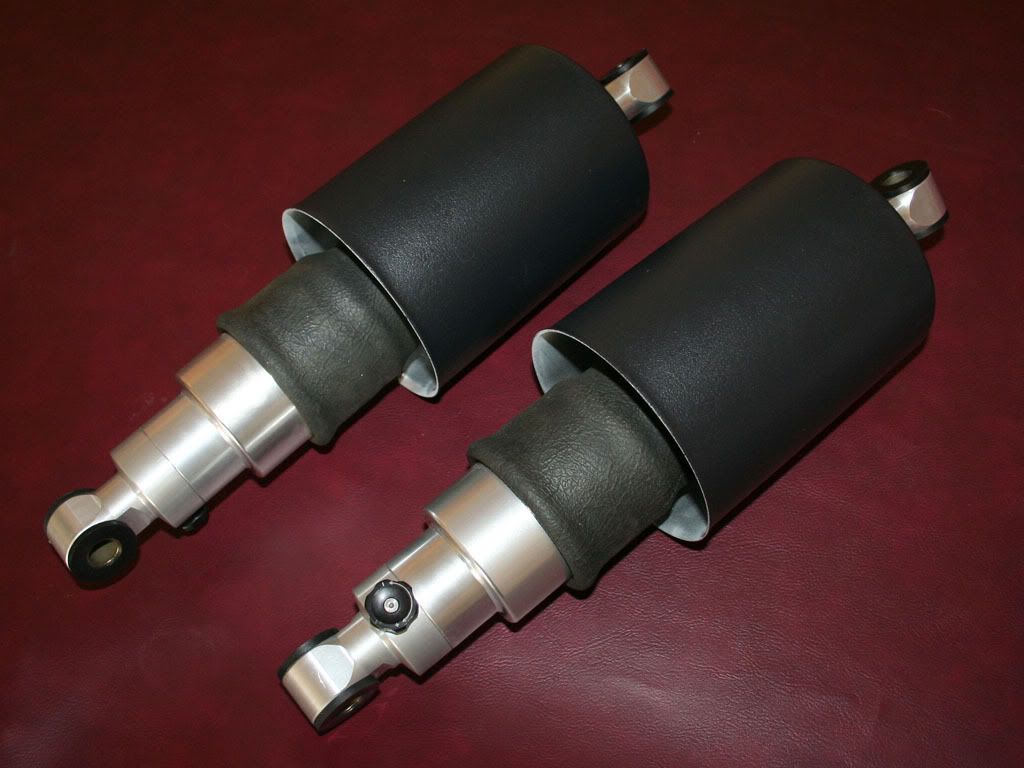 So thats the coilover swap. Watts link next..