Discussion Starter
·
#1
·
Ok, it's been a long time coming. I've been a member on here for a while, and posted progress pics here and there, but now I'm getting serious!
So here we are with my build thread.
Some background: I was looking around for a classic to Pro Tour. Why Pro Tour? It just makes sense to me. Go fast, handle better than a new Corvette, and have the classic style of a muscle car. What's not to like?
My list of choices were a 56 Chevy (love the bullet tail lights), 68-69 Chevelle, 1st gen Camaro... the usual suspects. But of course, finding unmolested examples of these cars for a reasonable price is near impossible. I already had a donor car lined up for the motor and transmission: a 1996 Chevy Caprice Classic with a LT1 350 and 4L60E. The car in question was purchased new by my family and driven until it got rearended... for the second time... here's a pic:
So while searching the Portland, Oregon area Craigslist for cars I stumbled across a 1969 Nova with under 72K original miles. Cool! I always liked Novas, and I knew that with the small body and adding a beefy V-8 these bad boys could fly. Best part was, I happened to be in the Portland area for business, so I checked out the car. True to the guy's word, the Nova hadn't been driven in 15 years and was sitting in a barn. But it was straight as an arrow, and still had the original 250 6 cylinder. It was his mom's car, she passed away at 87, and so the Nova just sat. $3k later, and she was on her way home with me!
Coming out of the barn:
Getting winched onto the dolly (that's me reefing on the come-along, and the previous owner's son watching)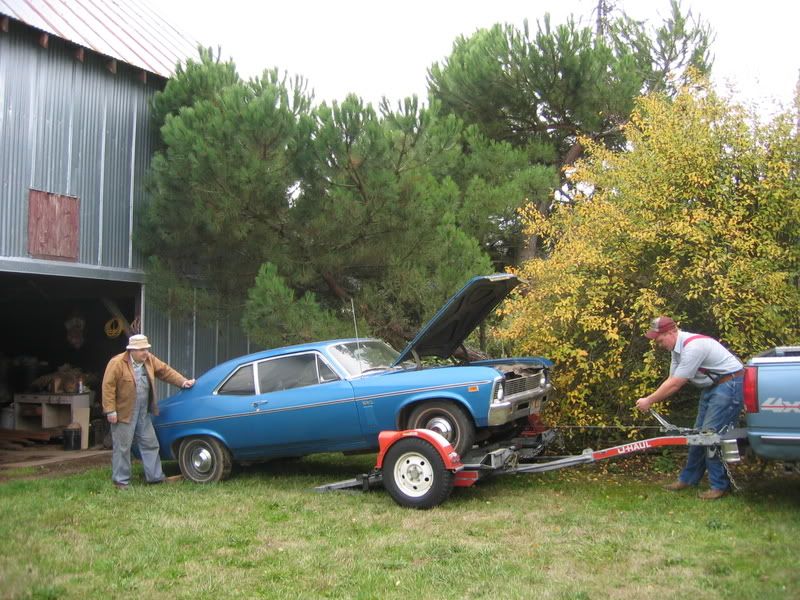 Me removing the driveshaft for towing:
Some "before" pics: