A little documentation of my '69 Nova LS1 twin turbo build. First some history. I bought this '69 as a rolling chassis back in 1997. It replaced my '68 Nova, which I had since 1987. After driving and racing it for 10 years, I started stripping & smoothing the body in 2007, and got it painted Viper yellow at the end of 2008.
With the body spruced up, and after running it for 13 years with a SBC 406 and nitrous I was ready for something different. The following story has been copied from my project thread on a local forum:
August 15, 2009
And so it begins...
Back in the fall of 2008, I decided it was time to step up the Nova's drivetrain from the nitrous 406 to something with boost. My primary goal with this car has always been to be "streetable" and fairly quick. The nitrous is fun, but it's simply time to move on. When a local good deal came up for a used Dart block, I jumped on it with the intention of building a 427" SBC with 18° heads, and then adding a turbo when I saved up more money. But in the back of my mind I was still wanting to build a Gen III LS engine. I think the turning point was riding home with Dave with my broken Corvette on his trailer. He told me after playing with his turbo Mustang he wouldn't ever build another hotrod without turbos. Well, whatever the reason, I decided to sell off my SBC parts and dive into a 6.0 liter LQ4 engine build. Last Monday I picked up a 2001 truck engine from a junkyard in TN to get me started off. It is a humble beginning to say the least. The plan is to bore it .030", add a forged rotating assembly to 408CI, and pick out a suitable top end to handle a couple atmospheres of pressure.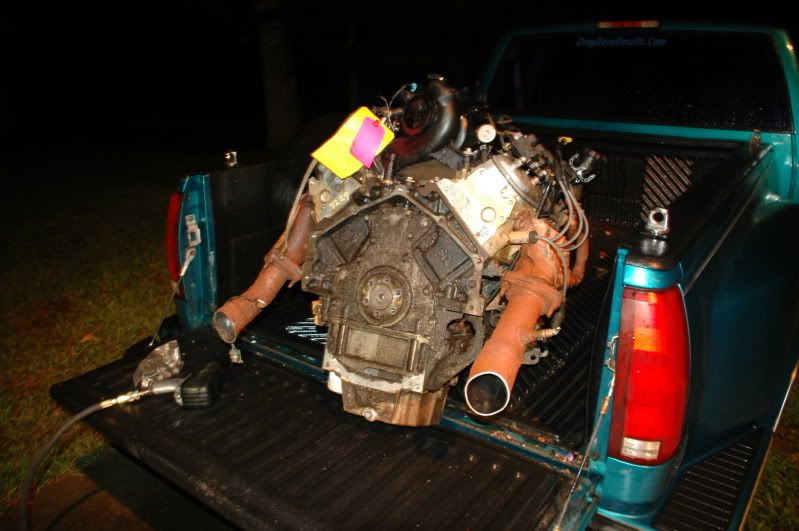 The Nova sitting in the background can't see what's going on with that cover over it.
The teardown was severly hampered this week with the kids going back to school and needing attention and supply shopping all week. But, the good thing about disassembly is it goes pretty fast.
Looks like the intake lifter on cylinder #5 lost a roller, and wipped out the cam. That's probably what sent this truck to the junkyard. Hopefully there isn't any damage to the lifter bore. I'll find out tomorrow.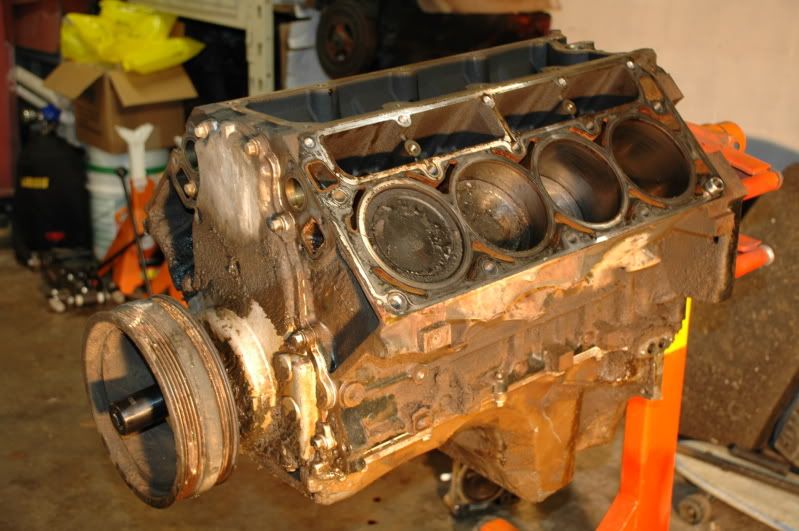 August 15, 2009
I have read about people making good numbers with ported 317 heads (which come on the LQ4). I would like to upgrade to an aftermarked head, but I really need to sit down and evaluate costs. I will spend money on a strong rotating assembly so I don't have to go back through it anytime soon. If I do keep the 317 heads it would be easy enough to upgrade them later on.
Thanks Mike. My approach is a little more shade tree than yours, but in the end we will both have some fun. I hope to leave the TH-400 and 3.73 10-bolt alone for now. It will need a different stall converter I am sure.
Ricky, I have read about several people running truck manifolds on turbo builds. I guess it limits the packaging options, and they can't flow as well as tube headers, but they do seem to work pretty well. You make a good point on the size of a downpipe from a big single. I didn't plan to use a T6 frame, but then again I haven't worked out just what size it will need. After looking at Pat's setup, I like the sound of smaller twins for a street driven build.
August 18, 2009
more pictures:
Naked block:
This isn't your typical 1st Gen SBC view: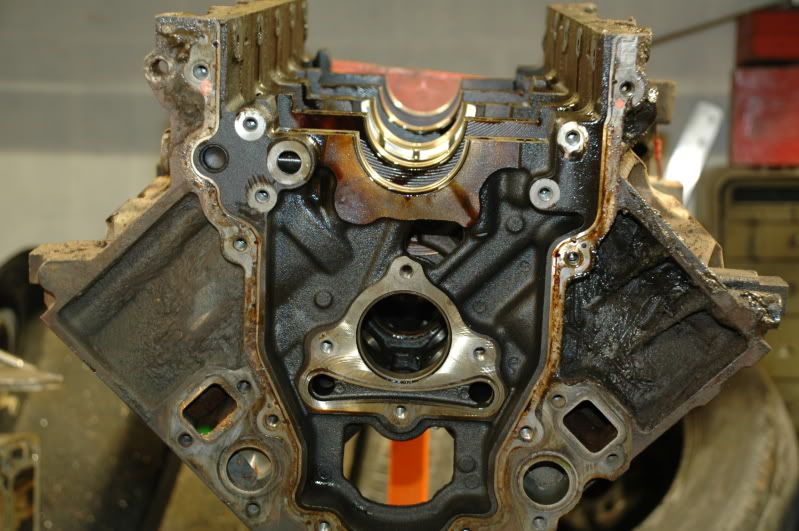 The cylinder bores actually look very good considering this engine was supposed to have 244,000 miles.
The only damage I have seen is where the #5 intake lifter came apart. The roller must have rattled arond the crank and rod pretty good for a while. But no damage to the block.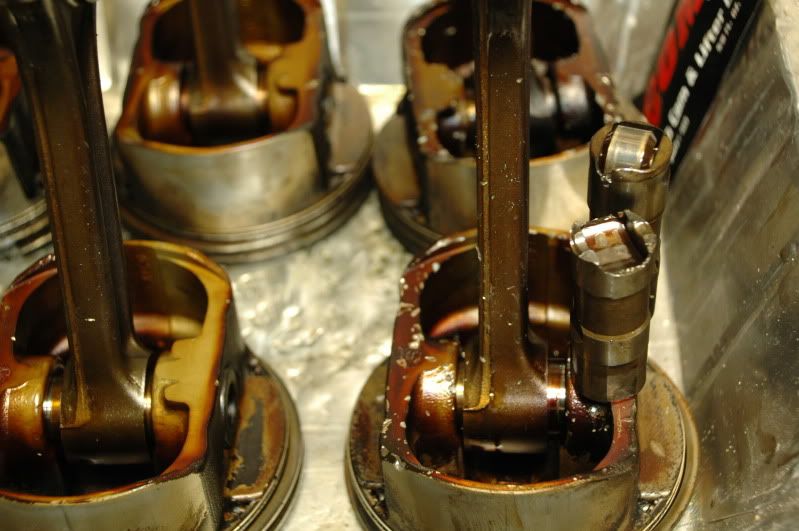 Now it's clean up time...
August 21, 2009
One small update - I bought a '99 Corvette ECM today. It was out of a Fixed Roof car no less. Now I will have a spare for either car if one goes out.
August 23, 2009
I started out thinking a single 80+mm turbo, but Ricky, Dusty, and Pat have me re-thinking. If I can get a pair of turbos laid out right, the plumbing may actually be easier than with a big single and huge downpipe. Plus I want this thing to be fun to drive on the street. So, the current thinking is with twins - at least for now. Currently I only have a belt driven alternator and vacuum pump. I don't care about air conditioning or power steering in this car. It should be pretty easy to locate the alternator wherever I need to, and I'll probably keep the vacuum pump too.
September 20, 2009
Well I spent entirely too long over analyzing what rotating assembly to get, but I finally placed an order for a 4" Callies crank, 6.125" Callies rods, Wiseco 4.030" pistons with -32cc dish, Clevite bearings, LS6 oil pump, double row timing set. Earlier I picked up a set of ARP main and head studs. I should be able to cart it all down to Dennis's shop the end of this week to get balanced and the block machined.
I have also worked off and on cleaning up the engine covers that I'll be re-using. I found that Purple Power degreaser and some fine steel wool does an amazing job cleaning 240k miles worth of crap off aluminum.
Looking at this picture you can really see how well the Gen III engine supports the crankshaft - and that doesn't show the side bolts holding the main caps.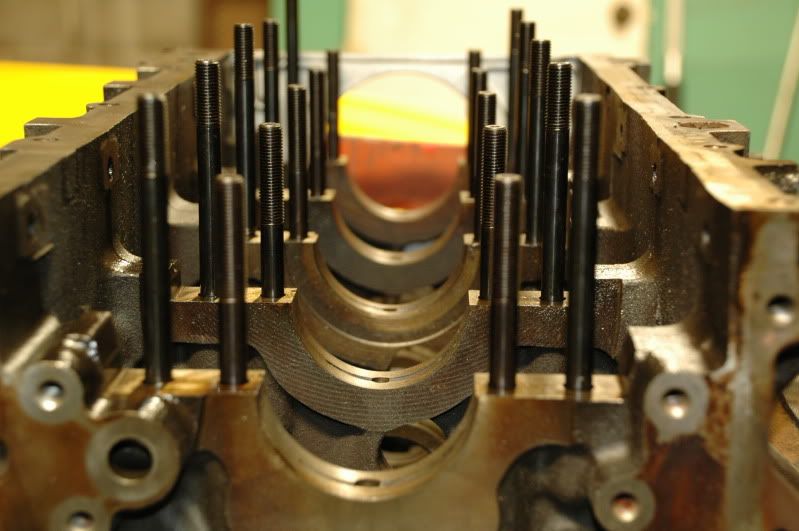 Well, not much progress, and I have spent a fair amount of money without much to show for at this point... continued