I am starting on my 65 Nova SS. The plan is to do a complete TCI front suspension and the TCI Pro Touring Rear suspension, all with single adjustable coil overs and Wilwood 13" discs on all four. After that I hope to slide in an LS3-525 with a 4L70E tranny (Connect and Cruise). Obviously I have questions so I am hoping that sharing this process will produce answers when needed.
So far I have removed the front panels, stripped the electrical, removed the 283 and powerglide trans and removed the front clip.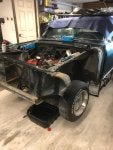 First questions...
Keep the existing fuel line for the LS or replace it entirely?
Is there and modification needed to the firewall or tunnel for the 4L70E?
What is the best way to smooth the firewall?
Phase Two...
Installing the TCI Pro touring front clip. I had everything powder coated before I attempted the install. TCI recommends installing everything, then disassemble , then paint or powder and then reassemble.
Next questions...
1. Anybody use the stainless steel heater and radiator hoses? It appears that they come in one diameter for the heater and are adapted via the connectors. Same for the radiator.
2. Any good ideas on how to hide the electrical harnesses from the LS3 and 4L70E tranny?