Discussion Starter
•
#1
•
It's February, 2009.
The economy is in dismal shape and I need to build a Car. It's not that I just want to build a car. It's more than that.
I NEED to build a car. It's like there's some cosmic force controlling my every thought and desire. I can hear it now…
"IF YOU BUILD IT, IT WILL RUN!"
My Wife thinks I'm crazy and obsessive. "Just wait till I'm done!"I say. Me and my Buddy Jason "The Instigator!" Have been down this road a few times before but that's when I had more resources.
This has got to be a cheap build. I just don't have the money I once had. I had just sold my latest project. A 1974 Nova with a hopped up straight six. Yeah… The Silver Six. She was fun. She had been my daily driver when I was building my Blown Big Block 69 El Camino but that's another story.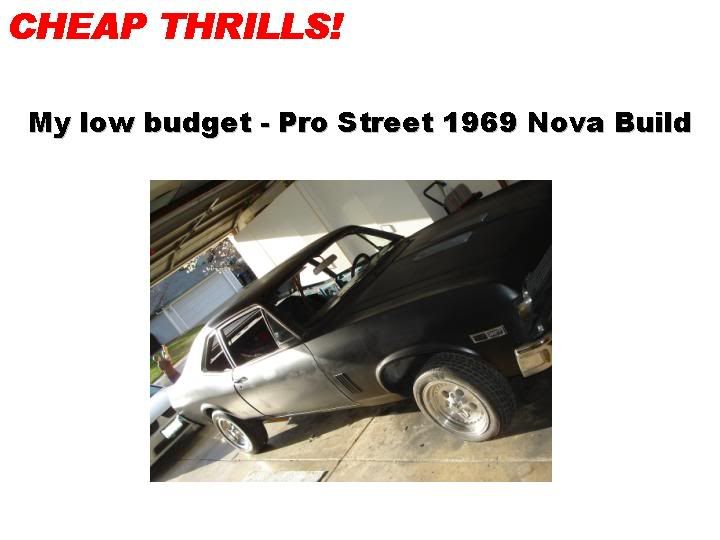 I had just sold the Silver six to a Very Pretty 19 year old Girl (Bless her Heart! She LOVES the Silver Six!) and after paying some bills, I had two grand to play with. I had already bought a "Bug Catcher" scoop that I wanted to build a car around. (Thanks for the Smokin' deal Jason!)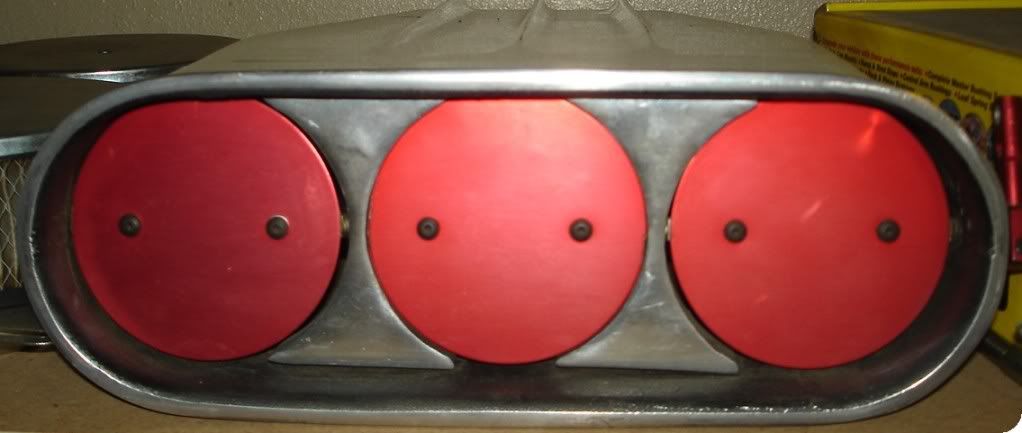 I've always thought they were so cool! I love the Idea of those big red butterflies opening when I hit the Go Pedal! I immediately bought a 1969 Nova 4 speed roller off craigslist. She was listed with a 327 block and some double hump heads and a bunch of other parts including a T-10 that somehow turned out to be a Saginaw when I got it home. Go figure…This poor car has lived a hard life. The floors are a bit rough and there is no interior. She's darn near perfect for a back half car! Jason just happens to have a narrowed Dana 60 so the decision is made. Pro-Street, 327 with Old School Fuelie Heads, a Tunnel Ram and a 4 Speed!
I chose this Nova because I knew I wanted a 4 Speed car (I'm tired of big stall converters on the street!) and the body was decent enough for my purposes and it was two grand! No Car Show Queen was this going to be. Just something fun, that's all one color, which I can take to the track and bang some gears in, then take to a show and not be too embarrassed. I'm thinking Kirker Hot Rod Black will do nicely.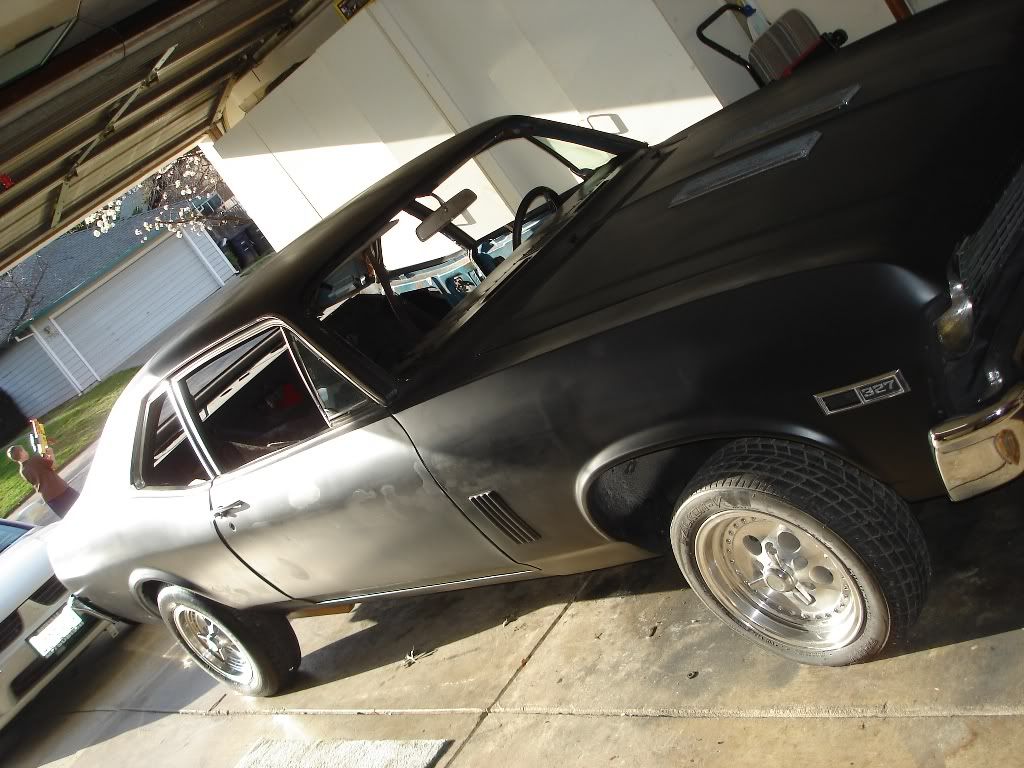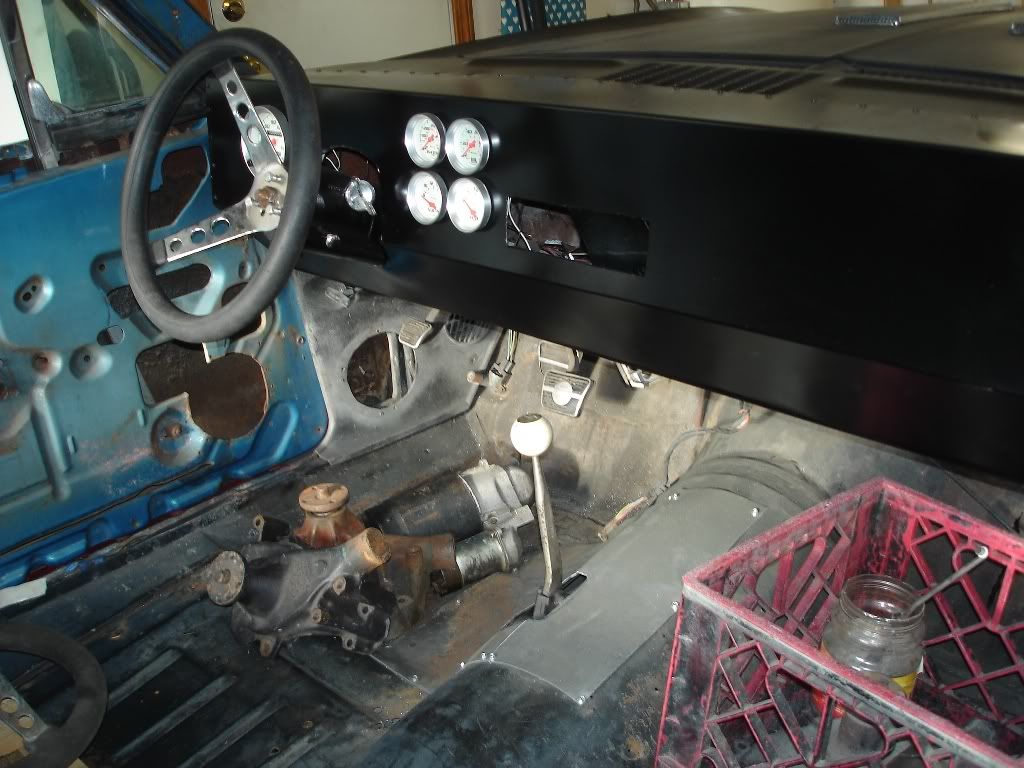 I bought her from a young A/C guy, hence the "custom" dash. That's gone but I'm happy she has 4 gauges plus a speedometer. They will go in the Covan dash whenever I get it...
She came with a mess of parts...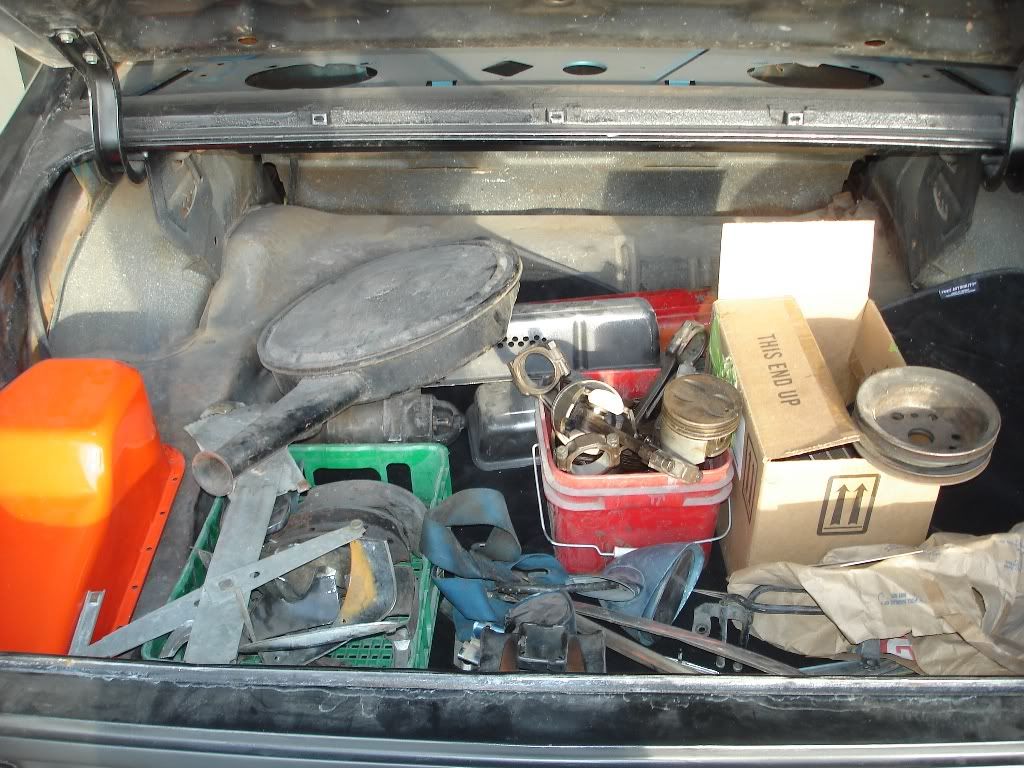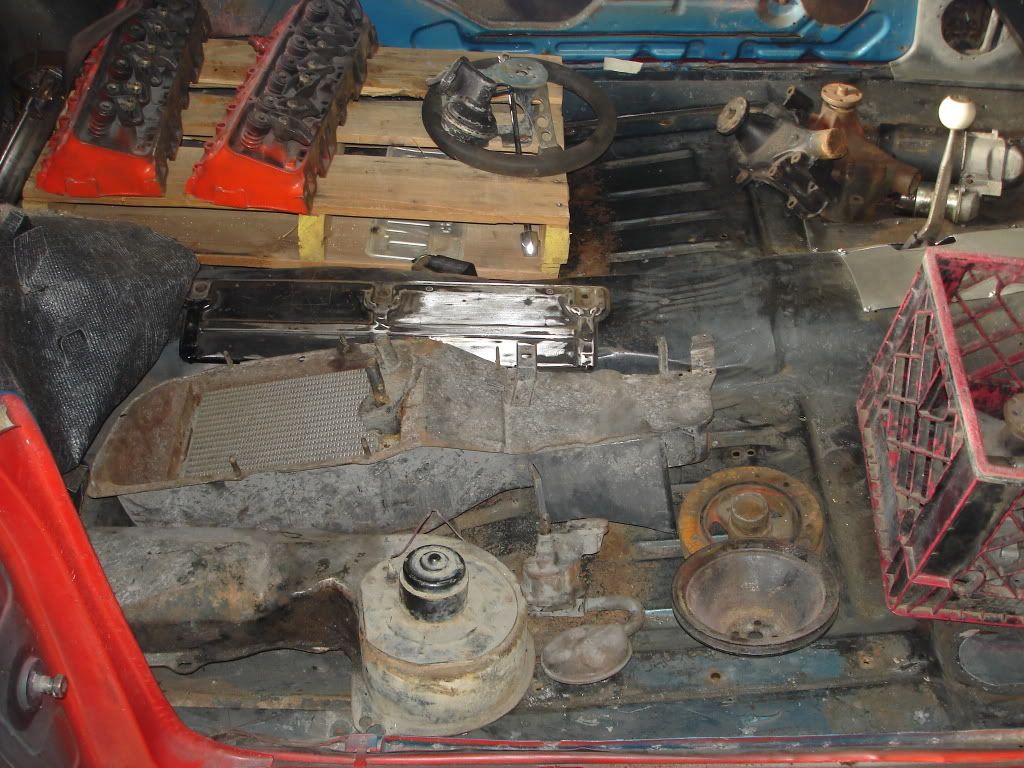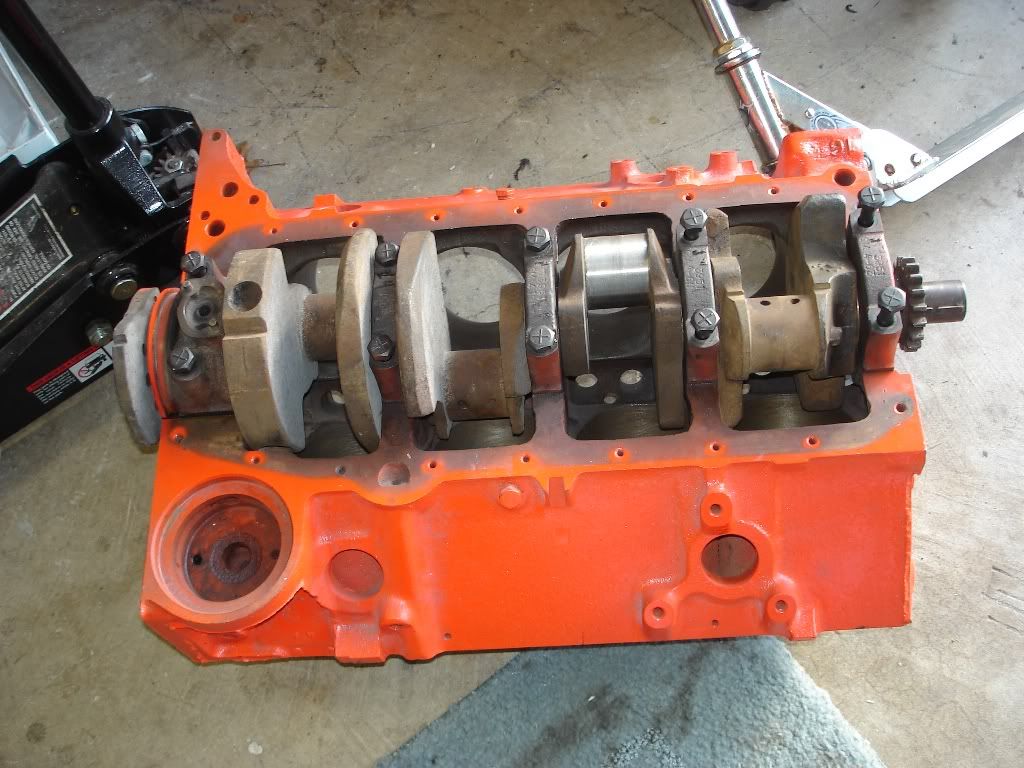 Since I'm working with virtually no budget I need to be financially creative. Fortunately, I've had some items to sell and trade. Among them a 402 big block that needed a rebuild. (Traded for a clutch set-up, a shifter, some rusty headers and 100.00) The wheels, the original front springs, a cheap aftermarket steering wheel, and a leaky 4 core Chevelle big block radiator which came with the car. (sold for 250.00) even an old heater control and box went for 20.00.
Next I raided the cupboards.
I started going through some boxes of old stuff I had sitting around. Ebay here we come. An old Led Zepplin ticket fetched 100 bucks, a Marlboro fishing rod went for 50.00, A couple of old power tool clocks were good for another 50.00 A movie camera I hadn't touched in three years brought in 250.00! Even my collection of vintage 98.5 KOME (SF Bay Area radio station) stickers weren't safe. They went for 25.00!
Now that I had a little capital I could start on "The Plan".
It's very important to have a plan for a project like this. Everything must work in conjunction with everything else. There is no money or time to waste. The first thing to do was start on the front end. The old suspension and drum brakes had to go. I ordered the PolyPlus Front End kit from CPP. I then started to disassemble the complete front sub frame. Off came the hood, fenders, grille, bumper, brackets, upper and lower control arms, shocks and springs, brake lines, fuel lines, the steering box and finally the sub frame.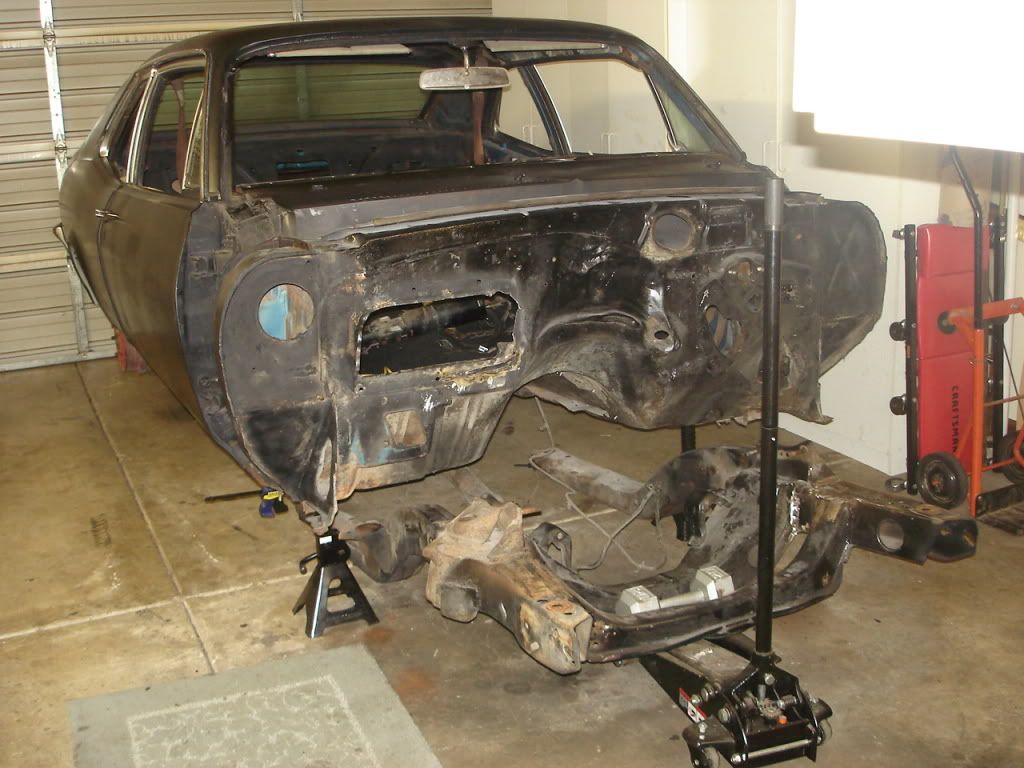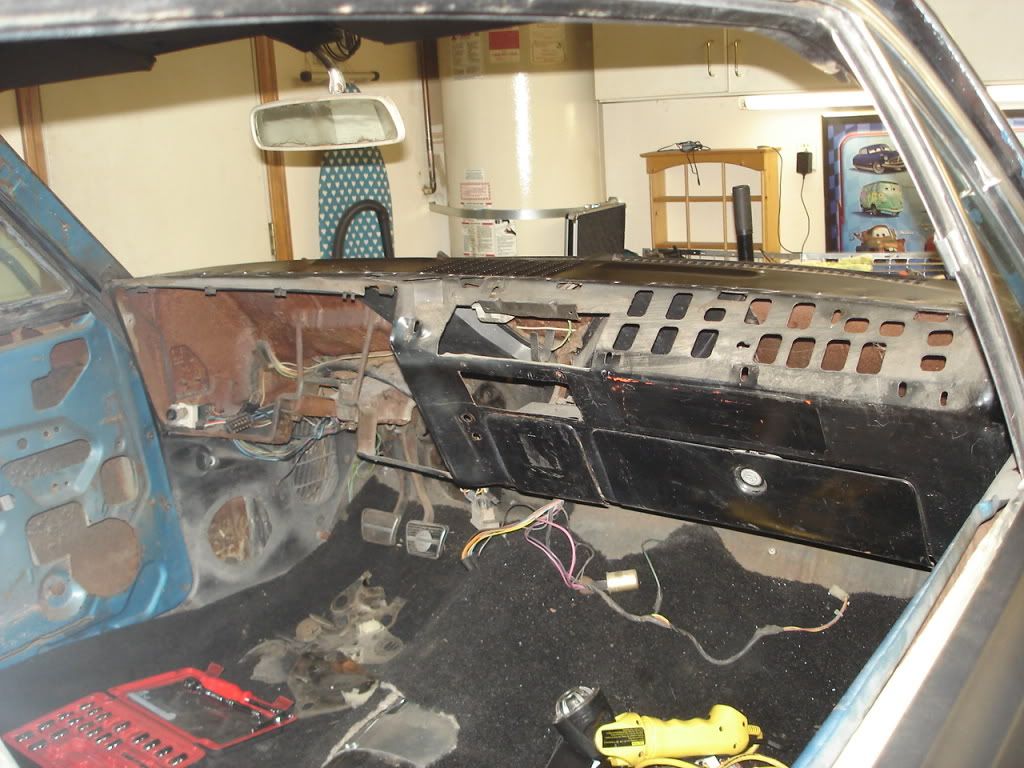 I sell construction supplies for a living and from time to time I need stuff powder coated. I developed a relationship with a powder coater a block from my work. Now I make craigslist ads for them and they powder coat all my parts. I can't wait to get the sub frame back. They have already powder coated (a nice shiny black) my inner fenders, radiator support, bumper brackets, Z-bar, steering arms, hood latch and a bunch of other stuff. They've also blasted my control arms, bell housing, center link and steering box. The control arms and engine will be silver and all the steering parts will
be cast iron gray.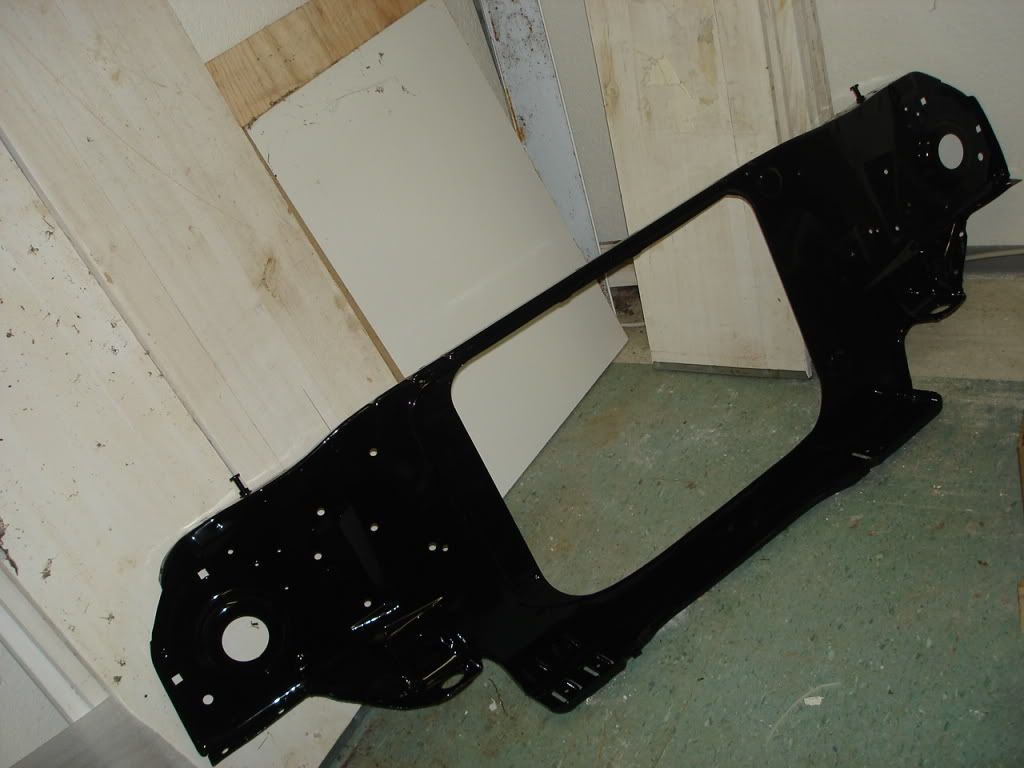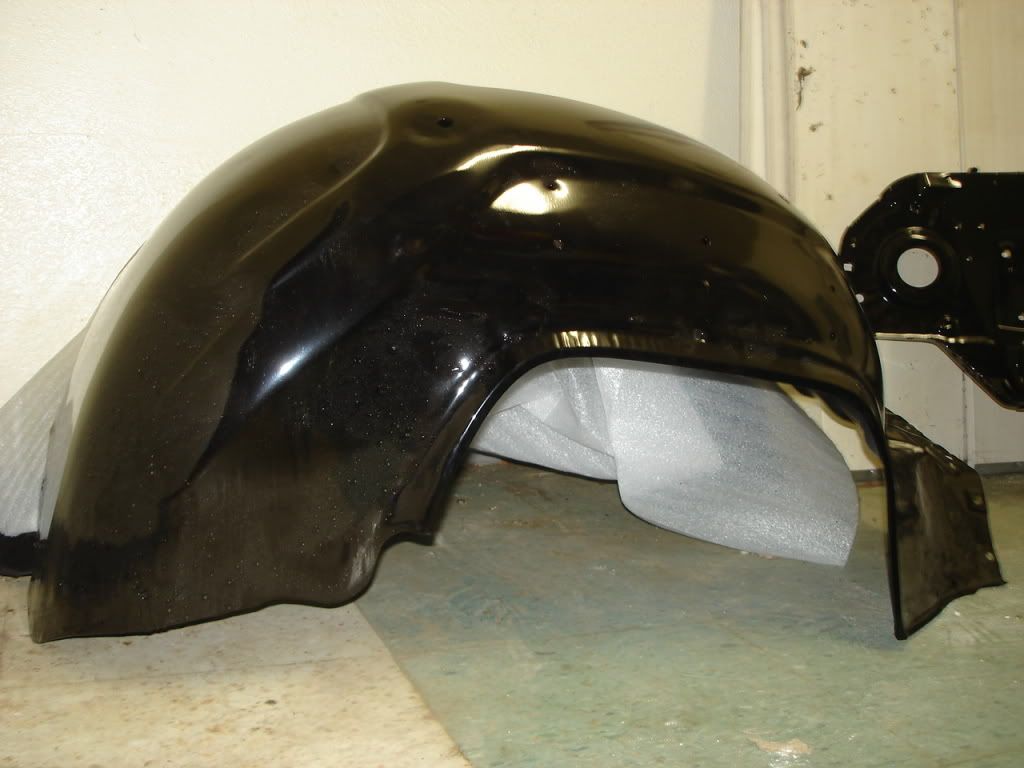 I just sold the 10 year old, never used treadmill to the neighbor for 100.00 -Sweet!
I was at work a few weeks ago and a guy calls up looking for hardware for a house he's building. I help him out and he tells me he's "Jerry Prentice" of "Prentice Enterprises" I asked him what kind of business he has and he said those magic words " Automotive Machine Shop" Isn't that Nice! I offered to deliver his stuff and we talked a bit. He's a big fan of the 327! I'm giving him a great deal and great service and he's doing the same for me. He even has a set of 11:1 NOS forged 327 Corvette pistons for me. Sweet! I brought him my heads and block to work on and gave him a spare crank and some rods and pistons which came with the car. I visit him weekly. I gave him my control arms and he pressed in the bushings and even welded up some cracks and straightened out one of them. What a great guy. I can't wait to see how the engine turns out.
Next, I order a set of Front Disc Brakes from GearHead Auto. I got a Screaming Deal. 380.00 delivered and they include Zinc Plated, Drilled and Slotted 11" Rotors and Stainless Lines! Nice!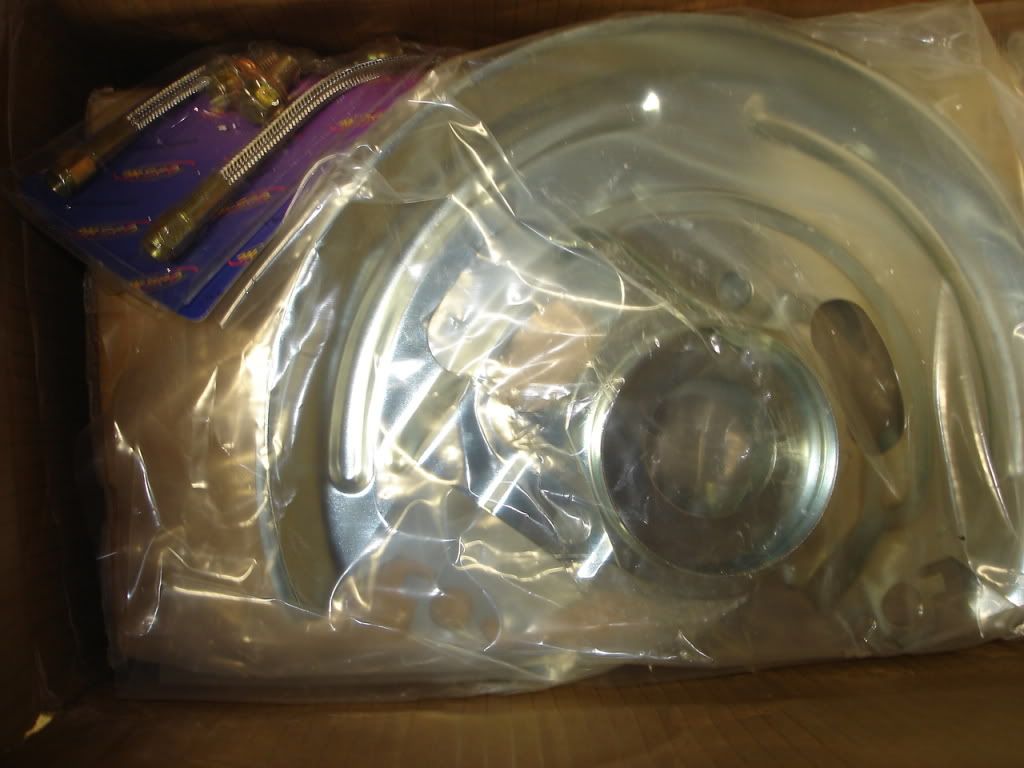 Jason's been watching these Pro-Street Wheels and Tires on craigslist! They're the original 5 spoke style steel wheel with chrome knock off's,which have been widened to 14" and chromed. The were on a "creamsicle" pro street truck so I need to paint the centers black again. The guy dropped them from 750.00 to 450.00 Jason calls me and tells me to offer 350.00 "Right Now!" "I don't have all the cash" I tell him. He lends me a couple hundred until I sell some something. The guy takes the 350.00 and I get some Cool Wheels. –Sweet!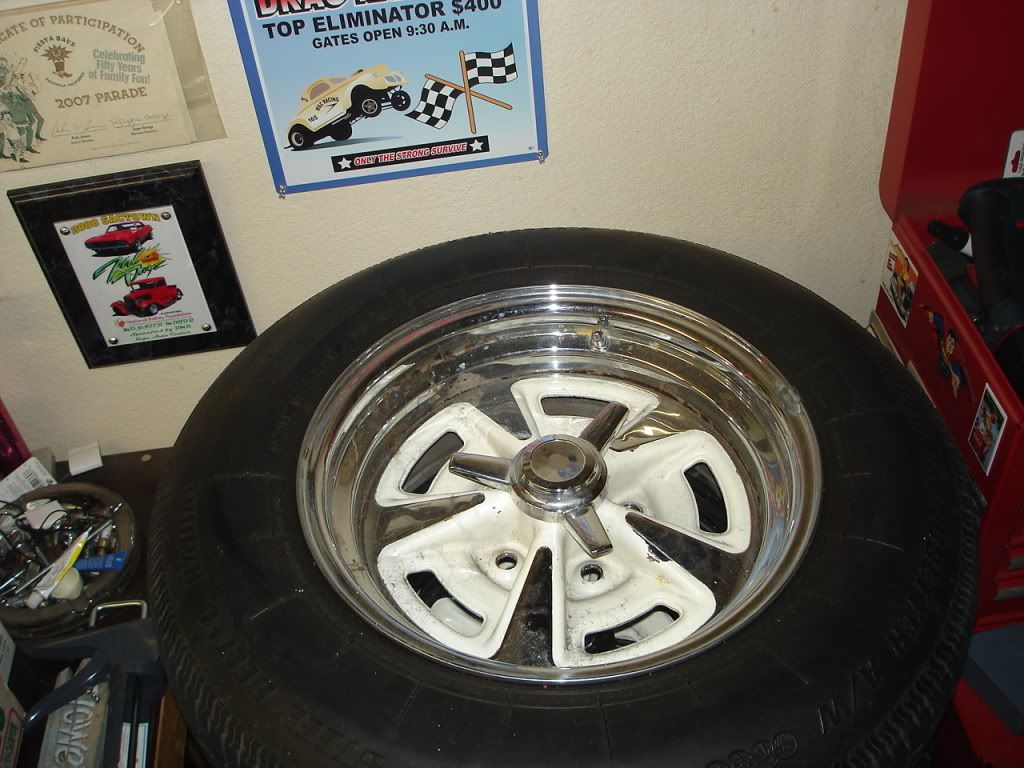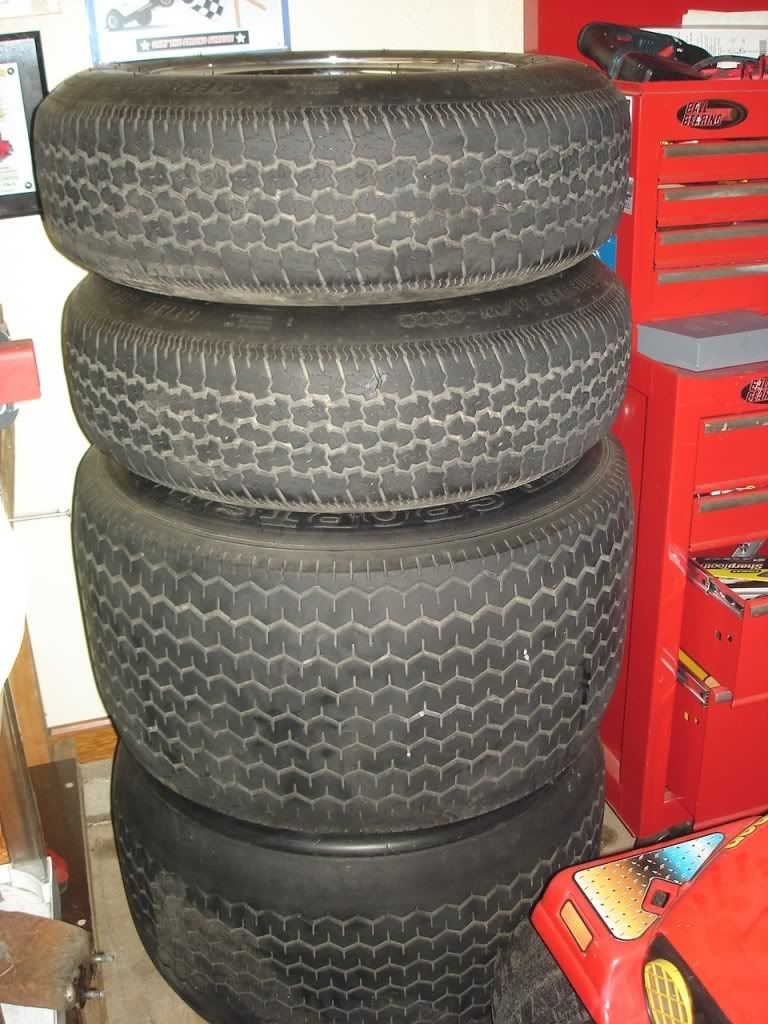 I'm cruising thru craigslist checking prices and seeing what's available for cheap when I spot an ad for a bunch of SBC Valves, Springs and Retainers. This guy had a machine shop and he retired. This stuff was all he had left. It's all good quality stuff. Individually packaged, Stainless SBC Intake and Exhaust valves, Z-28 Springs, ARP studs and a bunch of other items. He had another ad for three balancers and a flex plate as well. I think he wanted 375.00 for everything. I called up and offered 250.00 and he went for it. I got some nice 2.02 and 1.60 Swirl Polished Valves, Z-28 Springs, Aluminum Retainers and ARP Rocker Studs for my engine plus I sold the rest on Ebay and got my 250.00 back and enough to pay for my Energy Suspension Polyurethane Bushings and Bolts for the Sub frame. -Real Sweet!
I just ordered my POR-15 kit for fixing my floors as well as a very cool DSE firewall fill plate to give me a smooth firewall and more importantly, to cover the gaping hole I have in it. The front end is going back together soon! Jason shows up periodically, bearing gifts he forgot he had. One day it's his old Camaro Hood hinges and some Cool Billet Aluminum Armrests, the next it's a bag of New Header Bolts. Our Buddy Dennis offers to kick in his SBC Springs and Shocks! They're like brand new! He just traded up to a 427 in his 69 Camaro and has replaced his with some better suited for a Big Block. Thank God for Buds!
While cleaning out the cupboards I find a weather strip kit I bought for the 74 Nova and never installed. –Sweet! Next I see the Windshield Washer tank that I bought and never installed.That things going back to Super Muscle Parts. I find the receipt and I've got an old credit for 29.00 as well. That and a few bucks gets me my hardware pack for the front end sheet metal and a new set of Bumper Bolts. Jason gives me back the MSD 6AL Box I gave him. He's not going to use it after all. It has a Rev-Limiter! Sweet! Just in case I miss a shift…Now I need a Billet Dizzy.
Of course, a big part of this adventure is knowing what to buy and for how much. I saw a great deal on a Hays Billet Flywheel (Got it for 80.00 and they're 249.00 brand new) Turns out my bell housing won't accommodate an 11" clutch with a 168 tooth flywheel. Oh well. Now I need to sell my pretty, freshly blasted bell housing and new stock clutch. I also learned that you can't use a stock clutch with a performance flywheel. That's Hotrodding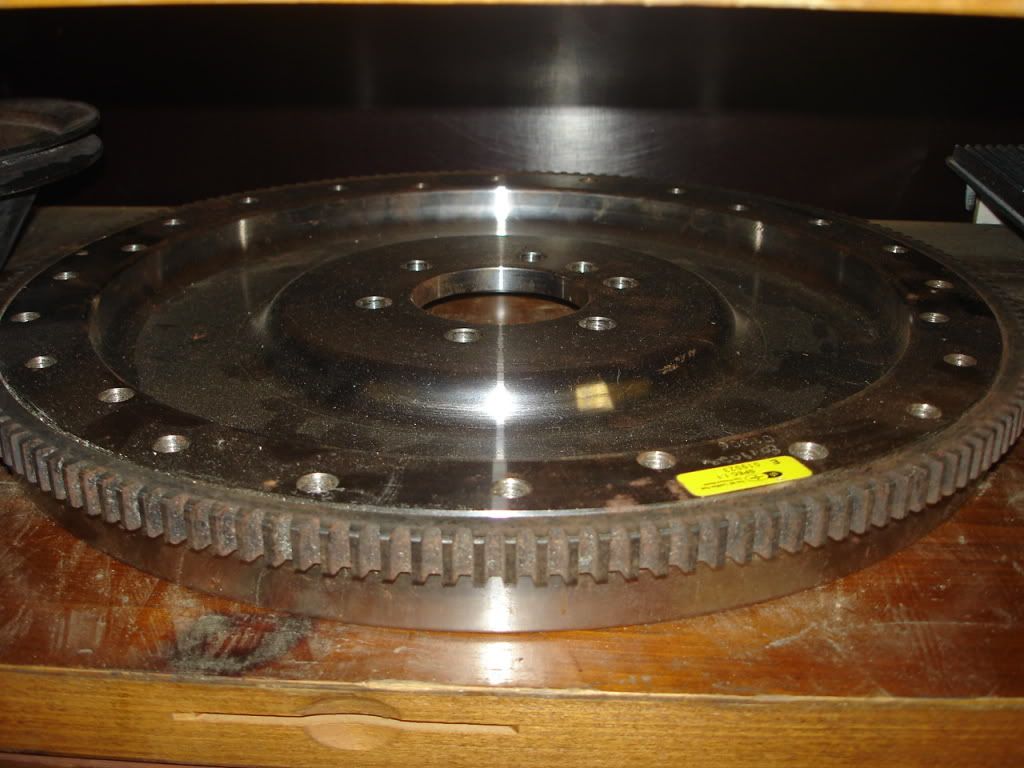 Sorry to be so long winded. My thanks to those that have stuck with me so far. My point is that I'm doing this one with no credit card or big cash layout.
I expect my biggest tab will be around 1500 for the Alston back half. (They're nearby!) and after a year or two I'll really have something. If you've gotten stalled on a project, remove the crap that's piled up on it, clean and dust the poor thing and focus on one section at a time. Baby Steps. I like to look at that "Bug Catcher" and imagine... it keeps me going.
Now I've got to get back to masking those control arms and steering parts.
Regards,