I Have been meaning to do this for some time now and today I had the opportunity to install a windshield in a 65 Nova SS. So here goes :
First here are the tools you will need hook tool (cotter pin puller), 1/4" or 3/8" rope (3/8" is prefered) and some type of byutl sealant ( tremco wb300 was used here)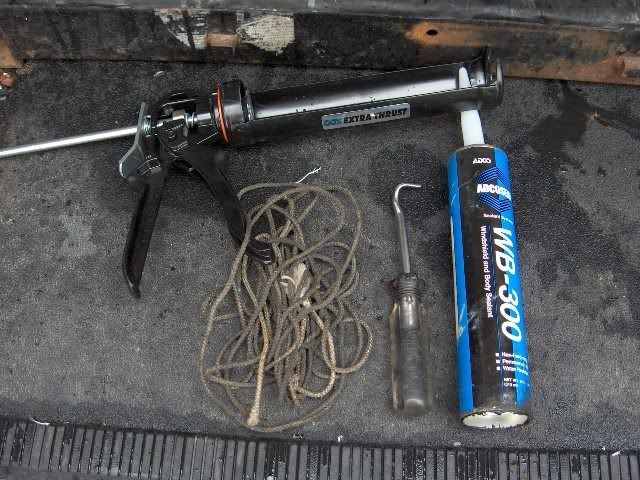 Take the hook tool and pull down on the rubber gasket on the inside of the vehicle breaking it loose from the pinchweld. (spray soapy water on the back side of the lip makes removal easier)
With your hand GENTLY push out on the glass (You may need a helper to pull down on the rubber lip while pushing out on the glass. You did spray soapy water on the gasket didn't you?)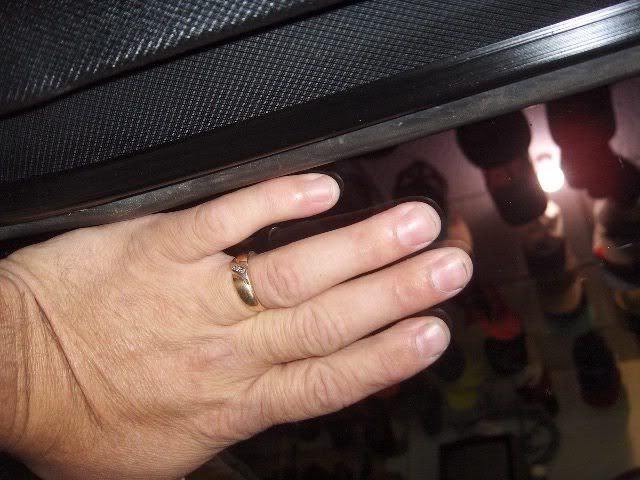 once the glass is removed from the car set the windshield on a stand (a large garbage can works in a pinch). Next remove the gasket from the glass being carefull NOT to remove the chrome. If the chrome comes out, don't worry set it aside out of the way and in a safe place. Now put the gasket on the new windshield and make sure it is seated on the glass. If the chrome came out of the gasket now is the time to put it in the gasket. It will go in only one way when it is in you will feel it "lock" onto the gasket. Be sure to get the top and bottom pieces UNDER the sides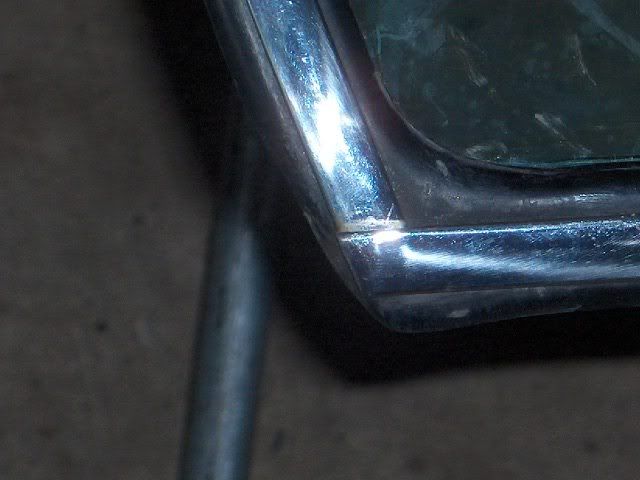 Next insert the 3/8" rope in the INSIDE lip of the gasket. Start one end at the TOP in the MIDDLE. Make sure to leave around 12 inches hanging out.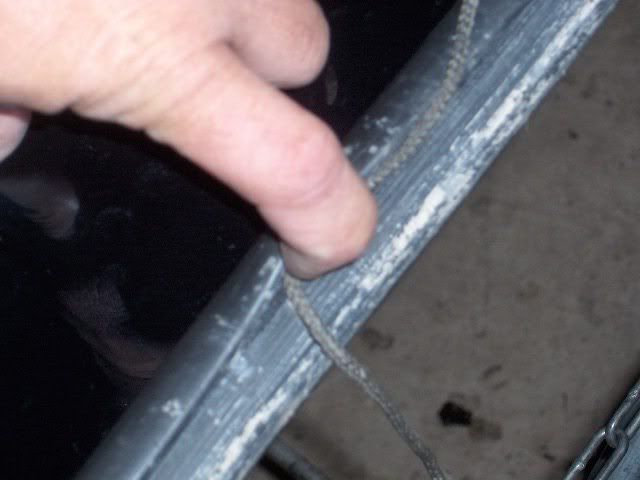 Run the rope all the way around the gasket and OVERLAP the begining of the rope about 3-4 inches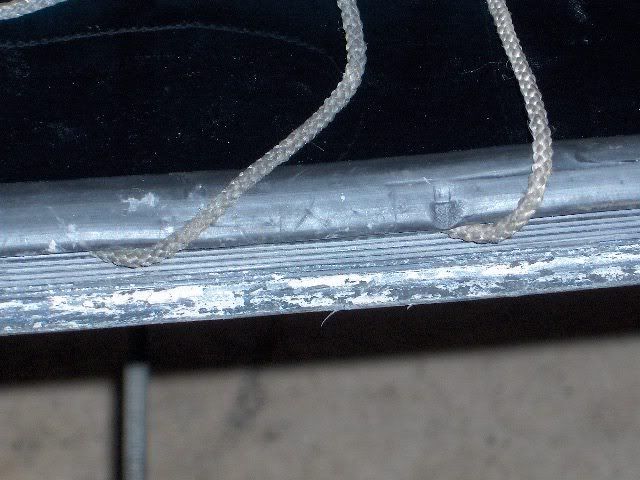 Now you can apply the sealer to the gasket. Look CLOSELY at the picture for proper placement of the sealer. It MUST be applied all the way around the gasket for proper sealing. ( If you don't drive your car in the rain much this step can be skipped
)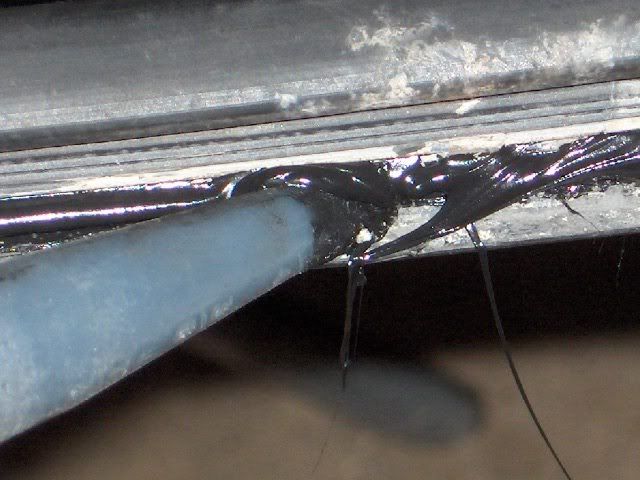 Next spray soapy water on the gasket surface. This will help to "SLIDE" the rope out and it helps the rubber "SLIDE" over the pinchweld. With a helper set the windshield in the opening of the car, make sure the rope stays on the inside of the car and the windshield is centered in the opening.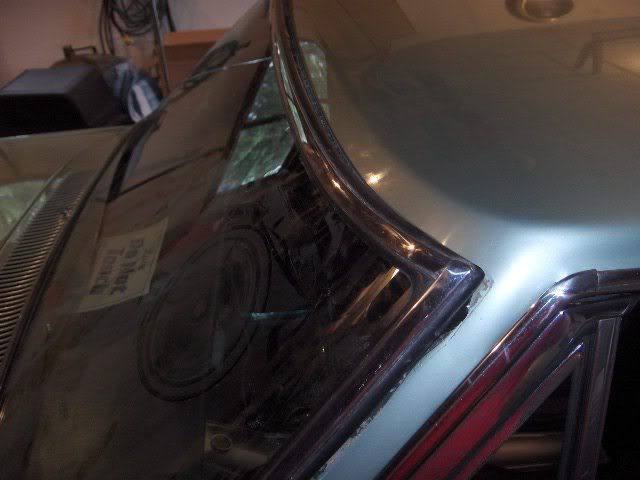 Now with a helper on the outside putting LIGHT pressure on the glass pull down on the rope.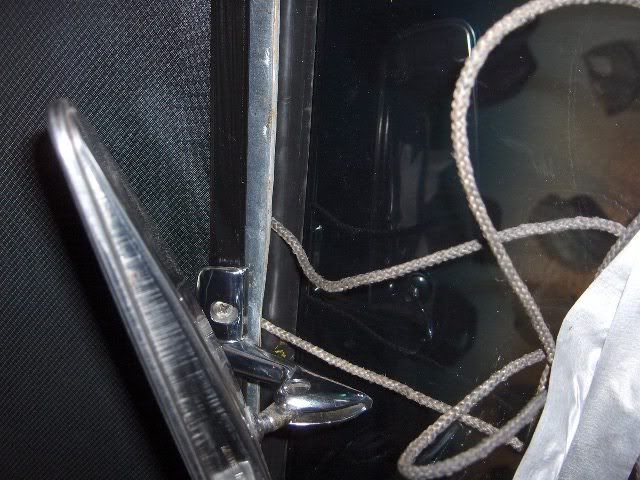 Pull the rope across the top, down the side and just and inch around the bottom corner the STOP. Go back to the top and pull the rope the other way around to the bottom corner. Then grab both ends and pull towards the middle. You may have to stop pulling every now and again and SLAP the windshield with your hand
The next step is to seal the gasket to the glass. Insert the tip of the sealant between the glass and the gasket and pump the sealant all the way around the windshield. (It's a PITA but MOST leaks will come from here)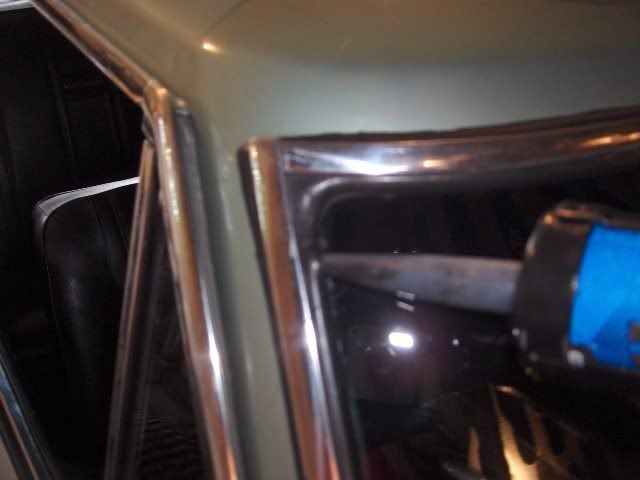 All that is left is to clean up the mess from the sealer.:beat: I have found wax and grease remover works best. Now go have a :beer: or 12 and cuss me out for telling you how to do this