Discussion Starter
·
#1
·
I hope it's OK to make this thread and then update as it goes on. I thought I'd put up some pictures of my swap as it progresses. Maybe it will give other guys some ideas, and generate some feedback as I move forward.
This is the tank as it came from the factory (not my tank obviously)
This is after the modification
I cut a hole where the vent line goes into the back. There is a round pocket type deal inside the tank that had to be removed also. I let the protrusions on the top of the tank be my guide. I also removed the pickup tube from the sender assembly. I was very eager to reuse the sender. I wasn't completely happy with the aftermarket piece in my Camaro.
I had a plate soldered in at a radiator shop and the filled the hole from the sender too. Now I have flat platform for the
Tanks inc
pump assemble currently in route to me.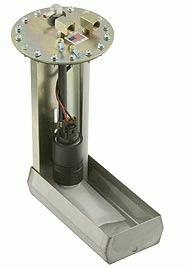 I plan to use a vent with a roll over valve from Rock Valley Antique Auto Parts, and then I'll have a pressure and return from the assembly too. The plan is to modify the injector rail and dead head it. I'll use the Corvette filter/regulator close to the tank to maintain steady pressure.
More pictures as I progress.