Fellas,
Since our particular group of cars are substantially overlooked at car shows everywhere, even the Nationals, I tried to pay special attention to these cars at this year's Nova Nationals and to photograph them.
So, here is my report on the 73-79 class at the Nova Nationals. I included the 73-74 cars in this report, because like us they are often times treated as orphans and are not given any particular attention or praise.
This car was in the original (show car) class. The paperwork on the car indicated that it was an 8000 original mile car, with original paint, drivetrain, interior, etc. A true grandma's car, and one hell of a survivor:
This next car was a 1976 Cabriolet. Also an original low mileage car, it was a big hit with the restored/original guys at the show. The Indiana Chapter selected it as their Chapter pick of the show. Unfortunately I didn't get a great shot of the red interior of this car, which was fabulous.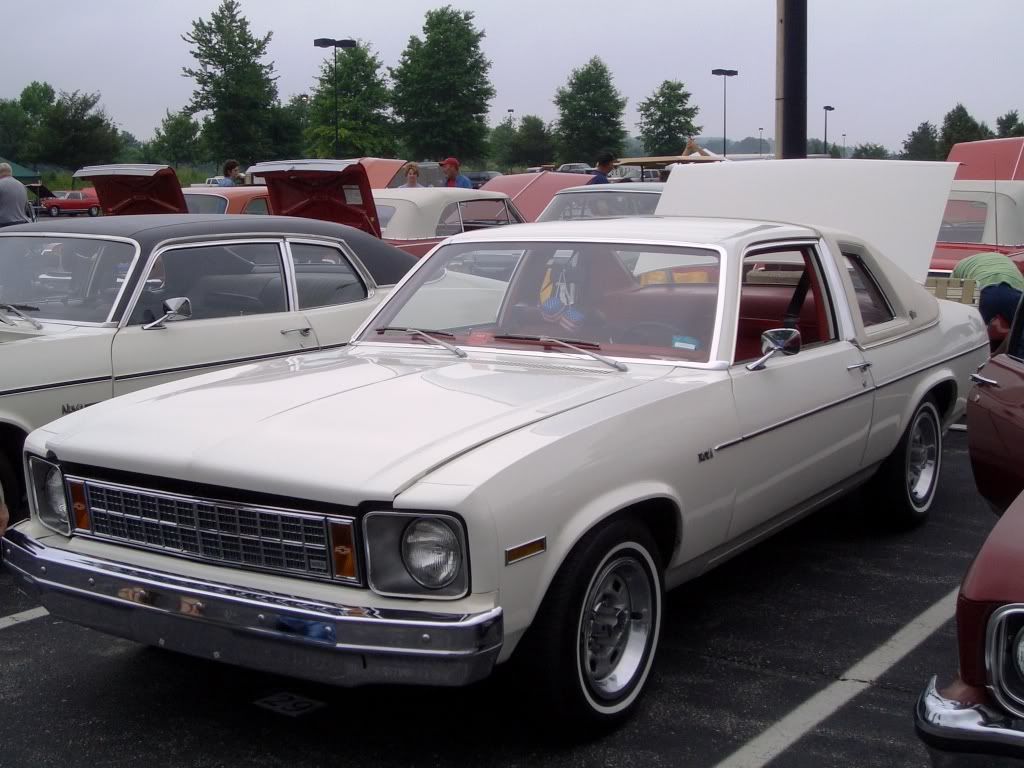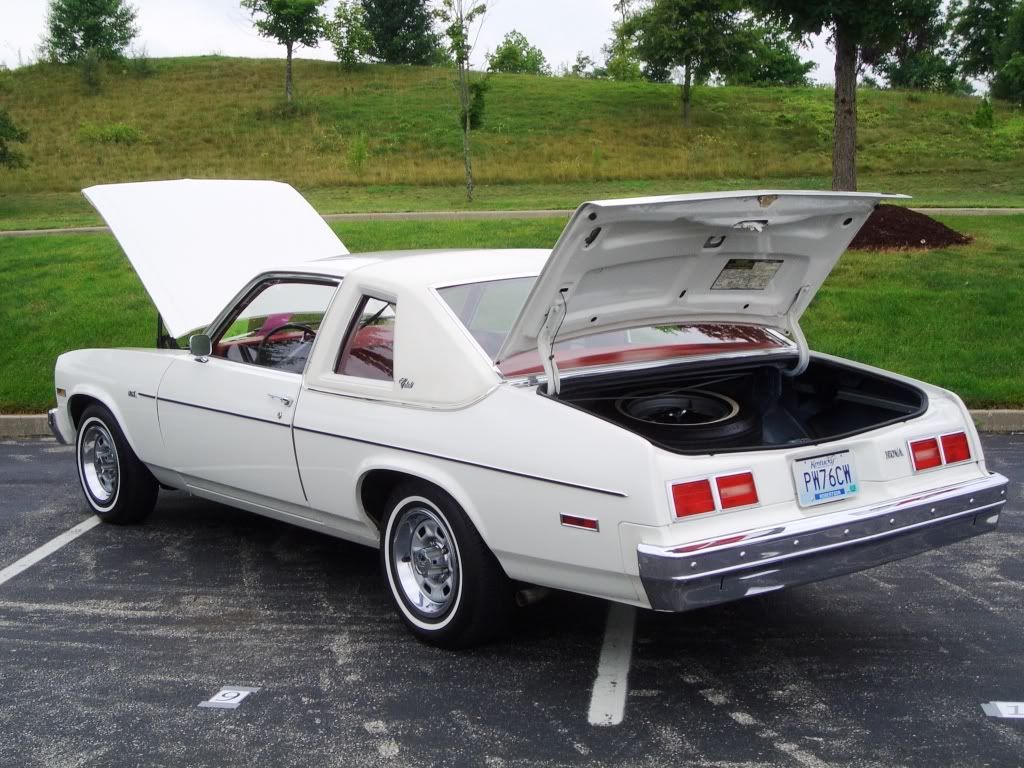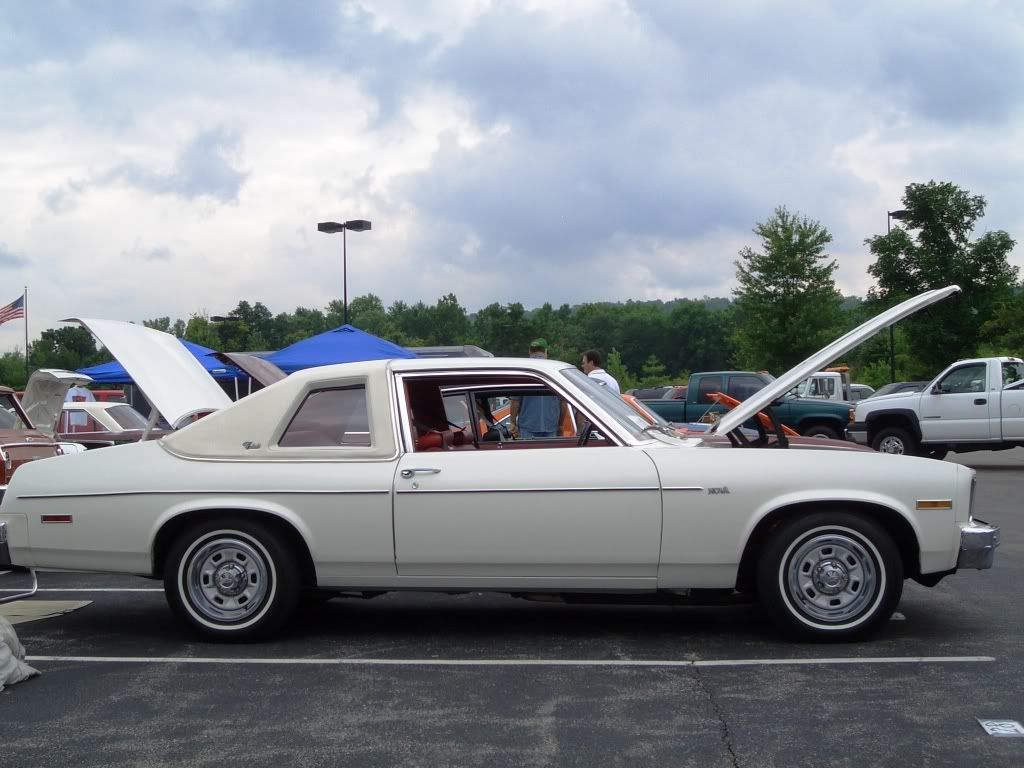 This blue machine is a 1975 and was presented at the show by the club president, Wayne Bushey. Wayne bought the car for purposes of preservation because it belonged to a very important member of National Nostalgic Nova, Roger Higgenbotham. Roger has been with the club virtually since its inception, and has been a major contributor over the years. Unfortunately Roger has been striken with a debilitating disease that no longer allows him to enjoy the car, and it was Roger's wish that the car continue on. A truly touching (and sad) story but it is nice to know that the car will live on. . . .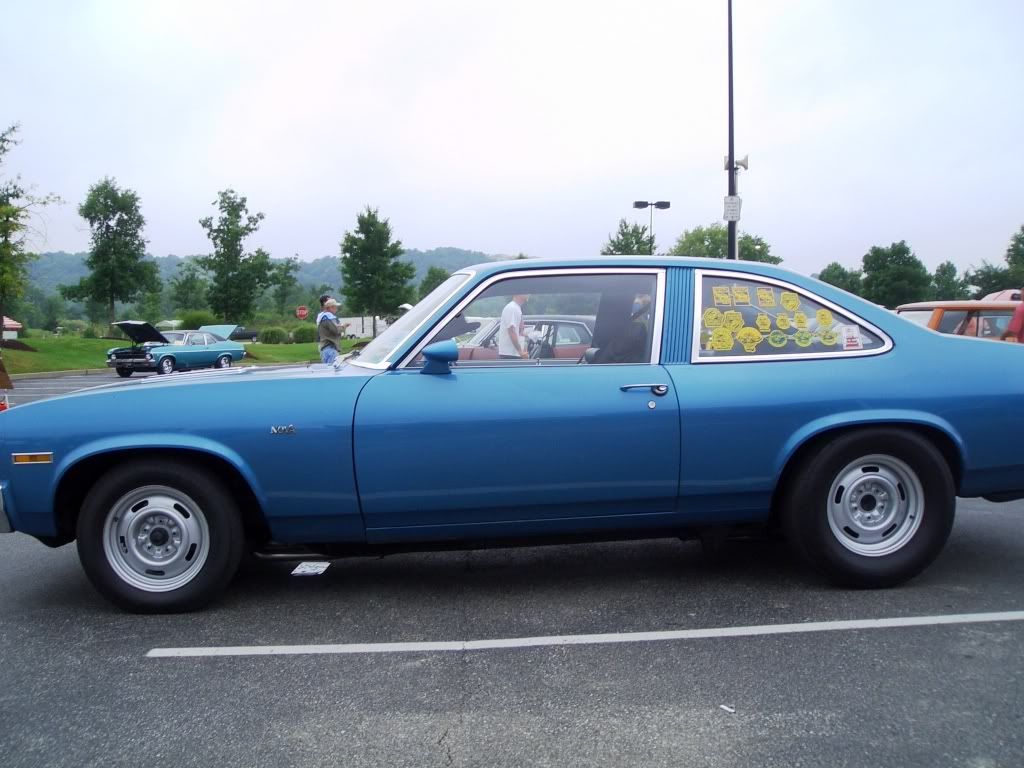 My car next to Roger's:
This burgandy SS car was shown in modified class (I think) and it was a nicely maintained original-style car. It was a nice example of what we all envision 73-74 cars to be. Not an overdone show car, just a really nice all around car.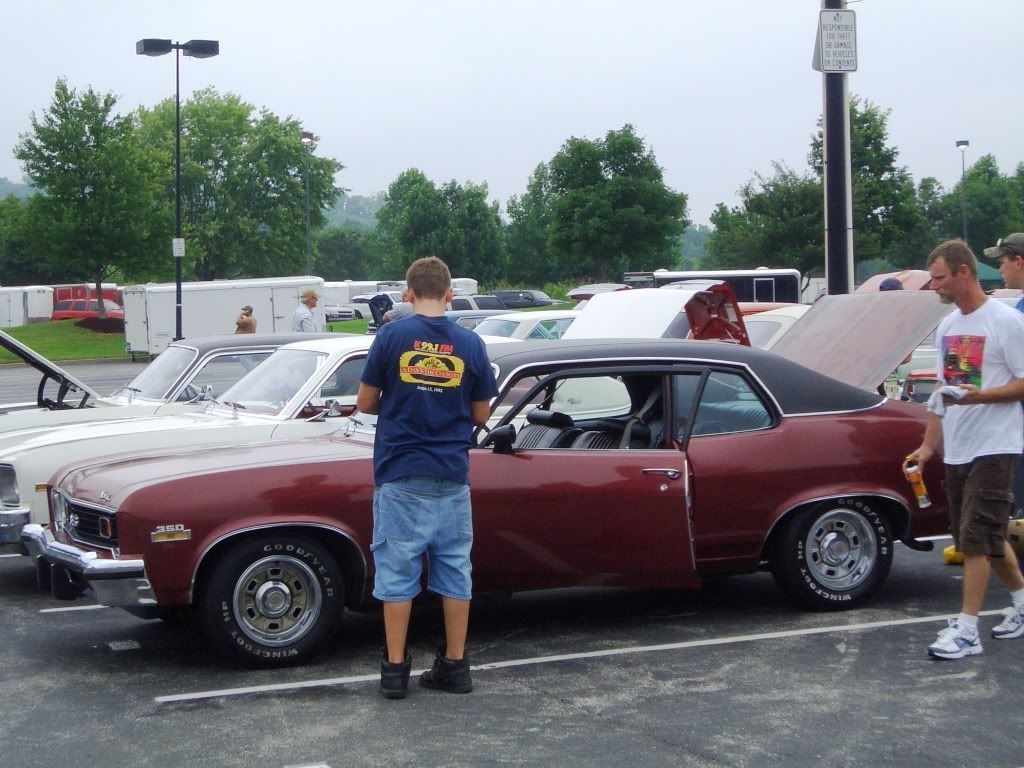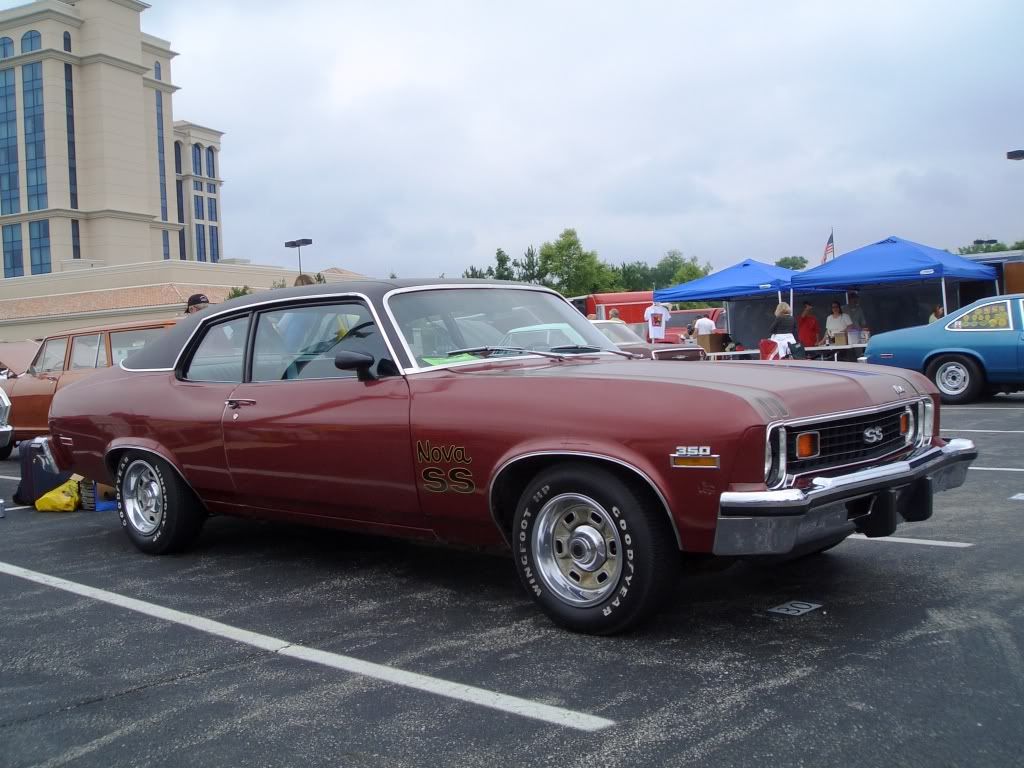 Here's a green Nova that I think was shown in semi-mod. Unfortunately I only got the one picture of it, but it was a pretty decent car:
These two 73/74 cars did not get judged, but I think both should have been. It would have been interesting to see how the judges would have viewed these cars, both were pretty nice.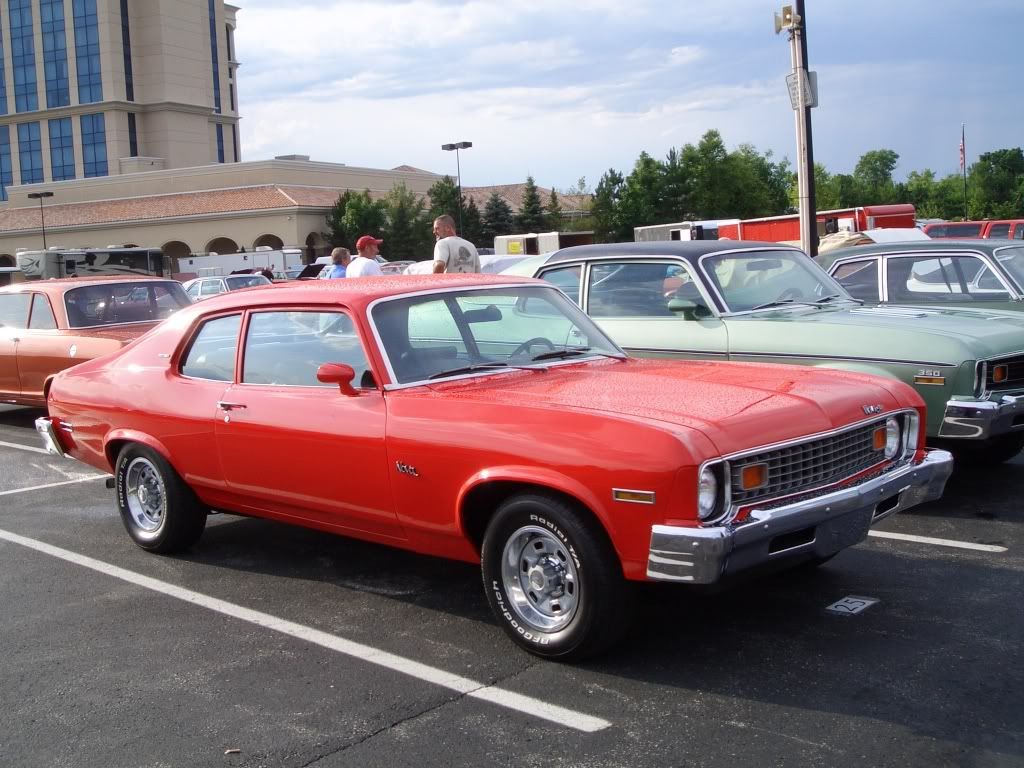 Here's just a fun shot:
This blue car was show in street class, and his son had a 78 that was also in street class (sorry, I did not get a good picture of that one - it turned out blury). A VERY nice street-driven car.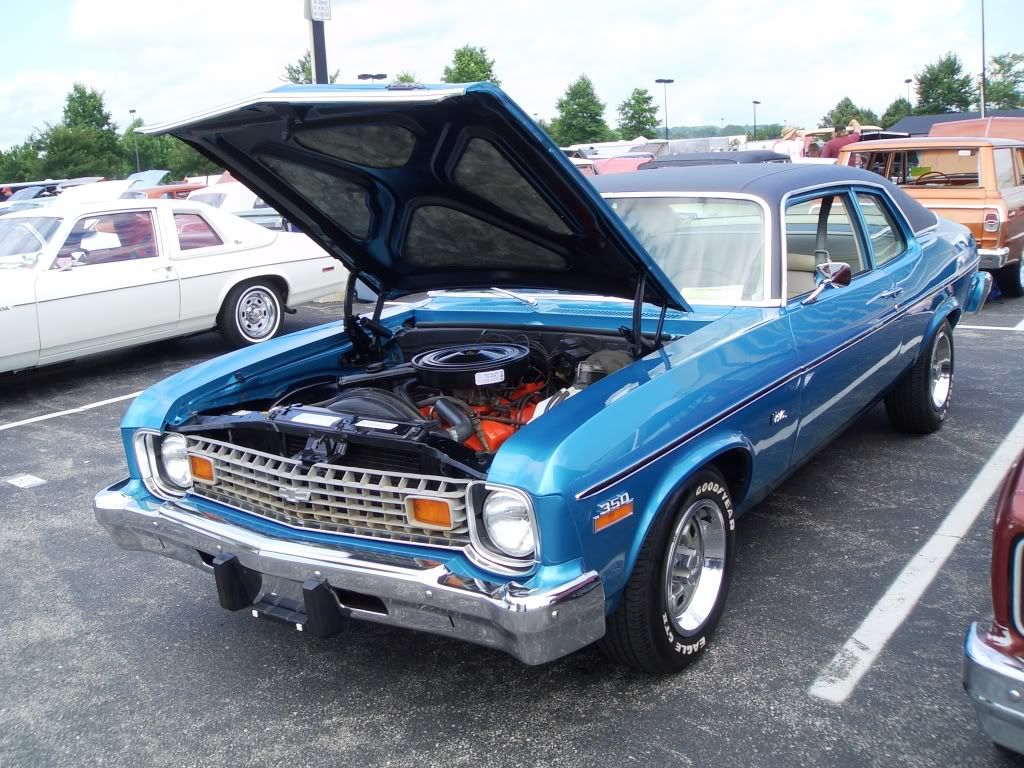 And last, but hopefully not least, my 77. We just had a great time showing this car. There is a level of appreciation amongst Nova people that we just don't get at other car shows. I was really impressed with how knowledgeable people were about the 4th gens, and also how interested they were about every aspect of my build. Of course, there were several folks who had followed the build on this site, but others had never seen it before. It was really fun watching their reaction.
Here we are pulling in: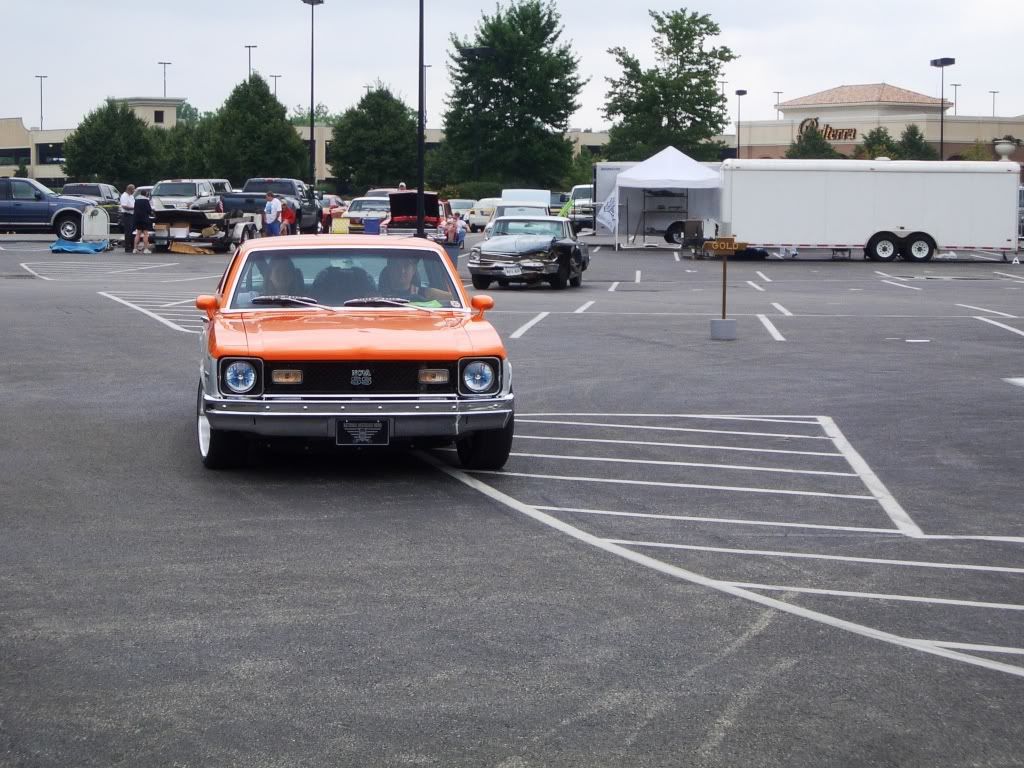 And some shots of it parked in the 73-79 class:
As far as the judging goes, we won our class (73-79 Super Mod), but in all fairness we had no competition (literally, we were the only car). We also one the People's Choice award for 73-79 show cars - we were truly honored to be picked by our peers for that award. We fell short of gold class, unfortunately, but that's a judge's decision that we can't control so we won't dwell on it.
All in all, a great show and a great time. The 4th Gens were a bit under-represented, so I encourage you guys, no, implore you guys, to bring your cars out to next year's Nationals in Gettysburg. Don't sweat the your car's condition, just bring it. We need numbers, and we need them bad.
Hope you guys enjoyed the report, and look forward to seeing you next year.
J