Discussion Starter
•
#1
•
Im starting my own build thread mainly to keep me motivated but also to show you all what Ive done with your great advice (which I appreciate so very much!).
I'll start with, well, where i started...
I bought a 69 Nova 2 years ago after saving up just enough to buy my dream car. Turns out, I should have saved up more and bought a better one. The 69 was far too rusted for my skills. I cut my losses and sold it. Then a few months back I bought this 1972 Nova. It has a dead 305 in it but Im getting a crate motor soon. But as you can see, its a copper color with a white top and white interior. Has a 2" cowl, and a lot of new trim.
I wanted a personalized plate for it and went with El Nova. El Nova means...the nova
Because I was so upset that my first nova was so rusty, I decided to tackle any and all rust I saw very first thing. I pulled the carpet out but what I found was pretty funny. I guess the last guy created his own rear seat partition with beer boxes :yes:
But I treated all the surface rust and coated it with a product called KBS Coatings. I was super happy with how it turned out.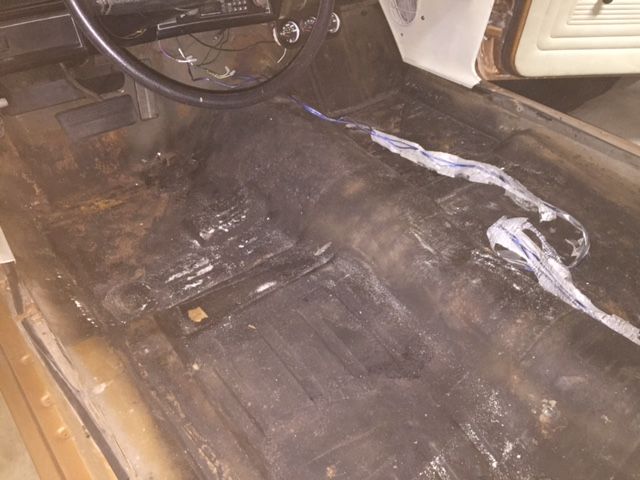 Also while I was at it. I put down a layer of Fat Mat, I dont know if it really matters or not. But I always see them doing that on car shows so i guess it helps some.
After I did the inside I got under the car and knocked off any rust (wasnt much) and then painted the underside with a low gloss black. But really it turned out more of a flat black. I hope its ok. I dont know, I kind of regret it not being more shiny but its the underside so maybe Im over thinking it. I also put in new body bushings.
I found a good deal on a 3 row aluminum radiator and even though i dont have a motor, I went ahead and got it. Also made a small Classic Industries purchase and picked up some odds and ends just to keep moving on the car. New pedal pads and trim. (that gas pedal was a bear to put in). I got new locks, new shifter knob, and seat adjuster knobs, and a lock for the glove box. I wont bore you with all the pics of them. Just a couple.
Ohh and even though the motor is dead, its cool that it came with headers. i assume the 305 longtube headers will work on any 350 I get later
Here is a front pic.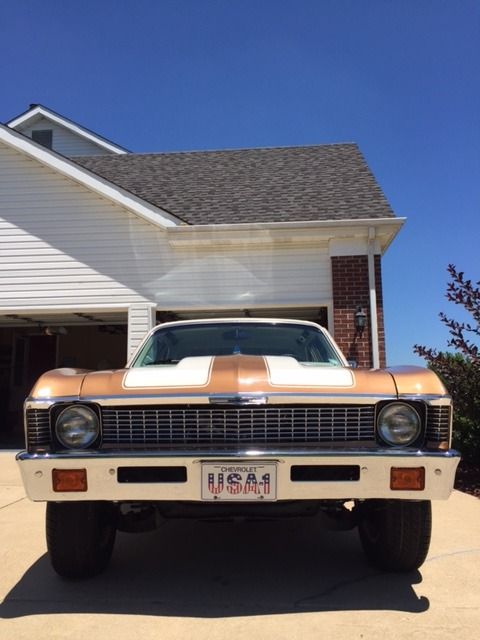 So thats where Im at right now. My buddy and I started installing a Hotchkis TVS on the car saturday but ran into some trouble with a rusty front leaf spring mount bolt. I'll update you guys on how that goes when I get the new parts in and can tackle that fun job. I love suspension work. Always seems like the easiest job to do with the most return.
I hope you all like it. Im always open to suggestions, comments, and constructive criticism. Im so honored to join you all in working and enjoying these Chevy Novas. Ive waited a long time to get one and I cant wait to get it on the road.
But till then. We build!
Ryan